You are here
'Three years on, Syrian refugee crisis shows no signs of abating'
By Khetam Malkawi - Mar 12,2014 - Last updated at Mar 12,2014
AMMAN — As the Syrian crisis marks its third anniversary this weekend, 400 to 1,000 Syrians continue to cross into Jordan every day, fleeing the war in their country, according to the UNHCR.
The number of registered Syrian refugees in Jordan has so far exceeded 600,000.
More than 200,000 Syrians are expected to cross into Jordan this year alone, Andrew Harper, the UNHCR's representative to Jordan, said at a lecture delivered on Wednesday at the University of Jordan.
However, the increase expected this year is not the only challenge as "we do not know when the conflict will come to an end and how many refugees are expected to come," Harper added.
"The international community should not take Jordan for granted," the UNHCR official warned, adding that Jordan has been one of the most generous countries in hosting refugees throughout the years out of a cultural tradition, "although the Kingdom is not a signatory to the 1951 Refugee Convention".
"Jordan should not be taken for granted and forgotten. The international community has provided support, but it does not match the needs," Harper said.
Khalid Wazani, a prominent economist, shared Harper's sentiment, noting that the international community should do more to assist Jordan.
Citing a study he conducted on the impact of the Syrian crisis on Jordan that will be published next month, Wazani said the direct cost on the budget is $3,500 per year for each refugee.
He added that this is a huge burden on the state budget, which is expected to suffer a JD2.2 billion deficit this year.
Wazani noted that the refugee burden places pressure on education, health facilities and infrastructure, including water and sanitation, in addition to exacerbating unemployment with Syrians taking over Jordanians' jobs.
"The government has to… show the international community that meeting the implications of the crisis is highly negative on Jordan," Wazani told The Jordan Times in a phone interview.
Harper said no schools or hospitals are being built through the help of the international community to help Jordan mitigate the impact of the crisis, stressing that the world should help the Kingdom if it expects Jordan "to keep its doors open".
UN High Commissioner for Refugees Antonio Guterres said "it is absolutely essential that the international community mobilises massively" to support Syria's neighbouring countries "to make sure that they are able to cope with the challenge and to preserve the stability of the region".
"I hope that those that have the most important responsibility in world affairs will be able to understand that forgetting Syria will be a total disaster," Guterres told Reuters while visiting Washington to discuss Syria's refugee crisis this week.
Almost 80 per cent of the Syrian refugees in Jordan live among host communities and not in camps, according to official figures, while around 107,000 refugees are in the Zaatari Refugee Camp in Mafraq Governorate, some 80km northeast of Amman.
The government recently announced that another camp will be officially opened in Azraq, east of Amman, by the end of April this year.
Child refugees
As the crisis continues, the future of a whole generation of Syrian children is at stake; therefore, UNICEF is working on scaling up the delivery of safe education, protection from exploitation, abuse and violence and psychological care for affected children, according to UNICEF Deputy Representative to Jordan Michele Servadei.
"More and more emphasis is now placed on response in host communities where 80 per cent of the refugees live and where children are the most exposed to violence and neglect," Servadei told The Jordan Times in an e-mail interview on Wednesday.
"In 2014, the forecasted number of Syrian beneficiaries is expected to reach 800,000," Servadei said, adding that UNICEF has appealed for $170.5 million to ensure that services are sustained in camps and expanded in host communities.
According to UNICEF figures, 53 per cent of the Syrian refugees registered in Jordan are children, while UNHCR figures indicate that 10,370 Syrian babies were born in Jordan in 2013 alone.
A total of 691 Syrian babies were born in the UNFPA clinic at the Zaatari camp in 2013, while 258 babies were delivered at the clinic so far this year.
Special efforts are made to reach the most vulnerable and at risk children — unaccompanied minors, those who are out-of-school and those living with disabilities — as well as child labourers and those at risk of early marriage, according to Servadei.
"UNICEF has turned closer attention to supporting host communities, both to ensure we are reaching the most vulnerable children (regardless of nationality or status) and to enhance the ability of Jordanian people and institutions to provide basic services, including education, in the face of this protracted humanitarian crisis," he explained.
Servadei said UNICEF has delivered water and sanitation services to all refugees in camps (over 170,000 people receive 35 litres per person per day), and rehabilitated water systems in host communities serving over 400,000 people.
In addition, 150 public schools received improved infrastructure services, benefiting over 133,000 Jordanian and Syrian children, according to the agency.
"UNICEF, in direct support to the Ministry of Education, has ensured that over 109,000 Syrian refugee children had access to formal education and 15,000 to informal and remedial classes whether in camps or communities," Servadei said.
He added that core child protection interventions have reached vulnerable children throughout the country: 109,282 Syrian children received psychosocial support; over 1,500 separated and unaccompanied children were identified and provided with interim care or reunified with their families; and some 700 social workers were trained on case management.
UNICEF has also supported the Health Ministry's measles and polio immunisation campaigns, which reached over 3.4 million Jordanian and Syrian children. In addition, more that 50,000 infants and pregnant and lactating mothers received complementary feeding.
Related Articles
Jan 09,2014
UNICEF's work with Syrian refugees in the Kingdom will not affect the agency's country programme in Jordan, according to a senior UN official.
Mar 02,2014
The Health Ministry and its UN partners launched the third round of the National Polio Vaccination Campaign at the Mafraq Comprehensive Health Centre on Sunday, according to a UNICEF statement.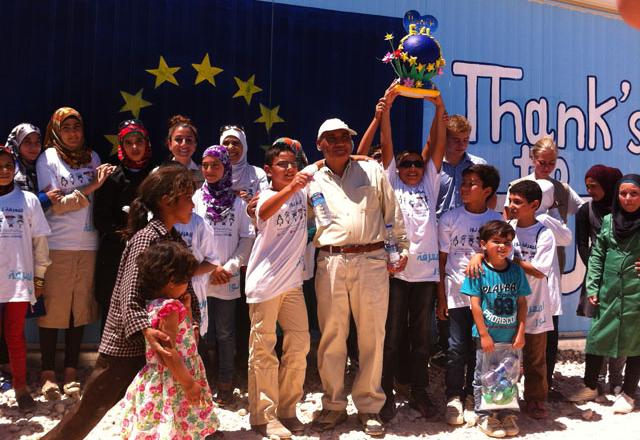 Jun 23,2014
The end of the school term brought smiles to more than 10,000 Syrian children at the Zaatari Refugee Camp as they were awarded certificates on Monday for successfully completing the scholastic year, according to a UNICEF statement.
Newsletter
Get top stories and blog posts emailed to you each day.