You are here
Tkiyet Um Ali, Dar Abu Abdullah society join hands to support the underprivileged
By JT - Feb 07,2018 - Last updated at Feb 07,2018
AMMAN — HRH Princess Haya, chairperson of Dar Abu Abdullah Society, has announced the launch of a strategic partnership with Tkiyet Um Ali (TUA) to help the underprivileged, according to a TUA statement on Wednesday.
Dar Abu Abdullah Society honours the legacy of His Majesty the late King Hussein who believed that the human being is the true fortune of Jordan, according to the statement, carried by the Jordan News Agency, Petra.
The society's programmes seek to enhance the capabilities of individuals through addressing the "real" causes of poverty, while at the same time implementing programmes targeting all age groups to build capabilities and prepare them to enter the labour market, consequently improving their living conditions.
Through partnership with TUA, Dar Abu Abdullah will launch three main programmes to enable needy families to improve their living conditions, the statement said, adding that the programmes will focus on families accredited by the TUA.
The three programmes will concentrate on education, health and technical training.
"Let's build this country" will be the motto of the programme aimed at supporting individuals in the educational sector, while the programme titled "Human" will focus on health issues that are not covered under the comprehensive health insurance.
Meanwhile, the "Ahl Al Azm" programme will seek to enhance individuals' technical skills and provide vocational training.
A total of 2,300 people are expected to benefit from the programmes in 2018, and the number is expected to increase to 5,000 in 2019 and to 7,500 beneficiaries in 2020.
Princess Haya said in the statement that providing the necessary assistance to these families will help their members develop skills and become self-reliant.
The princess noted that access to food has become a vital issue of the 21st century, and solutions have to be found to end the suffering.
"In pursuance of my parents' footsteps, Their Majesties the late King Hussein and Queen Alia, who worked relentlessly to fight poverty, Tkiyet Um Ali and Dar Abu Abdullah will focus their efforts in this new stage on helping underprivileged families and helping Jordan's continuous efforts towards this end," she added.
Related Articles
Feb 09,2014
Tkiyet Um Ali on Sunday honoured 165 of its main donors and supporters who help put food on the tables of underprivileged families across the Kingdom.
Apr 09,2018
AMMAN — HRH Princess Haya, chairperson of the board of directors for Tkiyet Um Ali and Dar Abu Abdallah, has officially appointed the board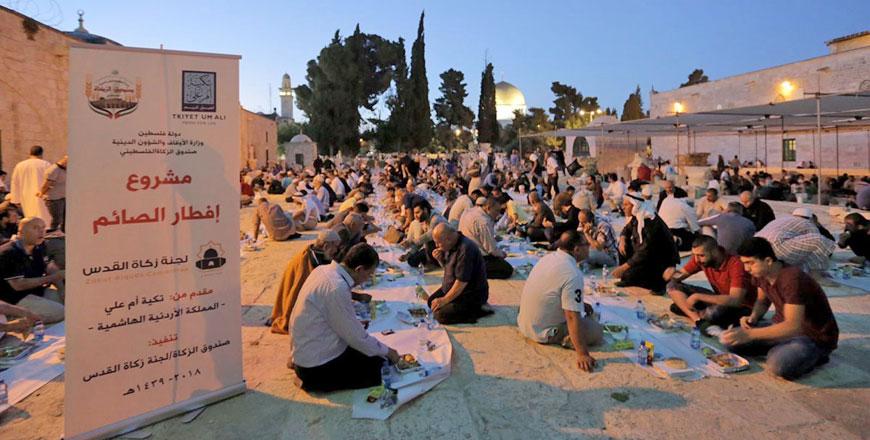 Jun 05,2018
AMMAN — Tkiyet Um Ali (TUA) has offered Iftar meals to Muslims at Al Aqsa Mosque/Al Haram Al Sharif and the Ibrahimi Mosque, as part of its
Newsletter
Get top stories and blog posts emailed to you each day.