You are here
Tourism Ministry focusing on 'low-capital, high-impact' projects — minister
By Dana Al Emam - Aug 13,2016 - Last updated at Aug 13,2016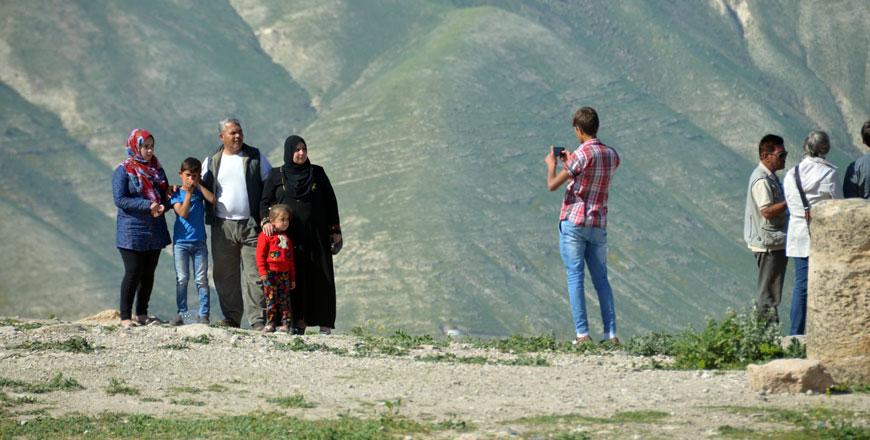 Tourists pose for a picture in Um Qais, 90km north of Amman, recently (Photo by Muath Freij)
AMMAN — The Tourism Ministry will implement "low-capital, high-impact interventions" to improve services, especially in tourist sites in the governorates, according to Tourism Minister Lina Annab.
The measures include renovating motels and public restrooms at archaeological sites, Annab said in a recent meeting with reporters.
Annab highlighted "significant and tangible" government support to the sector, adding that investments in tourist projects in the governorates will receive incentives similar to those given to projects in development areas, such as 7 per cent sales tax and 5 per cent income tax.
The local community will be engaged in the development of tourist sites, so that they feel responsible for them, the minister said, adding that the sector is an important employer for Jordanians.
Some 82 per cent of workers in the tourist sector are Jordanian, according to the ministry, while guest workers make up around 30 per cent of the staff at tourist restaurants and up to 10 per cent of hotel workers.
The ministry is working on a number of infrastructure projects across Jordan developing visitor centres, the minister said at the meeting held last Wednesday.
The slowdown in the sector in recent years, due to regional unrest, gave the ministry and other concerned authorities the opportunity to review work processes and marketing techniques, Annab said.
The ministry has identified high demand for adventure, medical and religious tourism, and programmes will focus on these areas as well as agritourism, cultural and film tourism.
Issa Gammoh, secretary general of the ministry, said 80 projects are being implemented across Jordan at cost of JD13.3 million.
He added that small and medium-sized projects worth JD16.5 million benefited from loans from the Development and Employment Fund between April 2014 and April 2016.
"Since 2011, the number of workers in the tourism sector has increased by 23 per cent from around 40,000 to over 50,000 workers," he said.
Meanwhile, Jordan Tourism Board Managing Director Abed Al Razzaq Arabiyat said promotional campaigns targeting European and untraditional Asian markets had been "successful" in increasing the number of visitors.
During the first seven months of this year, the number of overnight visitors from China increased by 50 per cent, from South Korea by 11.5 per cent, India by 12 per cent, Germany by 16 per cent and the UK by 5 per cent, compared to the same period last year.
The board is preparing for a visit by international film producers who will explore potential cinematic locations in the Kingdom, he added.
Related Articles
Jan 10,2017
AMMAN — Tourism Minister Lina Annab on Tuesday said that statistics on the tourism turnout last year showed an increase in overnight visitor
May 01,2017
AMMAN — Tourist numbers surged last week due to the Labour Day long weekend, Tourism Minister Lina Annab said on Monday during a briefing wi
Feb 03,2018
AMMAN —Tourism Minister Lina Annab on Friday announced the start of 14 direct flight routes from Europe to Jordan as of Sunday.
Newsletter
Get top stories and blog posts emailed to you each day.