You are here
Tourism stakeholders join nationwide strike against income tax draft law
By Ahmed Bani Mustafa - May 30,2018 - Last updated at May 30,2018
The main sit-in near the Professional Associations Complex in Amman to protest against the draft income tax law on Wednesday (Photo by Amjad Ghsoun)
AMMAN — Several tourism associations on Wednesday joined the nationwide strike in protest of the draft amendments to the Income Tax Law.
The Jordan Society of Tourism and Travel Agents (JSTA) has issued a notice to all of its members to take part in the strike starting from 12:00pm on May 30 in rejection of the draft law.
JSTA Secretary Kamal Abu Diab told The Jordan Times on Wednesday that around 700 travel agents and tourism workers across the Kingdom stopped working at 12:00pm.
Approving the Income Tax Law amendments by the government and refereing it to the Parliament without opening dialogue with the tourism and travel sector, and not taking into account the difficult economic burdens the sector is already bearing, has pushed the association to take part in the strike, Abu Diab said.
The amendments to the law impose "very heavy burdens" on all agents and employees, who are already suffering from the effects of regional crises as well as other challenges and taxes that have threatened the tourism sector's sustainability.
Travel and tourism agents are convinced that if the amendments to the Income Tax Law are passed, they will affect the standards of living for agencies' owners and employees and will push investors to abandon the sector, the secretary said.
For Jordan Tourist Guides Association (JTGA), their participation in the large-scale protest consisted of three activities: closing the association's headquarters, staging a sit-in in front of it and joining the main protest at the Professional Associations Complex in Shmeissani area in Amman.
JTGA President Hasan Ababneh said that the reason for their joining in the strike was that "the draft law was not discussed with tourism stakeholders".
The draft law will negatively affect the tourism sector, which is a leading sector in the national economy, contributing more than 10 per cent of the GDP, Ababneh said.
For tour guides on the field, Ababneh said that they could not join the strike as they were running trips that have already been contracted and paid for by tourists.
But even those who were unable to join found a way to participate, as they took to social media to praise the association for joining the strike.
Jordan Restaurants Association also partook in the strike in rejection of the amendments of the law which, it said "adds new economic challenges to run and sustain restaurants which are already burdened with taxes and licensing fees".
Related Articles
Jan 22,2018
AMMAN — The Jordan Society of Tourism and Travel Agents (JSTA) on Sunday organised a protest against the establishment of a travel company b

Feb 24,2018
AMMAN — Travel agencies have filed a lawsuit against Awqaf Ministry for establishing its own travel operator, claiming such move is "illegal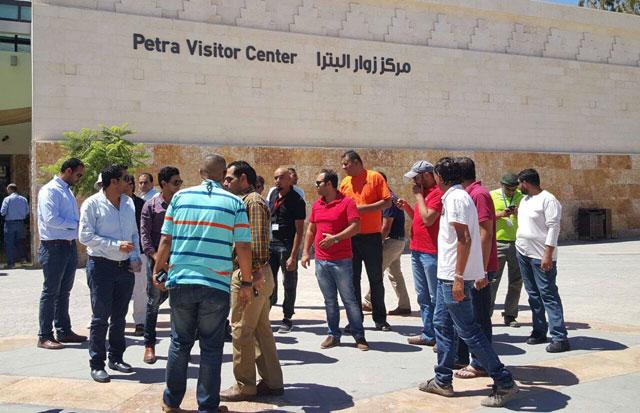 Jul 25,2016
AMMAN — Dozens of tour guides went on strike and protested at the Petra Visitor Centre on Monday over allegations of corruption within their
Newsletter
Get top stories and blog posts emailed to you each day.