You are here
Tourist restaurants sales decline — JRA
By Ahmed Bani Mustafa - Dec 31,2017 - Last updated at Dec 31,2017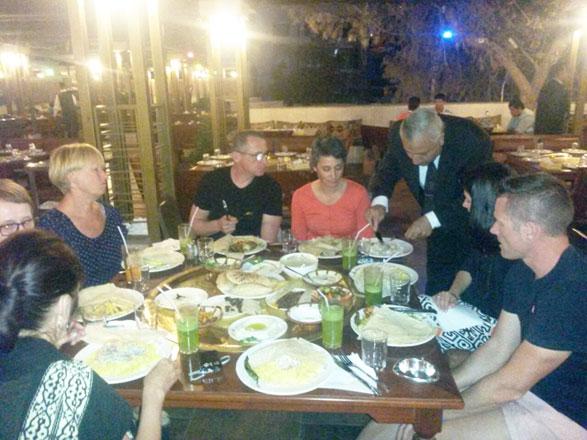 Sales of tourist restaurants in Jordan dropped by around 10-30 per cent in 2017 compared to previous years, according to the Jordan Restaurants Association (Photo by Ahmed Bani Mustafa)
AMMAN — Sales of tourist restaurants in Jordan dropped by around 10-30 per cent in 2017 compared to previous years, according to the Jordan Restaurants Association (JRA).
The drop in sales is attributed to high operational cost, taxes, and customs duties on production inputs, JRA General Manager Eliana Janineh told The Jordan Times on Sunday.
Also among the reasons are the hikes in rent, electricity tariff and other taxes, which led "most" restaurants to increase their prices, said Janineh.
The sales were also affected by the economic and livelihood situation of residents, which resulted in restaurants experiencing a low turnout, according to the manager.
She added that the number of restaurants has increased, which is another reason for the decline of the sales.
According to Imad Rashid, a restaurant manager, some restaurants have to be blamed for their "failure" as management, food quality and service are the basic pillars for the success of any business.
In addition, the industry suffers from a lack of trained or specialised staff, such as waiters, cooks and kitchen employees, Rashid noted. Recent government measures to stop recruitment of foreign workers and adding a special tax on serving argileh had exacerbated the problem, he added.
There are 19 professions closed to guest labour, while jobs open for foreign workers include set quotas, including 40 per cent in gas stations.
Rashid said that despite the situation, his restaurant survived the challenges for various reasons including its "management and fame".
There are around 940 restaurants targeting tourists in Jordan, around 85 per cent of which are located in Amman, said Janineh.
For restaurants outside Amman, the number of customers increased as they totally depend on tourists, whose numbers increased during this year, Janineh said.
In Amman, restaurants depend mostly on local customers, she noted.
When asked about the prices charged at tourist restaurants, Janineh said they are high compared to neighbouring countries according to a study conducted by the JRA.
The JRA works to improve the tourist restaurant industry in line with the National Tourism Strategy, which aims at building sustainable tourism and enhancing the sector, she added.
She called on landlords to consider the "difficult situation" of restaurants and reduce rents, stressing that "partnership between restaurant owners and landlords is vital".
Janineh said that the association is preparing a study on the sector's competitiveness in Jordan compared with other regional countries, in addition to the challenges that face the facilities.
Related Articles
Aug 06,2016
AMMAN — Tourist restaurants in the capital are witnessing a boom in business as expatriates return for the summer, but outside Amman, the se
Jun 18,2015
AMMAN — Restaurants are allowed to serve food during the day in Ramadan, provided that they use curtains to respect the "sanctity" of the fa
Nov 11,2015
AMMAN — HORECA Jordan 2015, the second international exhibition of the hospitality and food and beverage service industries, opened in the c
Newsletter
Get top stories and blog posts emailed to you each day.