You are here
Town of Umm Al Jimmal offers glimpse into religion, daily life in ancient times
By Saeb Rawashdeh - Aug 21,2021 - Last updated at Aug 21,2021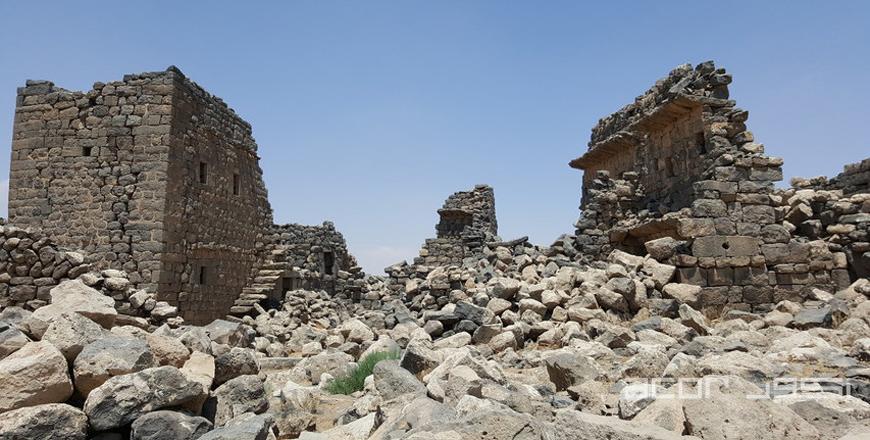 A general view of the ancient site of Um Al Jimmal, located some 80km northeast of Amman (Photo courtesy of ACOR)
AMMAN — Three historic stones from one of Umm Al Jimmal's churches were recently uncovered by the Department of Antiquities (DoA).
American scholar Howard Crosby Butler (1872-1922) photographed the stones more than a hundred years ago, but, until recently, the stones were covered from damage in a 1920s earthquake, Darrell Rohl, professor of Archaeology and History at Calvin University, Michigan, said.
"Each stone features inscribed letters or symbols: One features the Greek letter 'alpha', one the Greek letter 'omega', and the other a small cross. These inscriptions are almost certainly original features from when the church was built, probably around 550-650 AD," Rohl told The Jordan Times in an e-mail interview.
The small, historical town, Umm Al Jimmal (about 80km northeast of Amman) offers a unique opportunity to learn about the relationship between religion and the daily life in rural communities during two key transition periods: From Nabataean and Roman paganism to Christianity and from Christianity to Islam, Rohl said.
"So far, we are only aware of one possible Nabataean/Roman temple at the site, 16 Byzantine churches from the years AD 450-650 or beyond and two probable mosques from the early Islamic periods. We currently best understand the Byzantine churches, but there is much more to learn from fieldwork," Rohl noted.
The current plans for the site include work on the churches, which represent three key "types": Free-standing public churches that are not connected to domestic structures or houses, neighbourhood churches that are publicly accessible, but physically connected to nearby houses, and (probably) private churches that appear to be accessible only from within houses or house courtyards, Rohl stated.
He added that their goal is to better understand these three types of churches.
Newsletter
Get top stories and blog posts emailed to you each day.