You are here
Traffic police on alert to 'instantly' respond to complaints against yellow taxis
By Camille Dupire - Apr 12,2018 - Last updated at Apr 12,2018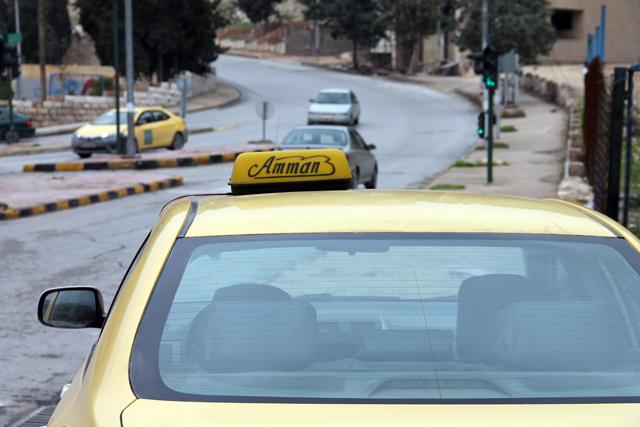 Traffic police say they are prepared to respond swiftly to complaints against unacceptable conduct of yellow taxi drivers (File photo)
AMMAN — In light of the repeated strikes by yellow taxis' owners demanding the ban of ride hailing apps due to "the incurred financial losses", citizens keep denouncing the lack of actions towards the inappropriate and sometimes threatening behaviour of taxi drivers.
Overcharging and other illegal practices
"Yellow taxis always try to rip me off: they refuse to turn the metre on, or they overcharge me for no reason," said Andrew, a British student in Amman, adding: "They sometimes get lost too, and get upset if I don't know the route myself."
Overcharging has long been a concern for local taxi passengers, who are faced with illegal behaviours such as the absence of a metre, refusal to activate it, or tampering with the final price of the ride.
South African Debra Warwood recalled one of the "many incidents" she encountered while living in Amman: "The other day, I was charged 10JD for a trip where I normally pay 1JD. Because I refused to pay that much, the driver dropped me off on the side of the road."
Mimi Masri Al Saadi described similar experiences: "I had to take a 3-minute drive within the same area but, because of my health situation, I wasn't able to walk. The first taxi asked for 2JD so I got down right away. After getting into another taxi who had a metre, I got to my destination with a metre displaying a 52 piaster fee. However, he charged me 1.50 JD saying that 'the gas had gone up'."
After giving him the amount shown on the metre and starting to walk away, she said the taxi driver "threw the change at me and started swearing".
Tension heightened by ride-hailing app competition
Taxi drivers' rude and sometimes aggressive behaviours have been "on the rise" according to users, who say that they often hear complaints about the new ride hailing apps, blaming them for the "slow business".
"I remember a taxi driver who spent the whole journey criticising Uber and Careem, claiming they are unlicensed, do not pay dues and split their markets in illegal ways," 24-year-old student Reem Al Hadid recalled.
For Sabrina Fernandez Esteban, her choice to use Uber and Careem is because "she always had a very good experience, contrary to yellow cabs". "Not only do they have clean, decent cars with AC, but the drivers are always very nice and courteous," she told The Jordan Times, stressing: "It is also very safe as you can inform somebody from the app with the plate number and car model".
"It is also nice that the app gives you an estimated price when you book," she highlighted, adding that "their reporting system is highly efficient and follows up perfectly with any complaint."
Reporting loopholes
In the case of yellow taxis, however, citizens seem to remain widely unaware of the steps to take to report such incidents.
"I always take down the plate number of the car in question but I do not know whom to contact or what procedures to take," Saadi explained, as she reached out for advice on social media.
For Khaled Abu Samra, the experience of reporting offending behaviours was "pointless". "I went several times to the nearest police station to report these types of offences. The officer on duty would ask for my info and the driver's. I would explain the situation and he would seem to take note, promising to give me a call later on," he explained, noting that "the calls back never happened".
Nonetheless, other citizens reported times when the authorities took immediate action following their complaint.
A British citizen living in Amman, Philippa Harding, recalled several traumatic experiences where she reported incidents to her local police station. "Once, a taxi driver tried to hit me so I took his plate number and his picture. I went to a police station in Shmeisani where I reported him," she remembered, noting that the security forces brought the driver in the same evening and asked her to file in a report.
Despite being asked to follow through, she said she decided not to after the driver's father came to the station, apologising for his son's conduct.
She pressed charges, however, in another case, after a driver tried to abduct her as she was getting home. Harding said the police arrested the offender and the case was brought to court, which convicted the man.
Renewed tracking down efforts from authorities
For Amman Traffic Department Director Col. Bassem Kharabsheh, such offences are taken "extremely seriously" and can sometimes be considered as "crimes rather than mere offences".
"Two weeks ago, we caught a driver who had installed a small button under the metre to tamper with it. We took immediate action by issuing a ticket, seizing his car and referring him to court," he told The Jordan Times, adding that strong action is taken as soon as clear violations are proven, whether involving taxis, buses, or private cars.
The department has recently opened a Facebook page where citizens are invited to report any traffic-related issue, urging users to include "clear evidence" such as videos for moving offences and photos for static offences.
"We are keen to help the people, but it is sometimes hard as they are often not willing to go all the way to the court and press official charges," Kharabsheh underlined, noting that "we have a whole team dedicated to reviewing each post case by case to best serve the capital's population."
With a population of almost 4 million and a highly criticised public transportation system, Amman's 11,400 yellow taxis are one of the few options available for residents' daily commutes.
President of the Transport Services and Taxi Owners Union Ahmad Abu Haidar has previously rejected accusations related to practices of drivers, saying such claims harm the reputation of the Kingdom.
"Such behaviour is practised by thugs and not by cab drivers who have to go through a rigorous process before joining the profession," he said in previous remarks to The Jordan Times, adding that drivers should be above 22 years of age, should obtain public transport licences and certificates of good conduct, referring to an official document proving clean criminal records of applicants to obtaining driving licences to drive taxis and other public transportation vehicles.
"We cannot deny that a few drivers have some distasteful practices, but they make up no more than 2 per cent," said Abu Haidar, who stressed that taxi drivers in Jordan "are known for their honesty and decency".
Related Articles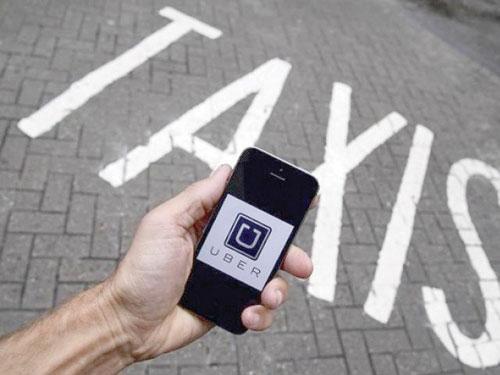 Aug 24,2017
AMMAN — As the Land Transport Regulatory Comission (LTRC) on Wednesday issued an initial approval for the licensing of ride hailing app "Car
Jan 07,2018
AMMAN — As the deficiencies of Amman's transportation system keep fuelling popular frustration, Jordanian Rahmeh Abu Shweimeh decided to lau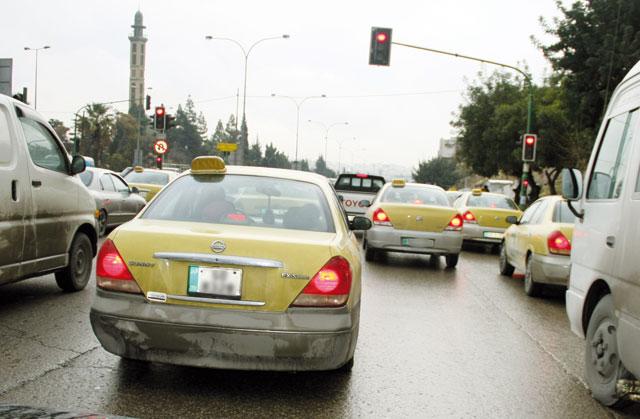 Mar 07,2017
Amman — Ride-hailing app Careem on Tuesday announced the start of bringing yellow taxis under its wings, helping put an end to a month-long
Newsletter
Get top stories and blog posts emailed to you each day.