You are here
Truck drivers dismiss claims of ISIL control in Iraq border area
By Khetam Malkawi - Jun 24,2014 - Last updated at Jun 24,2014
RWEISHED — Travellers who crossed into Jordan from Iraq on Tuesday reported a "tribal revolution" by Sunni groups on the Iraqi side of the border and no presence of the radical Islamic State of Iraq and the Levant (ISIL) group.
In interviews with The Jordan Times at the Karamah border crossing, 370km northeast of Amman, they said the Iraqi army is still running the Turaibil border crossing but it is controlled by Sunni tribes.
After crossing the Jordanian checkpoint, Jordanian, Iraqi and Syrian drivers coming from different destinations in the neighbouring country said the situation is calm, but there are no Iraqi army officers on the way from Baghdad to Turaibil, except on the border post.
In less than one hour, more than 10 trucks and two cars carrying passengers crossed the Jordanian checkpoint.
"Fighters are still controlling [the border]… there are no Daesh militants," said Mahmoud Abbas, an Iraqi driver coming from Anbar, using the Arabic acronym for ISIL.
He described the situation in his country as a "revolution against the unjust rule of [Shiite Prime Minister] Nouri Al Maliki's government".
Sunni tribes took control of a border crossing between Iraq and Jordan late on Sunday after Iraq's army pulled out of the area following a clash with rebels, Iraqi and Jordanian intelligence sources said, as quoted by Reuters.
Saif Eddin Hussain, a Jordanian driving a truck that holds a Dubai licence plate, also echoed Abbas' statement.
"Don't believe all that has been reported," Hussein said, adding that he came from Karbala, located about 100km southwest of Baghdad, which was "still controlled by the army".
The only "strange scene", as he described it, was seeing troops of the Iraqi army moving towards Karbala.
Jamal Saket, an Iraqi driver, said his route was from Baghdad to Jordan, adding that he had to stay in Rutba, which has been reported to be under the control of ISIL, for a few days.
"I was there [in Rutba], when the Iraqi army withdrew," he said.
"The fighters were armed and masked. They did not harm civilians, and people there were saying that they are tribesmen," Saket said, claiming that there were no fighters affiliated with ISIL and that he did not see their flag in areas taken over by rebels.
His only concern was the price of fuel, saying that it has gone up due to the unrest.
The vehicles that crossed the border from Iraq also included trucks with Syrian plates.
Ibrahim Hassan, a Syrian, said he was not worried while driving from Anbar to the border.
Nevertheless, he described crossing the border into Jordan as the "road to safety".
'Media reported false news'
Upon crossing the checkpoint, Jordanian driver Ahmad Smeirat left his car and started shouting at the staff of Arab satellite channels in the vicinity.
When the tribesmen took over Rutba, 60km northeast of the Jordanian border, and the crossing point in Iraq after the army withdrew, Smeirat said his family called him and were afraid that he might not be able to return home.
Some media outlets and satellite channels are "exaggerating and reporting false news", he said.
"It was a Sunni revolution, but the media was saying it was ISIL," the Ramtha resident said. "My family was in a panic… they thought Iraq was taken over by ISIL."
With his truck carrying a Jordanian licence plate, Smeirat claimed that "no fighter stopped me or asked what I was doing there".
"It is a revolution as I heard from Iraqis," the driver said.
Although some drivers said they heard from colleagues about highway robbers, no major cases were reported.
Others said the fighters had stopped them while they were on their way to certain cities in Iraq asking about the identity of the merchants they are dealing with.
Meanwhile, the other side of border was almost empty with only two trucks crossing Karamah into Iraq within two hours.
"I am a bit worried, but I have cargo that I must deliver today," said Adel Wardat, who was heading to Iraq.
"I talked to the merchant I am dealing with in Ramadi and he told me it is safe," he said, adding that he is still worried after hearing conflicting news reports about whether ISIL or the tribes are controlling border areas.
A security source at the border who spoke to The Jordan Times said there were no infiltration attempts on Tuesday.
"There is no need for Jordanians to be worried," he said.
Related Articles
Jun 22,2014
Although the Islamic State of Iraq and the Levant (ISIL) has controlled Rutba which is located 60km northeast to the border with Jordan, this does not pose a threat to the Kingdom, officials and experts said on Sunday.
May 24,2015
BAGHDAD — The Daesh terror group seized on Sunday the Iraqi side of a key border crossing with Syria after isolated government forces pulled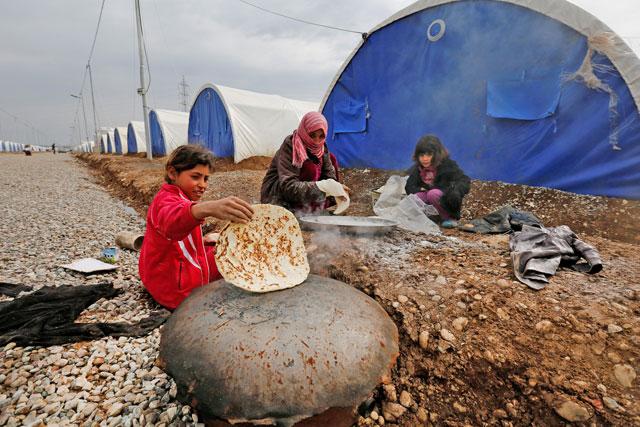 Feb 09,2017
HABBANIYAH, Iraq — Iraqi soldiers have discovered two shallow graves containing the bodies of people executed by the Daesh terror group in t
Newsletter
Get top stories and blog posts emailed to you each day.