You are here
Unbroken thread to homeland: Palestinian women preserve traditions through embroidery
By Mina Mohit - Oct 03,2017 - Last updated at Oct 03,2017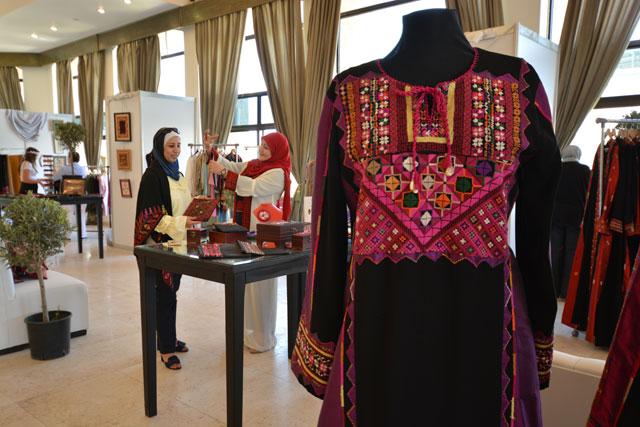 A dress with traditional Palestinian cross-stitch embroidery on display at the eighth Palestinian Cultural Exhibition in Abdoun (Photo by Mina Mohit)
AMMAN — The Palestinian Culture Centre on Tuesday opened its eighth annual Cultural Exhibition featuring a number of culturally significant displays. The exhibition aims to revive the feeling of the Palestinian homeland through traditional cross-stitch embroidery, food, films, and books about Palestine in both English and Arabic.
The three-day exhibition — dominated by the rich colours and textures of traditional Palestinian embroidery found on dresses, pillows, jewellery boxes and other household items — has a cause behind it. Each piece is carefully handmade by a woman living in a Palestinian refugee camp in Jordan, said the event organisers.
"We want to let women in need to gain money and to be empowered, as well as teach the younger generation about this tradition that needs to be preserved," said Siham Abu Ghazaleh, assistant president of the Palestinian Culture Centre, which currently employs "over 500 women" from their homes across the Kingdom.
The embroidery campaign "allows for the humanity of the refugee to stay at home" while appreciating the talents of the Palestinian refugee women. "We want to let them know: You are not a number, you are a person, you are acknowledged," stressed Abu Ghazaleh.
The women are equipped with the materials and the design instructions by the organisation, and are remunerated for their hard work. Sometimes, depending on the intricacy of the design, "it can take up to two years" to cross-stitch a pattern on a dress, Abu Ghazaleh told The Jordan Times at the event opening.
She said that they try to choose colours and patterns in ways that are more suitable to today's fashion "without deviating away from the traditional design that originates from Palestine".
Apart from dignifying refugee women with an income, the exhibition aims to educate the public about the origins of Palestinian cross-stitch embroidery and Palestinian identity.
"We are part of a resistance, and we want to show the world that this tradition is in fact ours and dates back to 100 years," said Abu Ghazaleh.
"I was born in Palestine, and I was raised to love my country, but the [new generation] is born outside — in refugee camps — so this is the only way we can encourage them to promote our tradition," said Samira Darras, who has been volunteering for the organisation for the past 25 years.
The exhibition, an extension of the Palestinian Culture Centre, "strictly focuses on the wellbeing and empowerment of the women in the refugee camps" and then towards funding university scholarships, hospitals and other charitable organisations in Palestine, said Darras.
"A woman is able to support her husband and send her child to university just from stitching," said Darras at the exhibition.
Abla Abu Ghazaleh, a five-year regular visitor to the exhibition said she enjoys coming every year to relive her memories of her home country. "We feel like we are not in Jordan, we feel like we are back in Palestine."
Another loyal visitor to the exhibition, Wajida El Khairy, came to the event with her family members visiting from Palestine "to show them that even outside of Palestine, we are supporting them".
The exhibition is held at the Jordan Construction Contractors Association in Abdoun and continues through Thursday.
Related Articles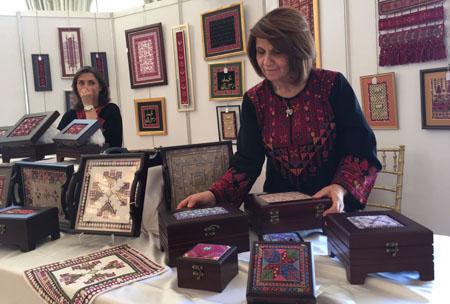 Oct 15,2016
AMMAN –– Young Palestinians are becoming more interested in their heritage, and are joining their mothers in embroidery work, an official at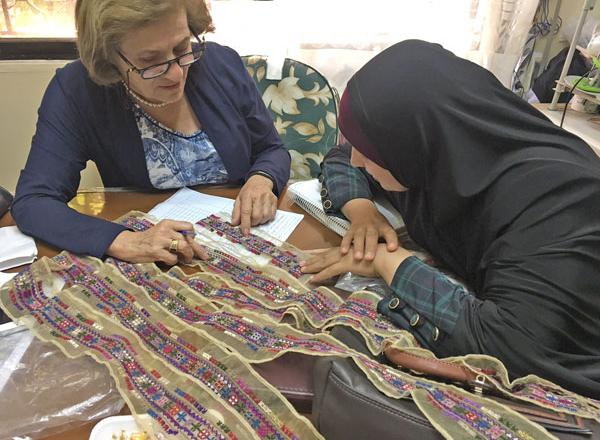 Oct 17,2017
AMMAN — Summaya Abu Ali Sattari is a 35-year-old woman living in Baqaa, the largest Palestinian refugee camp in Jordan.
Oct 12,2016
AMMAN – The annual Palestinian Cultural Exhibition opens on Saturday at the Association of Jordanian Contractors in Amman, showcasing a wide
Newsletter
Get top stories and blog posts emailed to you each day.