You are here
UNHCR summer bazaar sheds light on refugees' plight
32 stalls display creations of refugees from around Kingdom
By Muath Freij - Jun 23,2018 - Last updated at Jun 23,2018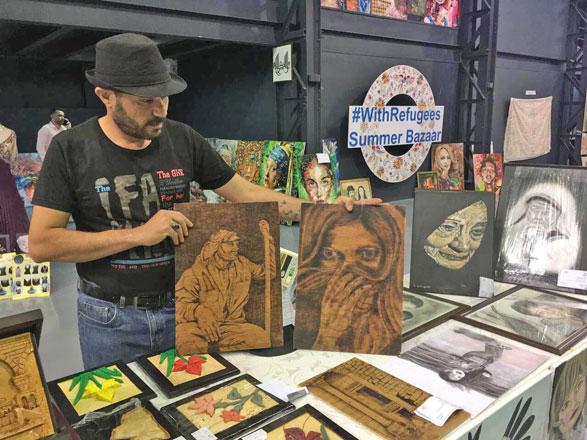 Syrian refugee Tariq Hamdan displays his paintings at the With Refugees Summer Bazaar in Amman on Saturday (Photo by Muath Freij)
AMMAN — Art is as important as politics and successful artists can be good ambassadors for their country, Syrian refugee Khidawi Nabulsi said on Saturday.
On the last day of "With Refugees Summer Bazaar", the Deraa-born refugee said art plays "an important role" in drawing people's attention towards the plight of Syrian refugees.
He was among the number of refugees who displayed their works at the two-day bazaar over the weekend.
Nabulsi, who created small shapes of tents from remaining pieces of damaged tents at the camp, told The Jordan Times "the tent is a symbol of refugees' suffering. I wanted to highlight the sufferings of the Syrian people".
Nidaa Yassin, UNHCR assistant external relations officer, said the summer bazaar comprised 32 stalls of several refugee vendors from various nationalities who came from all over the Kingdom.
"There are Syrian refugees from the camps and from urban areas in addition to Iraqi, Yemeni, Sudani and Somali refugees who all participated with their own talent and hobby showcasing their own art," she told The Jordan Times on Saturday.
The UNHCR officer noted that most of the artists came from their countries carrying these skills with them, adding that UNHCR in cooperation with partner agencies and humanitarian organisations. helped them improve them.
"We decided to give them this opportunity on World Refugee Day to commemorate their bravery, strength and courage and to show that the people of Jordan are still standing with refugees and want to support them," Yassin said.
Around 750,000 refugees from different nationalities are residing in the Kingdom, according to the UNHCR official, who said "57 different nationalities are registered with UNHCR, the majority of whom are Syrians".
Syrian refugee Tariq Hamdan creates artistic works with pencils and paints. He described the bazaar as important because it acted like a bridge that linked him with new friends and ideas.
"I want to develop my skills and go back home and see peace prevail there," he told The Jordan Times at his stall, stressing that he does not pay attention to the bazaar's proceeds, as his main concern is "to make people aware of the Syrian stories".
"I feel that Syria used to carry me and now, I am carrying my country inside myself. I still hope for a better future," he concluded.
Newsletter
Get top stories and blog posts emailed to you each day.