You are here
UNICEF offers education programmes for refugee children to stay on track
By Ana V. Ibáñez Prieto - Feb 06,2018 - Last updated at Feb 06,2018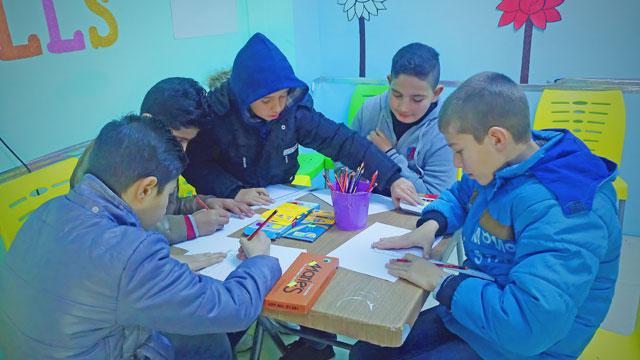 Children are seen at Makani centre in Sweileh (Photo by Ana V. Ibáñez Prieto)
AMMAN — While most children get back on their routines after the winter break, 14-year-old Syrian refugee Nizar strives to return to school while working to support his family.
"I love it — I do love school, and I miss it so much," he told The Jordan Times during a visit to the Makani centre in Sweileh, where he shared his struggle to continue his education after fleeing the Syrian conflict with his family.
"I wanted to get back to school when we arrived here because I know that it is where I should be — but they told me I was too old," Nizar said, explaining how instead, he works 11 hours a day for a daily wage of JD5 to help his family.
"The problem relies on the fact that the public school system has a series of regulations on the age and the amount of years that children have been out of school when it comes to reintegrate them," UNICEF Chief of Education Iris Uyttersprot told The Jordan Times in a recent interview, noting that "however, several alternative opportunities exist under the umbrella of what we call non-formal education".
"Through the Ministry of Education, we reach out to vulnerable children in order to offer them the opportunities that are most suitable to their situation," Uyttersprot explained.
A catch-up programme is available for children aged nine to 12 to introduce them in an advanced learning path and integrate them back into the formal education system, while children over 12 can get involved in dropout programmes aimed at providing them with learning opportunities towards further education and employment choices in their adult phase.
Nizar is now looking up to this opportunity to have a life similar to that of 12-year-old student Abdullah, who spends his days in between school and the Makani centre in Sweileh.
"I go to school every day, and when the classes are over, I go home and continue to do my homework and study," Abdullah told The Jordan Times when asked about his day-to-day life.
"My older brothers go to school too and I know that this is the right thing to do," he continued, expressing his fear that people would "laugh at me, or tell me that I am lousy, if I was not going to school".
Twelve-year-old student Haitham saw his efforts compensated after spending two years out of school while fleeing the Syrian conflict, and is now happy to be back on a routine similar to Abdullah's.
"I always wanted to be an engineer or an architect, and during those two years, I would see all those children going to school and I would feel so bad that I was not with them," he said.
"I used to feel like I could not read or write — I was stuck, and I couldn't wait to be back in school again," he expressed, adding that "that's how I knew that I had to do my best to be back on track, and now I am here and I am happy — I know that there is a future awaiting".
Although the Government of Jordan has provided Syrian refugees access to schools, only 142,000 were enrolled in the public school system as per last year, out of the 230,000 Syrian refugees that are school-aged, according to UNICEF figures
An additional 30,000 children were attending non-formal education and approximately 58,000 children were not participating in any form of organised learning, while an estimated 30,000 vulnerable Jordanian children were also out of school.
Fourteen-year-old refugee Hasan is one of the many children who still remain out of school in Jordan, unable to continue his education after dropping out at 2nd grade in Syria.
"Of course I would like to go back to school, and I am still trying," Hasan told The Jordan Times, explaining how he could not catch up once settled in Jordan due to his age.
"I feel really bad because I can't go to school and I do not have a job either like some of my friends do," he continued, elaborating on the period in which he attempted to work but had to leave unpaid.
UNICEF's innovative Makani (My Space in Arabic) approach aims to expand learning opportunities for all children not accessing any form of education in Jordan through an holistic approach that provides all vulnerable children and youth with learning opportunities, life skills training and psychosocial support services under one roof, according to Uyttersprot.
Makani centres are located in cities, urban centres, Syrian refugee camps and vulnerable settlements in all 12 governorates of Jordan. All services at Makani centres are free of charge and open to all children in the catchment community, especially vulnerable girls and boys, irrespective of their nationality, abilities or status.
Related Articles
Nov 22,2015
AMMAN — UNICEF has no financial difficulties for now in accommodating all school-age Syrian refugees in Jordan in formal education, but the
Nov 29,2015
AMMAN — UNICEF is committed to enabling all children on Jordan's soil to access education and learning, but both the Jordanian government an
Dec 16,2014
Despite financial constraints and overcrowding in schools across the Kingdom, UNICEF and the Education Ministry on Tuesday reiterated their commitment to ensuring that all children in Jordan are provided access to learning opportunities.
Newsletter
Get top stories and blog posts emailed to you each day.