You are here
Urban arts festival launched in Amman
By Emily Packer - Oct 05,2015 - Last updated at Oct 05,2015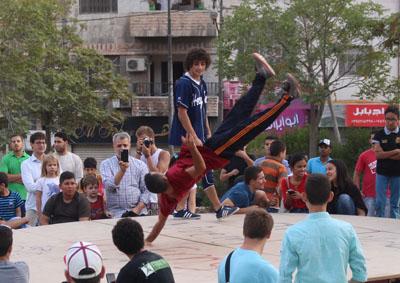 Young people dance hip-hop during a festival in Amman on Friday (Photo by Emily Packer)
AMMAN — Rappers, breakdancers and skateboarders gathered at 7Hills Skatepark in Amman's Jabal Luweibdeh neighbourhood on Friday for The Word is Yours, an event billed as "Jordan's first regional urban festival".
The free-of-charge, two-day event showcased urban arts such as hip hop, graffiti art, skateboarding, and breakdancing, and brought together artists from across the Middle East.
"Hip hop is a means of freedom of expression…it's the best way for people to be able to vent," the festival's co-organiser Shermine Sawalha told The Jordan Times.
She noted Jordan's increasing prominence within the region in urban arts, for instance in breakdancing: "The breakdancing scene is becoming very strong in Jordan. Actually, most of the competitors in the region are Jordanian."
Graffiti art was also on the rise in Amman, with artists looking to bring new techniques to the city, and about 100 young skateboarders were becoming more professionalised, Sawalha commented.
"Amman definitely has some of the best rappers in the region," said Malikah, the Lebanese rapper who was the closing act at the concert.
Tia Korpe, co-organiser of the festival, said the skatepark was an ideal venue because it was open, free, and already a community destination.
She added that while city authorities and businesses were supportive of the festival, the funding came entirely from crowdfunding websites.
Copenhagen-based Korpe and Amman-based Sawalha run regional production companies Mektoub and Malahi respectively. Korpe is also MENA programme officer for the NGO Turning Tables, which provides music production facilities and creative opportunities for excluded youth, including at Al Hussein Palestinian Refugee Camp near the Jabal Hussein neighbourhood of Amman.
The first day of The Word is Yours festival, held at 7Hills Skatepark, featured performances from musical acts such as rappers Synaptik and Jazz Tha Process, Kuwaiti group Sons of Yusuf, and DJ Missy Ness from Tunisia, as well as competitions in skateboarding and breakdancing.
7Hills Skatepark was established last year with money from crowdfunding platform Make Life Skate Life and built by volunteers from the community.
The second day of the festival, held at the Al Locanda Hotel, included art and dance workshops, film screenings, and discussions with musical acts.
Related Articles
Oct 12,2017
AMMAN — "A decade ago, there were only a handful of skaters in Jordan, but the construction of 7Hills has jumpstarted the community," said M
May 17,2017
AMMAN – Amman Design Week (ADW) on Wednesday announced the launch of the Urban Park Design Competition, organised in partnership with the Gr
Apr 09,2014
Downtown Amman's Hashemite Square and the Roman Theatre will host a reading festival this month that aims to instil a culture of reading in the capital. 
Newsletter
Get top stories and blog posts emailed to you each day.