You are here
US dance company connects with Jordanian children through movement
By Xiomara Hurni-Cranston - Oct 27,2015 - Last updated at Oct 28,2015
BodyTraffic co-director with a child during a workshop at Al Hussein Society (Photo courtesy of BodyTraffic)
AMMAN — An American dance company is halfway through a two-week tour of the Kingdom to promote one-on-one interaction, dance and most of all, joy to Jordanian students, people with disabilities and other dancers, troupe members said Tuesday.
The company, BodyTraffic, was selected by the US State Department and the Brooklyn Academy of Music to participate in DanceMotion USA's cross-cultural programme connecting American dance companies with the wider world.
T'Errance Favors, assistant cultural affairs officer at the US State Department, said they requested participating in DanceMotion's project because of the "tremendous effect that comes from working with people in a physical way… dance really does connect people in different ways".
BodyTraffic, one of Los Angeles' leading dance companies, did multiple workshops at Al Hussein Centre for People with Disabilities and a three-day residency at Zaha Cultural Centre to produce a joint performance.
The troupe members will also run workshops in Zarqa, some 22km east of Amman, on the use of creative and performing arts and the physical benefits of dance, in addition to a workshop for local professional dancers.
Lillian Barbeito, one of the co-founders and co-directors of BodyTraffic, said their aim is "first and foremost — joy; bringing joy and human connection through movement."
The troupe did not only come as dancers, but also as "person-to-person ambassadors… citizen diplomats", Dora Quintanilla, company manager, said.
Barbeito added that: "Sometimes exchanges between politicians are not so effective as they would have hoped for, and when you put two people of different cultures together to dance, typically it is smiles and laughter and enjoyment."
Dancer Joseph Kudra said BodyTraffic's experience at Al Hussein Centre was the first time most of the group had worked with people with disabilities and that the children's reactions were heart-warming.
Barbeito said the work "has been so inspiring that we are going to start workshops in LA for people with disabilities".
Faisal Al Mamun, of the Kingdom's Misk Dance Company, added that the BodyTraffic movement told children at the centre that they "do belong to society" and "they were given different options… [to] learn how to move even though they were physically challenged."
At the Zaha Cultural Centre, BodyTraffic worked with musicians and dance students, putting together two performances which were attended by "probably 300 people", according to Favors.
Barbeito noted that initially the musicians were resistant to the idea of trying something new — creating new music together and moving while they performed — but drummers and violinists who had never played together before ultimately came together and performed an original composition while moving on stage.
BodyTraffic dancer Melissa Bourkas added that the Zumba workshop brought men who enjoyed the powerful, high-energy, high-cardio project reminiscent of the energy that exists in dabkeh.
The company received as much as it gave, with Kudra noting that seeing the excitement of the children before their first performance at Zaha Cultural Centre "reignited" the flame of his passion for dance.
Their collaborative work also aims to "teach thinking outside the box and finding your creativity with things you are given… [to] find ways to find your creative freedom and self-expression and to find, through your self-expression, openness and confidence", Barbeito added.
Mamun also noted that "Jordan is rich in a lot of things, and it should be rich in dance too because dance is an art… and those kids, they now know they can dance and there is nothing wrong with dancing… there is some kind of resistance towards dance here, but I think they are resisting the wrong thing. Why would you resist art?"
BodyTraffic will perform Wednesday evening at Terra Sancta theatre at 7:30pm. Attendance is free, but online registration is required at jordan.usembassy.gov.
Related Articles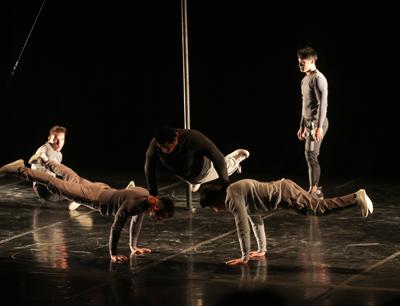 Apr 18,2016
AMMAN — The ILL-ABILITIES international breakdance crew began a series of performances in the Kingdom with a show at the capital's Royal Cul

Mar 03,2016
AMMAN — What makes Taj Express - The Bollywood Musical, different is that it gives the audience a glimpse of India in the style of Bollywood
Sep 17,2016
AMMAN — Over 50 dancers from across Turkey will narrate Turkish legends through dance in Amman on Sunday evening in the troupe's first ever
Newsletter
Get top stories and blog posts emailed to you each day.