You are here
US welcomes resumption of flights between Sanaa and Amman
By JT - May 16,2022 - Last updated at May 16,2022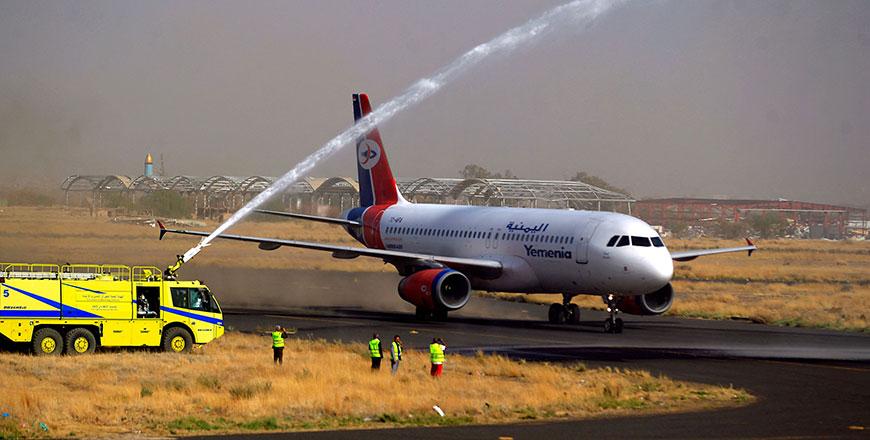 A Yemenia plane, the first commercial flight in nearly six years from Yemen's rebel-held capital, gets a water salute as it prepares to take off from Sanaa airport on Monday (AFP photo by Mohammed Huwais)
AMMAN — The US on Monday welcomed the flight between Sanaa and Amman, the first commercial flight from Sanaa since 2016.
"We hope it will enable Yemenis to travel to see loved ones, seek medical care, and find respite from the conflict," according to a statement by US Secretary of State Antony J. Blinken.
The United States appreciates the Republic of Yemen Government and the UN Special Envoy's efforts to enable this flight and thanks the Kingdom of Saudi Arabia and the Hashemite Kingdom of Jordan for their support, the statement said.
"We look forward to regular flights to and from Sana'a as called for in the UN-led truce. We urge all parties to adhere to the terms of the truce and make progress on other steps to bring relief to Yemenis — including urgently opening roads to Taiz, the third largest city with hundreds of thousands of Yemenis in need of humanitarian assistance, and other contested areas, where Yemenis have suffered for far too long," Blinken said in the statement.
"The United States encouraged the parties to seize this opportunity to advance broader peace efforts for the sake of the Yemeni people," he said.
"The United States is committed to supporting Yemeni efforts to shape a brighter future for the country," Blinken added.
Also on Monday, the White House National Security Council spokesperson, Adrienne Watson, welcomed the resumption of flights from Sanaa.
"Yemen today is witnessing its calmest period since the war began, and these flights are an important step in further improving the lives and opportunities for the Yemeni people," Watson said in a statement.
"The United States thanks Saudi Arabia for its leadership in helping to overcome obstacles to the resumption of these flights. We also thank the Government of Jordan and the new Republic of Yemeni Government's efforts in finalising the arrangements for what should be the first of regular flights between these destinations," she said.
"The United States, led by the efforts of Special Envoy Tim Lenderking, supports continued diplomatic engagement between the parties and UN Special Envoy Hans Grundberg's efforts to further improve freedom of movement inside Yemen, including by opening roads in Taiz and other areas," Watson noted.
The United States remains committed to supporting Yemen's sovereignty, stability, security and prosperity through an inclusive, UN-led political process to assist the Yemeni people in determining their country's future, Watson added.
Newsletter
Get top stories and blog posts emailed to you each day.