You are here
Values of tolerance, peace bring Jordanian family together — King
His Majesty meets members of Middle East Council of Churches, stresses important role of Christians in region
By JT - Sep 08,2016 - Last updated at Sep 08,2016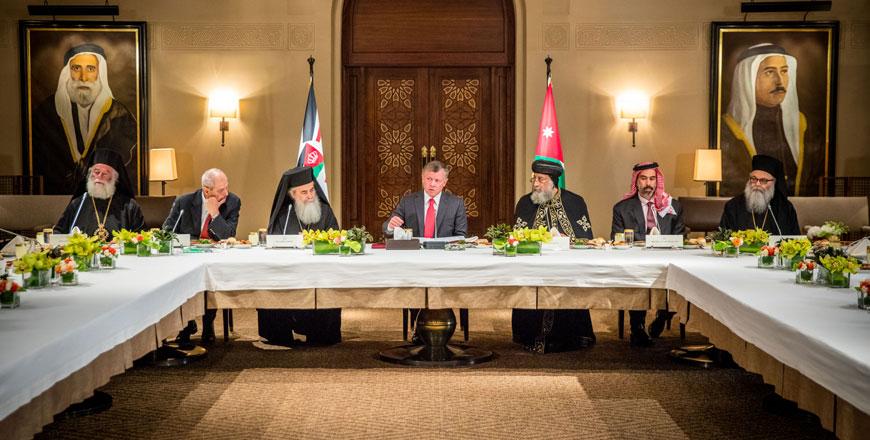 His Majesty King Abdullah meets with members of the Middle East Council of Churches at Al Husseiniya Palace on Wednesday (Photo courtesy of Royal Court)
AMMAN — His Majesty King Abdullah on Wednesday highlighted Jordan as a role model in harmonious living and coexistence, according to a Royal Court statement.
Speaking at a meeting with members of the Middle East Council of Churches (MECC) at Al Husseiniya Palace, the King said that Arabs, Muslims and Christians, share the responsibility to face the challenges that have arisen due to regional developments.
His Majesty said Jordanians are proud of the values of love, tolerance and peace that bring them together as a family, noting that Jordan has become a model of conviviality, moderation and coexistence.
The meeting, attended by HRH Prince Ghazi, the King's personal envoy and religious affairs adviser, came on the sidelines of the 11th MECC General Assembly, held for the first time in Jordan, the statement said.
During the three-day session that started on Tuesday, MECC members are discussing several topics related to the historic and current condition of Christians in the region and the challenges they face in light of the crises in the Middle East, in addition to the council's future tasks and services and its role in activating Islamic-Christian dialogue.
King Abdullah said Christians constitute an integral component of the fabric of Arab society, and protecting their rights is the responsibility of all, an issue that Jordan has highlighted in various religious initiatives and conferences, including the "Challenges Facing Arab Christians" conference.
For their part, the members of the MECC commended the Kingdom's role in boosting coexistence among followers of different religions and promoting interfaith dialogue.
They also praised Jordan's efforts to safeguard Islamic and Christian holy sites in Jerusalem and its role in preserving the Baptism Site and facilitating pilgrimage to it.
The church leaders lauded the Kingdom for continuing to offer a safe haven for refugees who have fled persecution.
Related Articles
Jun 22,2016
AMMAN – The Middle East Council of Churches (MECC) for the Orthodox Family on Sunday said Patriarch Theophilos III of Jerusalem, who is also
Sep 08,2016
AMMAN — The 11th General Assembly of the Middle East Council of Churches (MECC) concluded its meetings on Thursday in Amman, the Jordan News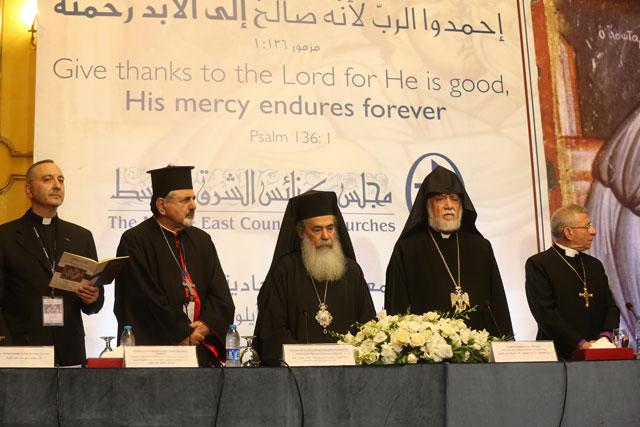 Sep 06,2016
AMMAN — Ongoing atrocities in the region call for a unified ecclesiastical voice by Middle East churches as an instrument for entrenching pe
Newsletter
Get top stories and blog posts emailed to you each day.