You are here
Veterans Day marked with special ceremony
By JT - Feb 15,2016 - Last updated at Feb 15,2016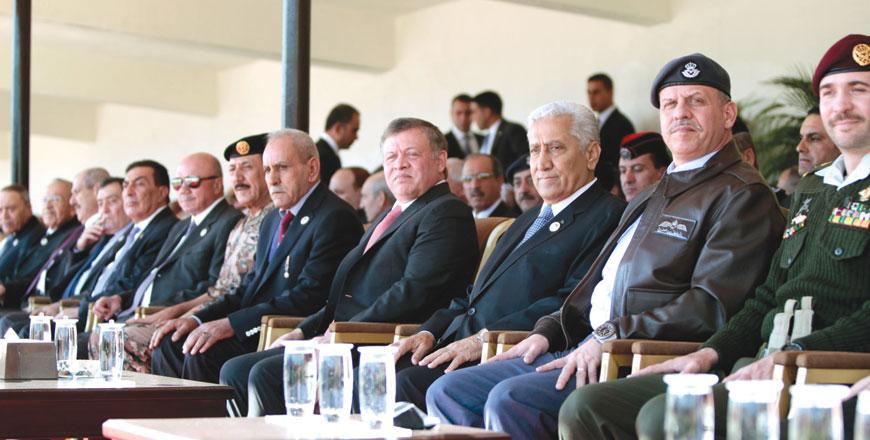 His Majesty King Abdullah attends a ceremony to mark Veterans Day; Ex-servicemen take part in a march to celebrate the occasion in Amman on Monday (Photo courtesy of Royal Court)
AMMAN — His Majesty King Abdullah on Monday attended a ceremony marking Veterans Day in honour of ex-servicemen's sacrifices for the country.
During the festivity, organised as part of the Kingdom's celebrations of the centennial anniversary of the Great Arab Revolt, King Abdullah watched a silent military parade by the infantry, and another parade by the Jordan Armed Forces-Arab Army's (JAF) musical band, which played pieces dedicated for the revolt's anniversary.
Arriving at the ceremony's location at King Hussein Bin Ali Brigade, which is headquartered within the Royal Court, His Majesty was received by King's Military Adviser and Chairman of the Joint Chiefs-of-Staff Gen. Mashal Al Zaben and Director General of the Economic and Social Association for Retired Servicemen and Veterans Maj. Gen. Mahmoud Irdeisat.
Irdeisat expressed his organisation's appreciation for His Majesty's continuous support for ex-servicemen, according to a Royal Court statement.
February 15 was designated a national day in recognition of the achievements of veteran warriors and ex-servicemen under Royal directives to the government in March 2012.
Celebrating Veterans Day and the centennial of the Revolt, some 900 military servicemen and veterans of different ranks, including injured military personnel, participated in a march that started from the first JAF camp, JAF musical band headquarters, through Al Aqsa Street on the way to the Royal Court.
Participants carried the Jordanian flag, the Revolt's banners and the flags of the military units they served at.
The march also saw the participation of old military vehicles from the Royal Automobile Museum, which JAF has used in different historical periods.
Guards of honour and Gendarmerie Department horse riders, followed by retired servicemen of all governorates representing different JAF and security institutions, also took part in the march.
King Abdullah hosted a lunch banquet in honour of the retired soldiers, the statement added.
Related Articles
Sep 28,2017
Amman — His Majesty King Abdullah, the Supreme Commander of the Jordan Armed Forces-Arab Army (JAF), on Thursday presented the Great Arab Re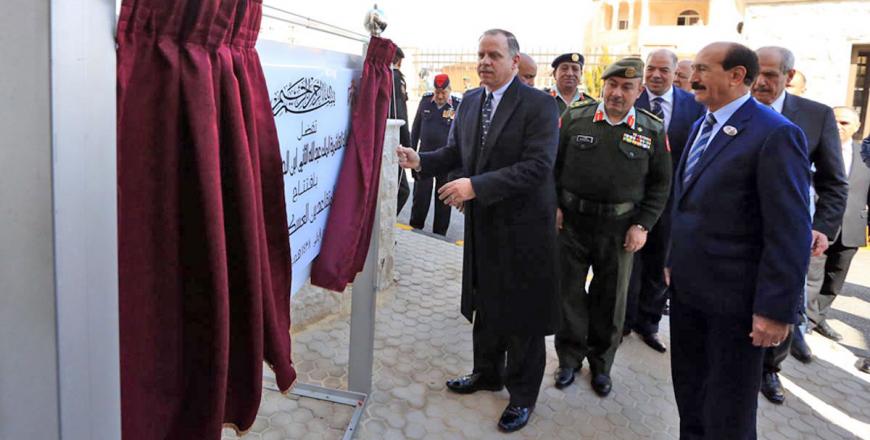 Feb 15,2017
AMMAN — His Majesty King Abdullah on Wednesday congratulated retired servicemen on the occasion of the Veterans Day. "Warmest greetings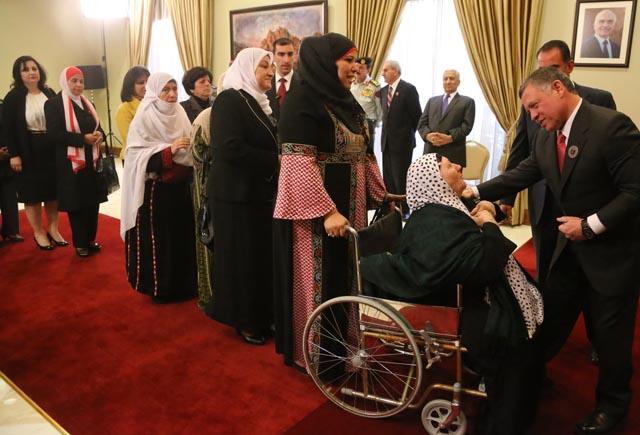 Feb 19,2014
His Majesty King Abdullah, the Supreme Commander of the Jordan Armed Forces, on Wednesday attended a ceremony held in honour of war veterans and retired servicemen, marking Veterans Day.
Newsletter
Get top stories and blog posts emailed to you each day.