You are here
Visually impaired students express themselves through art
By Rana Husseini - May 23,2018 - Last updated at May 23,2018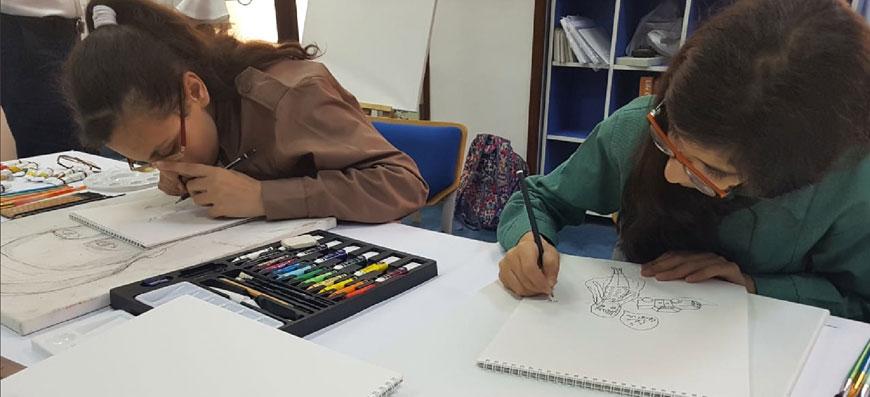 Lana Bani Musa (righty) and Aseel Bashar are seen during an art lesson at an academy for the blind, built upon directives from His Majesty King Abdullah, who and Her Majesty Queen Rania visited on Tuesday (Photo By Rana Husseini)
AMMAN — "We want to turn our disability to power" is the slogan that Lana Bani Musa, 13, follows every time she grabs a brush to paint at the art workshop located at the Royal Academy for the Blind (RAB).
Bani Mustafa is one of dozens of visually disabled students who have been taking art classes for the past seven years at RAB.
"I have the capability to draw anything and I was awarded by the Ministry of Culture for my work on behalf of the entire group of students here," Bani Musa told The Jordan Times.
She expressed deep gratitude for His Majesty King Abdullah for providing the art workshop with the necessary colours, canvas, stands and tools "to be able to express ourselves through drawing".
For this reason, Bani Musa added, she wrote a story that "I will give to the King entitled 'Scent of Colours" that talks about the reality we are living in and the fact that visually disabled people are capable of accomplishing anything they want in life."
The student was able to hand her story in person to King Abdullah during his visit along with Her Majesty Queen Rania to RAB on Tuesday.
"Today was a dream come true for me because I met the King in person and was able to give him the story I wrote," she said.
She also expressed her gratitude to Their Majesties "for standing with us by taking time from their busy schedules to come and visit us and look at our work".
Aseel Bashar, 12, also saw the Royal visit as a "dream come true".
"If it was not for the King, we would not have any of these tools or space to draw and express ourselves," said Bashar, who displayed drawings, one depicting the King and the other the Mona Lisa.
The King and Queen's visit today "gave us a moral boost especially that many people still carry misconceptions about the visually disabled persons' capabilities", Bashar told The Jordan Times.
"Some people do not respect our talents and they make fun of us because we have weak sight. But the King believed in us and our capabilities and decided to provide us with the necessary tools to prove to these people that we are capable and can do something useful in our lives," Bashar stressed.
Bani Musa concluded by saying that she wants to become an English literature teacher when she grows up and eventually "become a famous artist that can help teach students with visual disabilities".
Meanwhile, Bashar said she would continue where she started.
"Drawing is surely what I want to keep doing when I grow up. I enjoy it and feel that I can express myself freely," Bashar said.
RAB was equipped in 2017 with a special drawing workshop for the Blind; through RHC in collaboration with Artist Suhail Baqaeen.
Related Articles
May 23,2018
AMMAN — Zahra Abu Dalou is a visually impaired student at the Royal Academy for the Blind (RAB), who spends most of her day at the Science,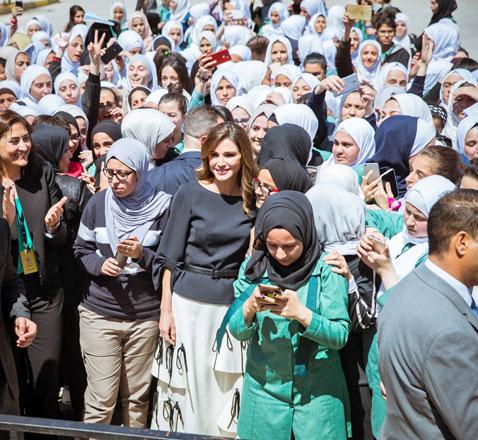 Apr 15,2018
AMMAN — Her Majesty Queen Rania on Sunday visited the Sweileh Secondary School for Girls to support the efforts and activities of a new camp
Feb 29,2016
AMMAN — Majd Abu Dalou, who has a visual disability, did not have any clue about robotics and would have never thought he would be making a
Newsletter
Get top stories and blog posts emailed to you each day.