You are here
Volunteers with disability prove 'they can offer help too'
Inclusive initiative 'Cumestair' helped its members take part in Wednesday's association strike
By Renad Aljadid - Jun 07,2018 - Last updated at Jun 07,2018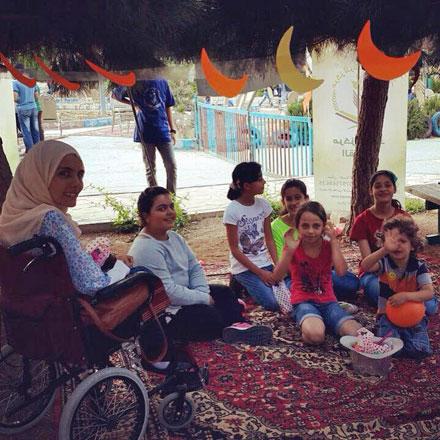 The members of Cumestair initiative volunteer during charity events to prove people with disabilities 'can offer help too' (Photo courtesy of Cumestair)
AMMAN — A group of Jordanian volunteers have come up with an innovative, "reversed" concept of volunteering, aiming to show people with disabilities are not only a target group" that needs help, but also a "productive" segment of society that can offer help as well.
"Each person has their own potential and can give something unique. Maybe we need certain conditions to be able to help but, once these are available, we can give in various ways and make a real change in society," Hadeel Abu Soufeh, an activist and wheelchair user herself, told The Jordan Times.
"Many of the children we meet get surprised by the wheelchair at first, but, once we start playing and interacting with them, they quickly forget about it," Hala Mahfouz, a Jordanian volunteer with muscular dystrophy said, stressing: "We are fostering the sense of accepting others in spite of their differences and spreading inspiration for volunteering and giving."
Mahfouz and Abu Soufeh are some of the founders of the "Cumestair" initiative, which aims to facilitate the inclusion of people with disabilities in public life through voluntary work.
The initiative is a "haven" for people with disabilities including people with visual and hearing impairment, wheelchair users and persons with other motor disabilities, according to the co-founders, who highlighted that the initiative serves as a link between the organisers of charity events who need help and volunteers with disability.
"Helping to give to others in need and drawing a smile on children's faces makes many volunteers feel stronger and more powerful than ever," Mahfouz and Abu Soufeh agreed, noting that "we are breaking the social conventions and stereotypes on people with disabilities. Instead of only telling the society 'we can', we are working to prove that through actions."
Ensan ("Human" in Arabic) is one of the charity organisations that partnered with Cumestair to work with volunteers with disabilities.
"At first, we didn't know what tasks to assign them but we soon discovered that each one has something unique to give," founder of Ensan Mohammad Nabulsi told The Jordan Times.
Nabulsi said that the organisation, which counts nine regular volunteers with disabilities, now strives to attract more volunteers and ensure that the locations of their events are accessible.
For Saeed Qaffaf, who has been a regular member of the Jordan Volunteers since 2014, "disability is only a delusion". The wheelchair user said he participated in several charity events and activities abroad and inside Jordan. "I even volunteered in remote areas of the Kingdom, where I assumed various roles such as English-Arabic interpreter or event coordinator," he explained.
"I once went as an interpreter with a group of Jordanian and foreign doctors who provide free medical examinations to underprivileged areas," Qaffaf remembered, adding "When people first saw me they patted on my shoulder with sympathy but, when I started helping them communicate with the doctors, I saw huge respect in their eyes."
For one of Cumestair co-founders, Sanad Abu Assaf, the initiative also helps in increasing awareness of accessibility in Jordan, by making sure that the locations are accessible to people with disabilities.
He noted that they mobilised a group of volunteers to help people with disabilities take part in Wednesday's strike at the Professional Associations Complex in Amman.
"We believe they have a right to see their voices' heard and to be part of the community without any sort of exclusion," Abu Assaf told The Jordan Times, adding that "we also ensured the presence of a sign language interpreter to translate any speech delivered to the participants with hearing impairments".
"Although volunteering means giving for no return, we in fact receive more than what we give as we are given hope, success, happiness, and love," Abu Soufeh concluded.
Related Articles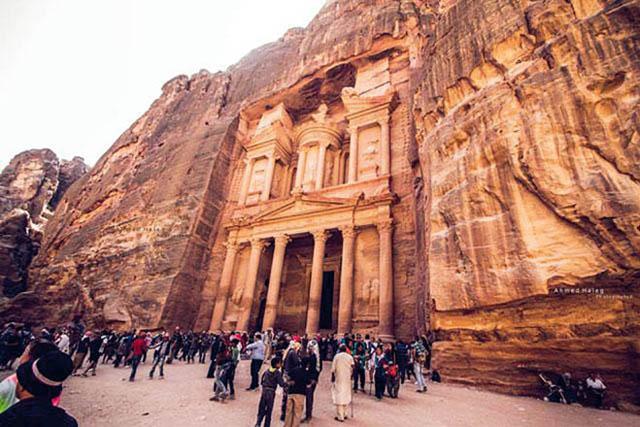 Aug 27,2017
AMMAN — Most archaeological sites in Jordan are inaccessible for people with disabilities and facilitating the access to those locations is
Aug 31,2014
A newly launched initiative titled "Kumesteir" seeks to "engage people with disabilities in voluntary work".
Jun 21,2016
AMMAN — Until recently, Hadeel Abu Soufeh was not able to fully express her love of nature by working on the land. Confined to a wheelc
Newsletter
Get top stories and blog posts emailed to you each day.