You are here
Water minister checks on progress of Amman, Zarqa sewage projects
By Bahaa Al Deen Al Nawas - Oct 18,2020 - Last updated at Oct 18,2020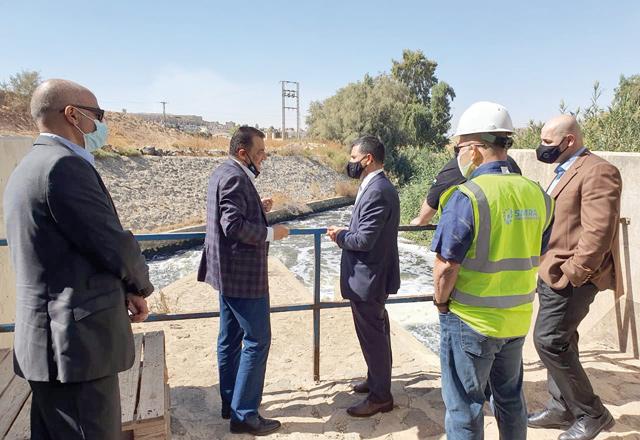 Minister of Water and Irrigation Motasem Saidan on Sunday toured several main sewage facilities that serve Amman, Zarqa and Ruseifa, checking on the progress of several projects (Petra photo)
AMMAN — Minister of Water and Irrigation Motasem Saidan on Sunday toured several main sewage facilities that serve Amman, Zarqa and Ruseifa, checking on the progress of several projects.
The minister checked on the progress of the new pipeline in Ain Ghazal treatment plant, the work at the Khirbet Al Samra wastewater treatment plant, which he said should implement "a successful wastewater management system", describing it as an 'eco-friendly Green Park that follows international standards".
The government will continue to implement strategic projects to include new areas in regard to wastewater services, especially as the COVID-19 crisis remains ongoing, a ministry statement quoted Saidan as saying.
Ain Ghazal is the initial treatment plant that covers most of the wastewater produced in Amman, with a processing capacity of 330,000 cubic metres (cm) per day, the statement said, adding that the minister checked on its facilities and the upgrades made to it to remove solid waste before pumping the wastewater through a 34-kilometre long pipeline to Al Samra treatment plant, which also treats 365,000cm of wastewater daily.
Saidan was also briefed on a new pumping pipeline to convey wastewater, expected to be completed in 24 months, at a length of 30.4km to take on expected excess loads, avoiding also any operational errors, in turn preserving the environment, the statement said.
Wastewater services should be of a qualitative added value to the sector, the minister said, urging stakeholders to expedite the implementation of projects and plans that aim to resolve environmental issues and expand services to new areas to reduce the burdens on citizens and refugees.
The minister was also briefed on the new landfill to bury the solid waste that comes out from processing wastewater for the next five years, which was completed with a funding from the German Development Bank (KfW), the statement said.
The landfill utilises the highest international environmental standards, limiting the spread of mosquitoes and other insects, and utilising the waste to produce biogas for energy, reducing operation costs, according to the statement.
The projects Saidan checked on include environmental, technical and financial studies with Dutch funding, aiming at benefitting from wastewater pools to create a station for solar energy at a capacity of 20-25 megawatt annually, covering the electricity consumption needs of the stations in Zarqa and Hashmeya, and also Al Samra's need in full, saving JD2 million on operational costs.
Newsletter
Get top stories and blog posts emailed to you each day.