You are here
Water restrictions imposed as heat rises
Ministry warns public against using municipal water on gardens, pavements; waste of municipal water will be penalised
By Hana Namrouqa - Jul 02,2017 - Last updated at Jul 02,2017
Temperatures until Tuesday are expected to be 7-9 degrees above their annual average for this time of the year, according to the Jordan Meteorological Department (Photo by Amjad Ghsoun)
AMMAN — As the demand for water increases due to soaring temperatures, the Ministry of Water and Irrigation on Sunday warned the public against using municipal water on gardens and pavements.
Spraying yards and pavements with water is "unjustified and useless" when temperatures are expected to exceed 40°C in many parts of the country this week, Minister of Water and Irrigation Hazem Nasser said in a statement e-mailed to The Jordan Times.
"The water that is pumped to consumers is for drinking, personal and domestic usage only. Cleaning streets, pavements or cars using a hose is a waste of precious water and is penalised," Nasser said in the statement.
Those who are found wasting water, especially when temperatures are rising and demand for water surges, will be fined, according to the ministry's Spokesperson Omar Salameh.
"Consumers who waste water will also lose their right to submit objections over the value of their water bills. Water waste cases will be documented with photos and repeat offenders will have their water subscriptions changed, from domestic to commercial," Salameh told The Jordan Times.
In addition, those who repeatedly waste water will have their water services suspended and will be referred for legal action.
Wasting water is a crime under the amended Water Authority of Jordan (WAJ) Law, according to Salameh, who noted that the country's water security is jeopardised if people fail to preserve every drop of water and use it efficiently.
As the demand for water is expected to reach a record high this week for the first time since the start of the summer, water directorates, technical teams and pumping stations will be operating around-the-clock to keep up with the surging demand.
The WAJ released a study in 2015 that showed that only 5 per cent of domestic water is used for drinking and cooking purposes, while 45 per cent is used in bathrooms and for garden irrigation.
In the statement, the ministry said that the government's subsidy for every cubic metre of water reaching the consumers exceeds $2.5, and called on people to carry out regular maintenance on their domestic water systems and rooftop tanks to prevent leakage.
Jordan ranks as the world's second water-poorest country, where water per capita is 88 per cent below the international water poverty line of 1,000 cubic metres annually.
The available water resources in Jordan offer 800-900 million cubic metres of water annually, according to the ministry, which said that the amount caters for the needs of only 3 million people, while the number of water users in Jordan now exceeds 10 million.
Meanwhile, the Ministry of Agriculture issued instructions for farmers to follow during the prevailing heatwave. The ministry urged farmers to take precautions to prevent crop losses or deaths at poultry and cattle farms during the hot weather.
"Farmers should irrigate crops more frequently during evenings and early mornings in these high temperatures, while animal breeders should maintain certain temperatures and ventilation inside coops and barns, and bee farmers should shade their hives," ministry Spokesperson Nimer Haddadin said on Sunday.
Temperatures until Tuesday are expected to be 7-9 degrees above their annual average for this time of the year, according to the Jordan Meteorological Department.
In Amman, temperatures are forecast to reach a high of 39°C in the coming three days, during which hot and dry conditions will be witnessed around the Kingdom, the department said.
Meanwhile, mercury levels in the Jordan Valley and the Gulf of Aqaba will reach a high of 45°C in the coming days.
The public is advised to avoid direct sun exposure and drink a lot of water and liquids to avoid dehydration.
Related Articles
Sep 14,2015
AMMAN — The Ministry of Water and Irrigation on Sunday urged the public against using municipal water for cleaning gardens and pavements, wa
May 30,2015
AMMAN — Only 5 per cent of domestic water is used for drinking and cooking purposes, according to a new study, which said that 45 per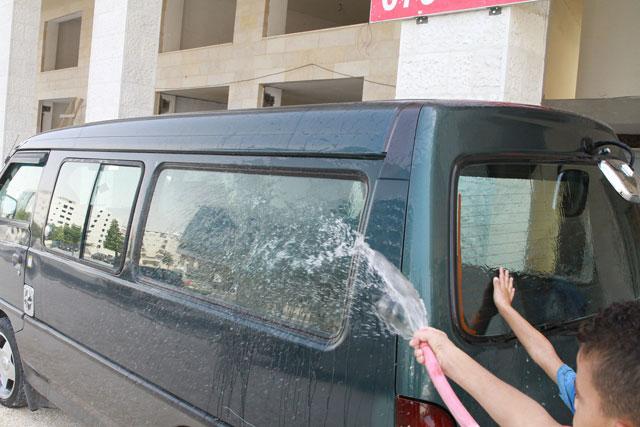 Jun 08,2016
AMMAN — Consumers found using potable water for washing cars or cleaning outdoor spaces will be penalised as an inspection campaign was laun
Newsletter
Get top stories and blog posts emailed to you each day.