You are here
WFP appeals for urgent funding of $94m to sustain vital assistance to refugees
WFP representative says 65 per cent of refugees on edge of food insecurity
By Sarah Abu Zaid - Mar 17,2021 - Last updated at Mar 17,2021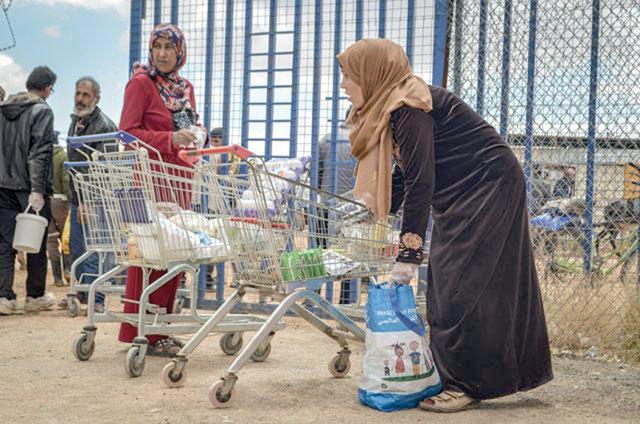 The United Nations World Food Programme in Jordan said it has not been able to raise sufficient resources to maintain the level of assistance it provides to refugees for May 2021 (Photo courtesy of WFP)
AMMAN — The United Nations World Food Programme (WFP) in Jordan is concerned about its funding situation with regard to providing support to more than half a million refugees in the country as the agency requires around $94 million till the end of the year, Dara El Masri, communications officer at WFP told The Jordan Times.
According to Masri, the WFP has not been able to raise sufficient resources to maintain the level of assistance it provides to refugees for May 2021.
"Seeing how family food security situation has deteriorated even when the WFP has been providing assistance, the consequences of cuts in aid would be dire," she said.
She also noted that with current indications, if no funds are received, 194,000 refugees will be cut out of assistance by May.
In addition, if required funds are not received by July, the WFP will be forced to cut assistance to another 313,000 refugee beneficiaries including those living in the Syrian refugee camps.
"The WFP requires urgent funds to provide lifesaving assistance to these families and to stop thousands from slipping further into food insecurity and poverty," Masri said.
She noted that the competing requirements from other crises and the socio-economic impact of the pandemic on donor home economies have made it difficult for the WFP to raise the required resources to maintain the level of assistance provided to refugees.
"After more than a decade in refuge, Syrian refugees in Jordan are now suffering the worst food-security situation since the start of the conflict," she said.
Lack of food on the table is also increasing tension within the household including gender-based violence, Masri noted.
According to Masri, families depend on assistance from the WFP to feed their children and are eating less so their children can eat more.
"The WFP food assistance is on average 59 per cent of the total household income for the refugee families," she said.
She pointed out that refugee families are resorting to negative food-based consumption strategies including limiting the number of meals they are eating, reducing portion size, borrowing food and relying on less preferred and less expensive food to eat.
"The WFP works closely with partners including the Jordanian government, UN agencies, NGOs, and our generous donors who continue to keep Syrian refugees on the agenda," she added.
Alberto Correia Mendes, WFP representative and country director in Jordan, said: "Food insecurity among refugees is now at the highest level since the families started coming from Syria 10 years ago. According to WFP assessments, a quarter of refugees across Jordan are food insecure and 65 per cent are on the edge of food insecurity, a stark increase since the pandemic started."
"Families are asking their children to eat less, removing them from school, sending them to work or even to beg. We must stay the course, as families are in urgent need of support; WFP's assistance already comprises 60 per cent of families' total income," he added.
up
32 users have voted, including you.
Newsletter
Get top stories and blog posts emailed to you each day.