You are here
What Really Matters Congress opens with a heavy dose of motivation
By Bahaa Al Deen Al Nawas - Sep 15,2019 - Last updated at Sep 15,2019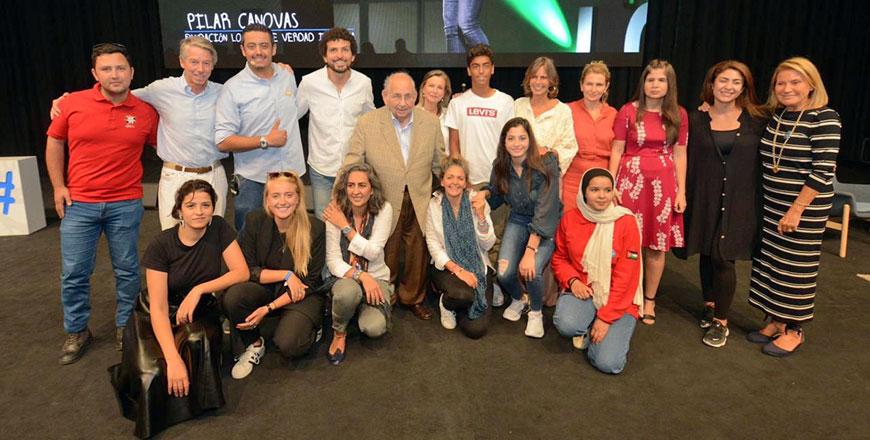 Their Highnesses Princess Lara Feisal Bin Raad, Prince Raad and Princess Majda pose for a group photo with organisers and guest speakers at the What Really Matters Congress in Amman on Sunday (Petra photo)
AMMAN — Young speakers at the What Really Matters Congress, which was held for the first time in Arabic and in an Arab capital, shared their stories with over 1,500 public and private school students on Sunday.
The congress was attended by Their Highnesses Princess Lara Feisal Bin Raad, Prince Raad and Princess Majda as well as International Director and Institutional Relationships at What Really Matters Foundation Pilar Cánovas, guest speakers and representatives from the Crown Prince Foundation and companies and partners.
The event at the Royal Cultural Centre in Amman kicked off with a short video of young people reflecting on "what really matters" in their lives: Ambition, love, peace, hope, freedom, partnership, friendship, success and humanity.
HH Princess Lara in her opening speech welcomed the students from 20 schools around Amman and the 15 delegates from Spain, to the congress held under the patronage of HRH Crown Prince Hussein, "who could not be here with us today but greets you all from the heart".
"In a moment of desperation, there is always hope, and if you have faith in your dream deep in your heart, you can achieve it," she said, introducing the Rise for Good Social Enterprise, which hosted the congress, and its co-founder Tala Mauge.
Referring to the stories of the young guest speakers, Mauge asked the audience "to listen, look and feel with your heart".
President of the What Really Matters Foundation Fernando Torrente highlighted the strong ties between Jordan and Spain, noting that the Kingdom's youth are at the centre of the congress.
"We strongly believe in you, in your strength and ability to change this world," he told the attendees.
Following the introduction, the event hosted guest speakers from Jordan, Syria, Tunisia and Egypt who talked about the challenges they had faced, how they overcame these challenges and more.
Sara and Yusra Mardini from Syria told their story of how they had escaped from the conflict in 2015 to Turkey, then to Greece and finally reached Germany, meeting with one challenge after another.
Rawan Barakat, a Jordanian born visually impaired, told her story of how she "chased her dreams", majored in arts and now runs a foundation that produces audiobooks for visually impaired children.
Guest Poet Anis Chouchene from Tunisia recited his poetry, tackling the living conditions in the Arab world, fear of differences and the change needed in society.
Speaker Omar Samra from Egypt told his story of how he suffered from asthma as a child and then grew to be able to hike Mount Everest.
On the sidelines of the event, foundation director Cánovas told The Jordan Times that he is "impressed to see how the teenagers here in Jordan are receiving the messages, which are inspirational and important for teenagers and adults alike".
What Really Matters congresses are free, non-political, non-religious events open to people of all beliefs, ideas and opinions and held in major cities around the world with the aim of promoting universal human values among the youth through powerful and inspirational personal accounts and life stories of speakers, according to a statement from the organisers.
Since 2007, more than 200,000 youth (mainly high school and first-year college students) have attended more than 150 congresses in cities across Europe and Latin America.
Newsletter
Get top stories and blog posts emailed to you each day.