You are here
When the dream of riding a bus becomes reality: school bus changes Azraq students' lives
By Camille Dupire - May 23,2018 - Last updated at May 27,2018
Children enter the IOM bus to go to school and back in Azraq refugee camp recently (Photo courtesy of Amanda Nero / IOM)
AZRAQ — Being born in Jordan's refugee camps, many young Syrians have never had the chance to experience many common life experiences such as going on an elevator or riding a horse.
The school bus project launched by the International Organisation for Migration (IOM) in Azraq refugee camp in February 2017 has given these children the unique chance to enjoy a seemingly commonplace action: riding a bus.
"At the beginning, the kids were really excited, rushing to get into the bus first," recalled Laura Sisniega, communication officer at IOM Jordan, adding "now the euphoria has calmed down a little, but they are still very happy and proud to go on the school bus."
The UNICEF funded buses started touring the alleys of Azraq camp to mitigate the protection factors facing young children going to school, such as extreme weather, long walking distances or safety concerns, according to Paul Khaoya, IOM support officer, who said that "it also helped in reducing the number of school drop outs as it is much easier for kids to get to school on a daily basis".
One of Jordan's largest Syrian refugee camps, Azraq currently hosts 36,883 people, 59.02 per cent of whom are children, according to the UNHCR Azraq Refugee Camp factsheet published in April 2018.
"I live in the furthest caravan from my school, which is almost 1km away. In winter when it is really cold and in summer when it gets very hot like right now, it used to be very hard walking all the way there. I used to walk alone even sometimes," recalled fifth grader Heyam.
"My mother heard about the bus project from CARE International so she went to the community centre to ask about it and registered me, my three sisters and my two brothers," she told The Jordan Times on the bus taking her back home, adding "I am very happy now because I am never late to school anymore and I can arrive at school fresh and not tired."
The big bus, which can carry up to 50 students, goes around the village to pick up students gathered at the water tank — which serves as the assembly point — before dropping the girls at the early shift starting at 8am. Once the girls finish, they are dropped home and the buses go on to pick up the boys for the afternoon shift.
"We have 30 buses going around the villages, which pick up some 7,500 students, including 60 children with disabilities," said Alaa Al Hasan, IOM project assistant, noting that "only students who registered with the project can enter the bus, as we monitor their presence on board through cards that they have to carry with them every school day".
In order to avoid students as young as five years old waiting in the sun, the 30 buses are constantly driving between the camp's seven schools, dropping children at shaded bus stops near their homes.
Supervising the students alongside members of the IOM team are 102 "escorts", all Syrian incentive based volunteers (IBVs) who underwent a comprehensive training on prevention of abuse, code of conduct, safeguarding rules, and inclusion, among others.
"This training is extremely important as some volunteers didn't know how to deal with kids, or how to follow proper safeguarding policies," said Fathi, one of the lead escorts, who started working with the project from its onset in February 2017.
The escorts also learn how to use the reading tablets used to identify the students' badges as they enter the bus, a technology that helps both monitor and ensure the safety of the children.
Fathi now helps organise and train the new IBVs, whom he said "benefit from this cash-for-work opportunity", in addition to "making the camp a safer place for children" like his three daughters.
They all take the bus on a daily basis and "he is very pleased with that", he told The Jordan Times, adding "compared to the number of students dropping out before the bus existed, we have noticed a much higher attendance in school, which is a great achievement."
"These students really gained something more than a ride home with this project. They improved their quality of life, their education and got to experience something that they saw as 'extraordinary' by riding those large scale buses," Sisniega concluded, as young children compared their own badges with her IOM official card.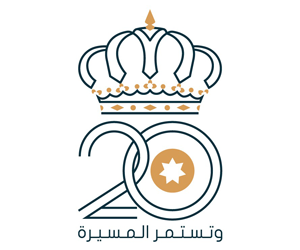 Newsletter
Get top stories and blog posts emailed to you each day.