You are here
Woman donates three-storey building to widows, their children
By Ahmed Bani Mustafa - Feb 08,2018 - Last updated at Feb 08,2018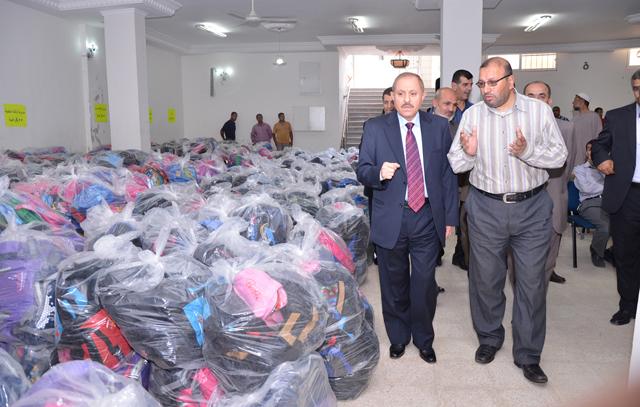 Zakat Fund distributes school backpacks to underprivileged students (Pera photo)
AMMAN — Requesting strict anonymity, a Jordanian woman has donated a three-storey building to widows and their children.
The woman agreed to talk to The Jordan Times after multiple attempts.
The building, in Amman's Joufeh area, consists of three apartments which will be given to three low-income families, who face difficult living conditions, the anonymous donor told The Jordan Times on Wednesday.
"I used to lease the three apartments and donate the rent to underprivileged families, but I wanted to maximise the support," said the donor.
The woman has donated one apartment so far and is looking for two more beneficiaries, she said, adding that she told the family not to disclose that they received their housing for free to "respect their dignity".
"According to Islam's teachings, the best sort of charity should be recurring and unannounced as it grants a continuous divine reward in this life and the next," she said, adding that helping orphans is among the top virtues in Islam.
The legal procedures to register the building as an endowment have been executed by the Awqaf Ministry and the Zakat Fund, under the condition that she be the only person who can choose beneficiaries.
The donor commended the cooperation of the ministry and the fund, who were "very helpful" and flexible with her philanthropic gesture.
When asked about the reason for selecting this type of charity instead of donating to build or furnish a mosque, she said that "I do not think there is a place in the Kingdom that does not have a mosque, but there are 'a lot' of families facing hardships who need help."
People can donate to build classrooms as schools are overcrowded. Some classrooms have 60 students and many function in two shifts, she added.
Abed Smeirat, the fund's general director, expressed appreciation for woman's donation of the building as an endowment.
The initiative will encourage more donors to support underprivileged families through the fund, Smeirat told The Jordan Times.
For her part, Kholud Assaf, the fund's head of the orphans department, said that the fund already has several charity programmes such as "eidiyeh" (cash gifts during Muslim feasts) and the distribution of clothes to 3,200 orphans who are registered at the fund.
The fund also supports orphans in school by distributing bags and winter garments, Assaf said.
She outlined various initiatives to provide aid to orphans including monthly payments to orphan caregivers.
According to Islamic law, or Sharia, Zakat, a tax that requires paying 2.5 per cent of what a Muslim owns in cash money, gold, silver, cattle, farms and rentable assets, in alms, is one of the five pillars of Islam.
When asked why she preferred anonymity, the woman recited verses from the Holy Koran: "If ye disclose [acts of] charity, even so it is well, but if ye conceal them, and make them reach those [really] in need that is best for you..."
Related Articles
Jul 27,2017
AMMAN — A Jordanian woman has donated JD7,000 for the release of 12 women who were imprisoned for failing to pay back their loans.
Jun 11,2017
AMMAN — The Zakat Fund on Sunday held an iftar banquet for orphans in cooperation with the Awqaf Ministry, the Jordan News Agency, Petra, re
Oct 03,2017
AMMAN — Minister of Awqaf and Islamic Affairs Wael Arabiyat said on Tuesday that 66 women were released from prison after their debts and fi
Newsletter
Get top stories and blog posts emailed to you each day.