You are here
Workshop calls for better inclusion of women with disabilities in society
By Sawsan Tabazah - Dec 07,2017 - Last updated at Dec 07,2017
AMMAN — Discrimination against women with disabilities is affecting their participation in the economic and political life in Jordan, an activist and member of Insan Society said on Wednesday during a workshop titled: "People with Disabilities rights: Achievements and Challenges".
"Social boundaries and injustice against women with disabilities are worse than the disability itself," Neimat said during the event organised by the Sisterhood is Global Institute (SIGI), in cooperation with the Greater Amman Municipality (GAM), as part of the 16 Days of Activism against Gender-Based Violence campaign.
SIGI's President Inaam Asha said that the first victims in unstable areas like the Arab region are the women, stressing that women suffering from disabilities are even more susceptible to acts of violence.
Citing figures published by the Department of Statistics in 2016, Neimat said that, out of 57 per cent of women suffering from disability in Jordan, only 21 per cent are working.
She noted that employers usually refuse to hire people with disabilities, claiming that they are "less productive".
"Having equal opportunities in work and education are great concerns for people with disabilities due to the lack of accessibility in streets and at workplaces for example," Neimat added.
Lara Iskandar from the Higher Council for the Affairs of People with Disabilities (HCD) said that, despite these challenges, the new law for people with disabilities is "a great achievement since it's the first anti-discriminatory law in the region".
The new law considers people with disabilities based on their rights and duties, rather than individuals who need to be cared for.
Endorsed in September, the law defined disability as the environmental and social boundaries that prevent people with disabilities to take part in society.
The law criminalised depriving a person with disability from his/her rights to education or work.
A specialised committee called "Equal Opportunities Committee" will be formed by representatives of ministries, the concerned authorities and experts to receive complaints about discriminatory acts perpetrated against people with disabilities, Iskandar noted.
Meanwhile, GAM's Head of People with Disabilities Services Khadeja Nsour noted that the municipality on Tuesday signed a memorandum with the HCD to facilitate the transportation system by importing 100 accessible buses as well as providing the Bus Rapid Transit with the needed facilitation to make it accessible.
Related Articles
Nov 23,2015
AMMAN — The Higher Council for the Affairs of Persons with Disabilities (HCD) has finished preparing a new bill on people with disabilities,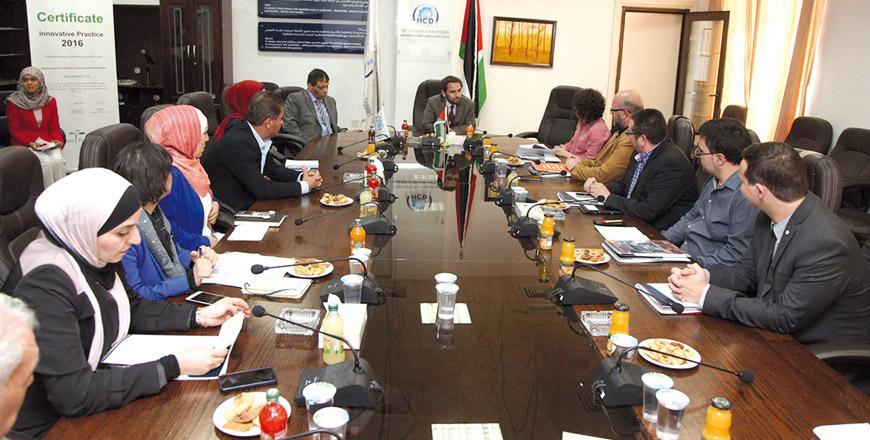 Apr 25,2017
AMMAN — HH Prince Mired, the president of the Higher Council for the Affairs of People with Disabilities (HCD), on Monday met with members o
Oct 19,2016
AMMAN — Ambassadors and representatives of donor countries discussed future projects with the Higher Council for the Affairs of Persons with
Newsletter
Get top stories and blog posts emailed to you each day.