You are here
Young Jordanians leading projects to serve community 'one step at a time'
By Muath Freij - May 11,2015 - Last updated at May 11,2015
AMMAN – Concerned over the rising number of female teenage smokers in her area, 16-year-old Jerash resident Majd Adabat worked with her friends to raise awareness to curb the phenomenon.
Adabat and four other students organised a play that was performed for one-week at her school in Jerash, some 48km north of Amman, for several classes to highlight the dangers of smoking.
"This trend is spreading among female students and has a negative impact on health, so my friends and I decided to hold this play to talk about this issue and try to bring about solutions," she told The Jordan Times.
"We also created a Facebook page to share information on the negative effects of this habit. Many students who smoke also attended our plays," she added.
The project is among a number of community service projects from Jordan's 12 governorates highlighted at an event celebrating the International Arab Youth Congress' initiative "One Step at a Time" at the Palace of Culture in Amman on Monday.
"One Step at a Time" aims at encouraging and empowering young Jordanians between the ages of 13 and 17 to participate in "creative and sustainable" community service projects to benefit their society and develop their own knowledge and skills, according to a National Centre for Culture and Arts (NCCA) statement sent to The Jordan Times.
NCCA Director General Lina Attel said the students who implemented the 22 best projects, which were featured on Monday, will participate in this year's 34th International Arab Youth Congress, to be held in August under the patronage of Her Majesty Queen Noor.
The initiative was introduced at schools in the 12 governorates through the education directorate in each area and was organised by the King Hussein Foundation's NCCA in partnership with UNICEF and with support from the German government through KfW, the statement said.
The selected projects were implemented by 72 students from 25 schools.
UNICEF humanitarian affairs specialist Lucio Melandri said the region is going through a demographic transition, with about 1.8 billion young people in the world today — "the largest youth population ever".
Melandri noted that young people under the age of 30 make up nearly 67 per cent of the Kingdom's population.
"Both now and in the coming decades, our efforts to reduce poverty, inequality, conflicts and gender discrimination will be incomplete without a stronger participation of youth and adolescents and opportunities for them to empower themselves with knowledge and skills," he added.
Ohoud Hilalat, from the southern city of Maan, said her project seeks to preserve Nabataean poetry by highlighting its significance and importance for Jordan in general and the southern region in particular.
"It is an important part of our heritage," the 16-year-old said, noting that her project showcases the unique aspects of the art and its major poets.
"I spent one week, three hours a day, telling students from other schools about this kind of poetry. I received a full support from my family and friends," she added, recalling that she went to around 25 schools in Wadi Musa, some 220km south of Amman.
Mohammad Ismael, a student from Aqaba, 330km south of Amman, said the problem of drugs pushed him to launch an awareness campaign in his hometown.
"Our campaign highlighted the negative effect of drugs. We delivered these messages through discussions and conferences."
For Irbid's Mustafa Khasawneh, the major problem he sought to counter was the waning popularity of reading.
"Many people don't like to read books, so we thought that we should start with students to change that," he told The Jordan Times.
Utilising technology to save time, Khasawneh and his project partners summarised 50 books and provided access to these summaries through a mobile and tablet application.
"We put barcodes on the back of every book we summarised. When you scan the barcode using the app, the tablet [or phone] will show the summary which will help the user decide whether he wants to read the book."
Work is under way to summarise more books.
"Fifty people showed interest in reading after using the app at first and now we have more than 300 requests," he added.
Khasawneh said four students worked on this project, joined by their teacher.
Related Articles
May 09,2017
AMMAN — Deputising for Her Majesty Queen Noor, HRH Princess Iman on Saturday honoured the best community service projects of Jordanian schoo
May 02,2016
AMMAN — Deputising for Her Majesty Queen Noor, HRH Princess Fahdah Hashem on Monday honoured Jordanian school students from 12 governorates
Nov 25,2015
AMMAN — Her Majesty Queen Rania on Tuesday expressed her interest in the Arab Reading Challenge and support for efforts to increase awarenes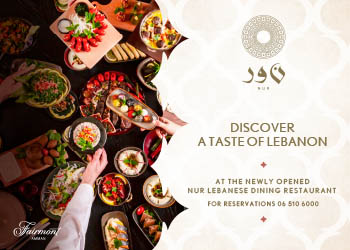 Newsletter
Get top stories and blog posts emailed to you each day.