You are here
Youth Network gathers in first annual forum seeking active civic engagement
By Muath Freij - Mar 27,2017 - Last updated at Mar 27,2017
AMMAN — Around 500 young people took part in the first annual Jeel962 Forum at Al Hussein Cultural Centre in Amman on Saturday, under the theme "Technology & Us: hand-in-hand in achieving the 2030 Sustainable Development Goals (SDGs) Agenda".
A youth volunteer network, Jeel962 focuses on the spread of active civic engagement throughout Jordan. It offers a platform for young people to interact, learn, analyse and take actions on rights; a coaching process that builds the capacity of members and other young people to become active citizens and, eventually, effective change agents in their communities, according to an organisers' statement.
The event was hosted by UNICEF and Tech Tribes.
Khaled Hijab, the founder and executive director of Tech Tribes, said the organisation had worked in partnership with UNICEF for three years in order to establish and support the youth network and help young people connect with each other.
"In this network, there are around 15,000 volunteers. Today's activity is a new brand, and we are working to have it held as an annual gathering with a different theme every year. This year, we talk about technology as a support tool for the efforts of children to achieve the goals of the 2030 sustainable development agenda," he told The Jordan Times in an interview ahead of the forum's opening.
Hijab noted that, over the past three years, they had wanted to invest in technology and that UNICEF believed in the idea of launching a website to bring together as many young people interested in voluntary works as possible to share their ideas.
"Also, we created an interactive map showing 17 goals, which are the goals of sustainable development. The person gets involved in this website by voting on one of these goals. Online visitors can also endorse an initiative which will receive their vote. The initiative that receives the greatest number of votes will be adopted by UNICEF and supported for one year," he added.
Hijab said the idea behind the whole project was to provide new creative and technology-based channels for people to get engaged in various issues, noting that existing channels are "too traditional".
Ettie Higgins, deputy representative of UNICEF Jordan, praised the event: "We want to bring as many young people as possible here, from all governorates. Because it is the launch of something that UNICEF has not done to this extent in any country in the region before. It provides a platform for youth to get engaged and be able to get their voice heard by key decision makers, to connect with other people in their community and raise issues of concern to them," she added.
The network targets young people aged 10-24 across Jordan, capitalising on their enthusiasm to engage in governance and decision-making, according to the statement.
The forum is held to acknowledge the achievements of young people, encourage them to be active members in society and help them plan future steps in their project.
Related Articles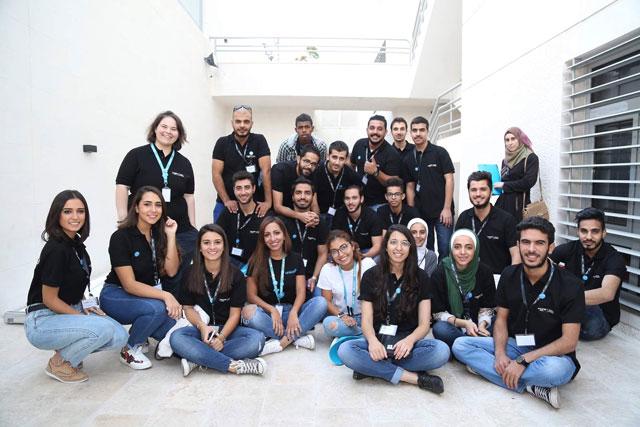 Nov 01,2017
AMMAN — Girls and boys from across the Kingdom on Saturday gathered at UNICEF Jordan to sign a five-year volunteer contract that aims at act
Feb 14,2018
AMMAN — "Our new vision for youth in Jordan is ambitious but we have right partners and strength at this table," UNICEF Jordan Representativ
Jan 10,2018
AMMAN — A social entrepreneur who prefers to go by the name "entrepreneur wannabe", Kamel Al Asmar is very aware of the difficulties of esta
Newsletter
Get top stories and blog posts emailed to you each day.