You are here
26 killed in Syria regime barrel bomb raids on Aleppo — NGO
By Agencies - Feb 03,2014 - Last updated at Feb 03,2014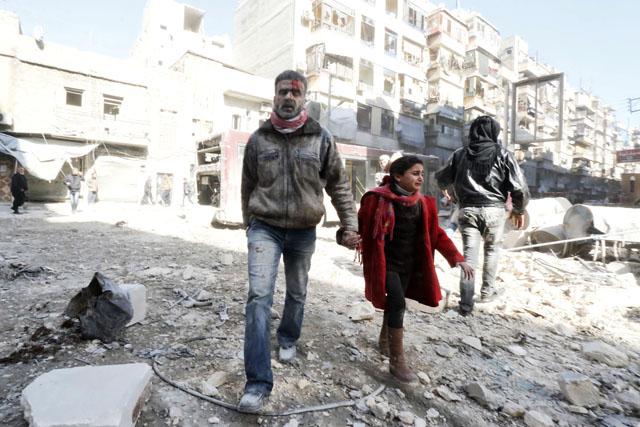 BEIRUT — At least 26 people were killed in aerial attacks with explosive-packed barrel bombs in the northern Syrian city of Aleppo on Monday, the Syrian Observatory for Human Rights said, according to Agence France-Presse.
The group said 12 men, 11 children and three women were killed when Syrian army helicopters dropped the controversial weapons on neighbourhoods in the east of the city, once Syria's economic hub.
Rebel-held areas have been subjected to a punishing string of aerial raids by Syria's army in the past three days, with at least 36 people killed on Sunday and 85 killed on Saturday, according to the NGO.
The observatory said Monday that January 2014 was the bloodiest month in the conflict so far, with 5,794 deaths recorded.
The air raids, which come as government troops are advancing into the eastern and northern parts of the city, have prompted a mass exodus of civilians, the observatory's director, Rami Abdel Rahman, said.
"Residents of the eastern neighbourhoods began fleeing about three days ago as the pace of the barrel bomb attacks increased," he told AFP.
"Some of them have gone to Turkey, but many of them have nowhere to go but regime-controlled areas in the west of the city, because of the fighting between rebel forces and the [jihadist] Islamic State of Iraq and the Levant [ISIL] in other parts of Aleppo."
A security source in Damascus confirmed that civilians were fleeing to government-held parts of the city, and AFP photographers saw long lines of people at checkpoints separating rebel and government-controlled areas.
Fighting began in Aleppo in mid-2012, with the city quickly being divided between government control in the west and rebel control in the east.
The situation has remained a stalemate for months, but the regime's army has made several advances in surrounding Aleppo province, including capturing an area around Aleppo international airport.
The advances there allowed the government to reopen the airport, which had been closed for nearly a year because of nearby fighting.
Over the weekend, regime forces seized most of the eastern district of Karam Al Turab, state media and the observatory said, and the army is pushing to take additional eastern and northern areas.
In the central Hama province, meanwhile, the observatory said at least five students were killed in rebel rocket fire on a majority Alawite town.
President Bashar Assad is from the Alawite community, an offshoot of Shiite Islam, while the uprising against him is dominated by Sunnis.
More than 136,000 people have died since the conflict in Syria began with peaceful anti-government protests in March 2011.
The spike in deaths came despite 10 days of talks between the government and regime in Geneva that ended last Saturday without tangible results.
Meanwhile, Al Qaeda's general command said on Monday it had no links with ISIL, in an apparent attempt to reassert its authority over fragmented Islamist fighters in Syria's civil war, Reuters reported.
After a month of rebel infighting, Al Qaeda disavowed the increasingly independent ISIL in a move likely to bolster a rival Islamist group, Al Nusra Front, as Al Qaeda's official proxy in Syria.
ISIL has fought battles with other Islamist insurgents and secular rebel groups, often triggered by disputes over authority and territory. Several secular and Islamist groups announced a campaign last month against ISIL.
The fighting — some of the bloodiest in the war so far — has undermined the uprising against Assad and dismayed Western powers pushing for peace talks between the government and opposition.
Rebel-on-rebel violence in Syria has killed at least 2,300 this year alone, according to the Syrian Observatory for Human Rights monitoring group.
ISIL follows Al Qaeda's hardline ideology and, until now, the two groups were officially linked. Many foreign fighters and ISIL observers, however, say that Al Qaeda central and ISIL had in fact been effectively separated since before the group, which was originally the Al Qaeda branch in Iraq, spread into Syria.
Hardline Islamist rebels, including Al Nusra, have come to dominate the largely Sunni Muslim insurgency against Assad, who is supported by his minority Alawite sect — an offshoot of Shiite Islam — as well as Shiite fighters from Iraq and Lebanon's Hizbollah.
In a message on jihadist websites on Monday, Al Qaeda General Command said ISIL "is not a branch of the al Qaeda group".
"...[Al Qaeda] does not have an organisational relationship with it and is not the group responsible for their actions."
In April, ISIL head Abu Bakr Al Baghdadi tried to force a merger with Al Nusra Front, defying orders from Al Qaeda chief Ayman Al Zawahiri and causing a rift.
An Al Nusra commander in northern Syria told Reuters that the statement meant that his group's position was no longer one of neutrality.
"Now we are going to war with ISIL and will finish it off once and for all," he said on condition of anonymity.
Related Articles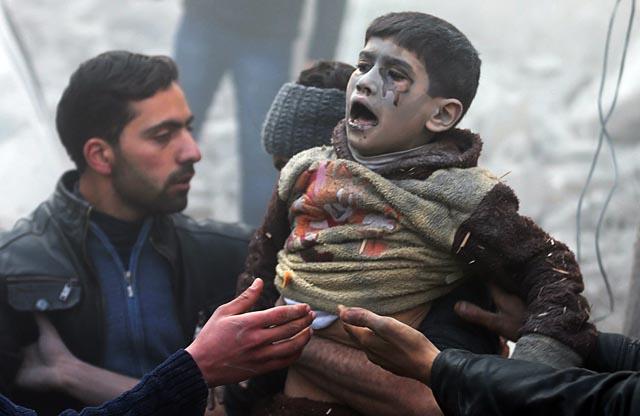 Jan 07,2014
The chief of Syria's Al Nusra Front, an Al Qaeda affiliate, called Tuesday for an end to fighting between rebel groups and the jihadist Islamic State of Iraq and the Levant (ISIL).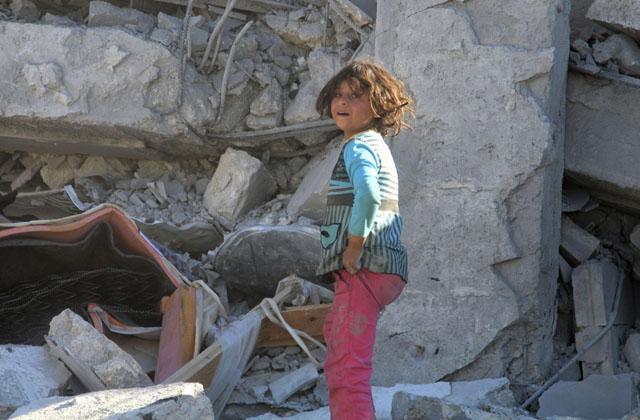 Nov 06,2014
At least 12 civilians, including women and children, were killed on Thursday when Syrian regime helicopters dropped explosive-packed barrel bombs on a district in Aleppo city, a monitoring group said.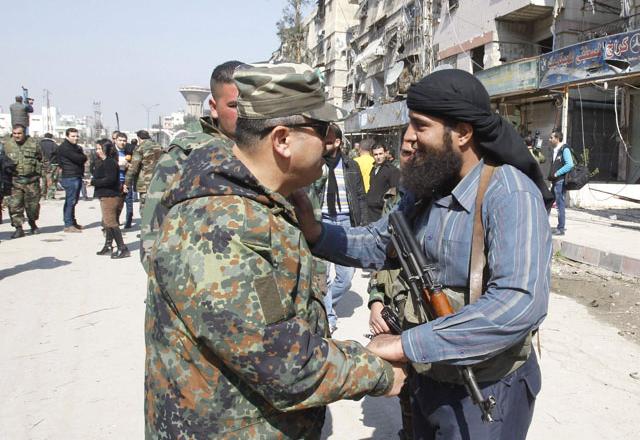 Feb 17,2014
The Free Syrian Army (FSA) has sacked its leader after the Western-backed rebels suffered repeated setbacks, amid signs of an escalation in fighting that has already killed more than 140,000 people.
Newsletter
Get top stories and blog posts emailed to you each day.