You are here
Abbas cuts salaries of Fateh rival's security men
By Reuters - Mar 06,2014 - Last updated at Mar 06,2014
GAZA — President Mahmoud Abbas has halted salary payments to scores of security men loyal to a rival Palestinian politician, deepening disarray within their US-backed Fateh faction, officials said on Thursday.
They said Abbas' move appeared aimed at weakening Mohammed Dahlan, a former Gaza Strip strongman who lives in Dubai but is widely expected to return to the Palestinian territories to challenge the president and Fateh chairman.
That could spell a bitter and uncertain confrontation given Fateh's statutory limbo since Islamist Hamas, once its partner in the Palestinian government, turned into a foe in 2007 and seized control of Gaza during a brief civil war.
Fateh, which now holds sway only in the Israeli-occupied West Bank, is due to hold a leadership election this year but that has yet to be scheduled. The schism with Hamas makes new national ballots nearly impossible, extending the term of Abbas, who was elected president in 2005.
Fateh official Sufian Abu Zayda said salaries had been suspended for 98 security men who had worked under Dahlan in Gaza before the Hamas takeover. Some of them have since moved to Egypt and the West Bank.
"We knew a month ago about the intention to suspend the salaries. By the time banks closed yesterday it was clear that nearly 100 people, 100 families, had lost their income," Abu Zayda told Reuters.
'Young guard'
An official in the West Bank, who asked not to be named, confirmed that a number of salary payments had been suspended but declined to say why.
Dahlan, 52, is among a Fateh "young guard" chafing at the rule of 79-year-old Abbas. Other likely challengers include West Bank strongmen Jibril Rajoub and Marwan Barghouthi. The latter participates in Palestinian political discourse despite serving a life term in an Israeli jail for militant attacks.
Though Hamas blamed him for the inter-factional fighting in Gaza, Dahlan has recently made some informal contact with the Islamists. Abbas was angered by the possibility Hamas and Dahlan could normalise ties, officials and analysts said.
Dahlan was one of the Palestinians' top peace negotiators with Israel for several years.
Palestinian officials, including from Fateh, said he has also formed a close relationship with Abdel Fattah Al Sisi, the Egyptian defence minister and de facto leader, also upsetting Abbas. Cairo has long played a key mediating role among Palestinians and between them and Israel.
Last month a delegation of senior Fateh officials loyal to Abbas made a rare visit to Gaza, during which they urged both Hamas and local Fateh supporters to shun Dahlan.
In 2011, at Abbas' behest, the Fateh Central Committee accused Dahlan of financial and criminal offences. Dahlan rejected the allegations and has never been formally charged with crimes. But he left the West Bank after Abbas' security forces raided his home there, moving to Amman and then Dubai.
Dahlan could not immediately be reached for comment.
Related Articles
Mar 13,2014
Palestinian President Mahmoud Abbas has accused one of his main rivals, Mohammed Dahlan, of involvement in six murders, hinting that he might also be behind the death of former leader Yasser Arafat.
May 22,2014
A Palestinian court has sentenced an exiled rival of President Mahmoud Abbas to two years in jail for "insulting state institutions", raising pressure on Mohammed Dahlan after months of mutual recriminations.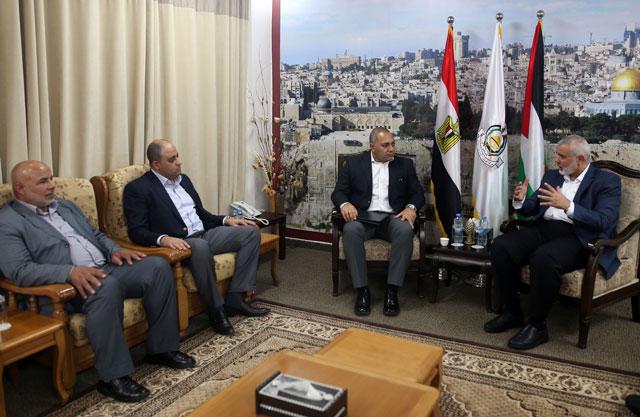 Oct 01,2017
GAZA — Hamas freed five prisoners belonging to the rival Fateh Party on Sunday and Egypt sent a delegation to the Gaza Strip to oversee the
Newsletter
Get top stories and blog posts emailed to you each day.