You are here
Algeria jails once high-flying financier Rafik Khalifa
By AFP - Jun 23,2015 - Last updated at Jun 23,2015
ALGIERS — Algerian financier Rafik Khalifa was jailed for 18 years Tuesday for embezzling from his own bank to finance a lavish lifestyle that included a French villa and a private jet.
Khalifa was being retried after a 2007 conviction in absentia that saw him sentenced to life in prison, and the prosecution had been seeking the same penalty.
The court in Blida, southwest of the capital, also ordered Khalifa's assets seized and fined him 1 million dinars (10,000 euros/$11,200).
The 49-year-old ex-golden boy, courted in his day by Algeria's elite and praised in the press, faced charges that included fraud, theft, corruption and falsification of administrative and banking documents.
The prosecution had sought sentences varying from 18 months to 20 years for 70 co-defendants, but the verdicts in their cases were not immediately known.
In closing remarks this week, prosecutor Mohamed Zerg-Erras claimed that Khalifa had used the 70 branches of his El Khalifa bank to fleece clients attracted by promises of 13 per cent interest on time deposits.
"The purpose of this bank was not to invest but to plunder depositors' money and fly away with it aboard [his] Khalifa Airways," Zerg-Erras charged.
Ali Mezine, the lawyer who presided over the eventual liquidation of El Khalifa Bank, said the money went to sponsoring French football club Olympique de Marseille, buying a 32-million-euro ($36 million) villa in Cannes, apartments in Paris and a corporate jet.
The group built around the bank, founded in the 1990s, went bust in 2003 with losses estimated at between $1.5 billion and $5 billion.
When his empire collapsed, Khalifa fled to London to avoid arrest, but was extradited at the end of 2013.
He was convicted in France last year and sentenced to five years in prison for misappropriating millions of euros
Related Articles
Mar 08,2016
AMSTERDAM — Appeals judges at a special court in The Hague quashed the conviction of a Lebanese journalist who was accused of exposing witne
Feb 04,2014
Bahrain announced Tuesday tougher jail sentences for offending King Hamad, as the country prepares to mark the third anniversary of a Shiite-led uprising against the kingdom's Sunni rulers.
Mar 15,2015
The Arab Interior Ministers Council recently decided to name Interior Minister Hussein Majali and Qatari Prime Minister and Interior Minister Sheikh Nasser Bin Khalifa Al Thani as members of the board of trustees for the Prince Nayef Award for Arab Security in their personal capacity.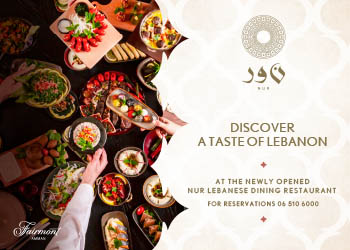 Newsletter
Get top stories and blog posts emailed to you each day.