You are here
Animal videos shown at Egypt's Al Jazeera trial
By AP - Apr 10,2014 - Last updated at Apr 10,2014
CAIRO — Egyptian prosecutors presented their first evidence Thursday to back up charges that three journalists from the Al Jazeera satellite news network and their co-defendants participated in terrorism, playing to the court an assortment of videos found in their possession. They included news clips about an animal hospital with donkeys and horses, and another about Christian life in Egypt.
Defence lawyers — and even the judge — dismissed the videos as irrelevant, while defendants shouted from the dock that the trial was "a complete joke" and "an embarrassment to Egypt".
The three journalists, award-winning Australian correspondent Peter Greste, Canadian-Egyptian acting bureau chief Mohammed Fahmy and Egyptian Baher Mohammed, are accused of being part of a terrorist group and airing falsified footage intended to damage Egyptian national security. Egyptian authorities accuse Qatari-owned Al Jazeera of providing a platform for the Muslim Brotherhood, which the government has branded a terrorist organisation.
Al Jazeera denies the claim, and the defendants deny being members of the Brotherhood, saying they were simply doing their job reporting on Egypt's political turmoil.
The case is part an unprecedented crackdown on the Brotherhood since the military's ouster in July of Islamist President Mohammed Morsi, who was a veteran figure from the group. Hundreds of Morsi supporters have been killed in crackdowns on protests and more than 16,000 have been arrested. The three journalists, who work for Al Jazeera's English-language channel, were arrested December 29 when police raided a Cairo hotel room they were using as an office.
"This is a politicised trial and a politicised judge," Fahmy shouted from the courtroom cage where defendants are traditionally held during trials. He said prosecutors had told him privately that he and his co-defendants "are paying the price" for tensions between Egypt and Qatar.
"I want to get out of this place! ... I am going to expose all of this!" he shouted. "There are crimes against humanity taking place. Nothing is right in this system."
Besides the three journalists, 17 others are charged in the case, mostly students not connected to Al Jazeera. Only five of the students are present for the trial, with the rest on trial in absentia.
In previous sessions, prosecutors have said they would present video from the defendants showing they intended to harm national security. The prosecution has said it will present further video evidence including Al Jazeera coverage of the crackdown on Islamists that it claims was falsified to destabilise Egypt and fuel support of the Brotherhood by showing Egypt as thrown into "civil war".
Thursday's was the first session in which any video was shown — but none of it appeared to have any connection to terrorism, and none was Al Jazeera footage. Prosecutors said the material was found on the journalists' or students' flash drives and computers.
The videos included clips from Greste's BBC news documentary on Somalia called "Land of Bandits", for which he won a 2011 Peabody Award and clips from a Kenya press conference. Before joining Al Jazeera, Greste worked for the BBC in London, Bosnia, Kenya and South Africa.
Other footage, from the Sky News Arabia network, included short news reports on an animal hospital in southern Egypt with pictures of horses and donkeys and on a Christian mass in Egypt in 2012.
"This clearly does not contain anything supporting the case," presiding judge Mohammed Nagi Shehata said after the footage was aired.
Khaled Abu Bakr, Fahmy's lawyer, mocked the prosecutors, contending they didn't even know the content of the footage before submitting it as evidence.
"The prosecutor clearly didn't see the videos," he said, reiterating his request to release the journalists on bail. "The world is watching."
The judge refused bail and adjourned the trial to April 22.
The prosecution made no comment about the videos, though the defence lawyers said it is expected to present more videos in later sessions.
"This is a complete joke!" Greste shouted from behind the bars.
"This is a joke, ... it's an embarrassment to Egypt," Fahmy said.
Shortly after the court session started Thursday, one of the student defendants, Khaled Abdel-Raouf, collapsed in the cage after he complained to the judge that he has been in hunger strike because of bad treatment and lack of medical care and because the prison was barring his visitors. Dozens of defendants in several Brotherhood-related cases have gone on hunger strike over similar conditions.
Meanwhile, a bomb thrown under a police car in a busy square west of Cairo exploded Thursday night, wounding a police officer's leg, Egypt's Interior Ministry spokesman Hani Abdel-Latif said. Violence has spread across the country since Morsi ouster as the government intensifies its campaign against the Brotherhood and his supporters.
Related Articles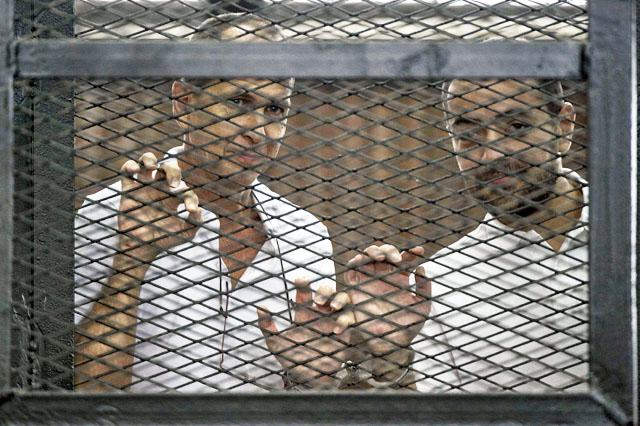 Jun 05,2014
Egyptian prosecutors demanded Thursday the "maximum" penalty of 15-25 years in jail for all 20 defendants in the trial of Al Jazeera journalists accused of aiding the blacklisted Muslim Brotherhood.
Jun 23,2014
An Egyptian court sentenced three Al Jazeera journalists including Australia's Peter Greste to jail terms from seven to 10 years Monday in a verdict denounced internationally as "chilling" and "unjust".
Mar 31,2014
An Egyptian court on Monday rejected a plea for bail by jailed Al Jazeera journalists, who denied links with the blacklisted Muslim Brotherhood in a trial that has sparked international condemnation.
Newsletter
Get top stories and blog posts emailed to you each day.