You are here
Army, 'US drone' hit Sunni-held positions in Yemen — tribes
By AFP - Oct 26,2014 - Last updated at Oct 26,2014
SANAA — Yemeni troops and a US drone struck positions held by Al Qaeda suspects and Sunni tribes on Sunday killing over a dozen insurgents who have been battling Shiite rebels, tribal sources said.
The rebels, known as Houthis, have been facing fierce resistance from Al Qaeda fighters and tribesmen as they seek to expand their areas of control after seizing the capital Sanaa and the Red Sea port city of Hudeida.
Clashes broke out on Friday evening when Houthi fighters trying to wrest control of the mountains around the central town of Rada, in Baida province, met resistance from Sunni militias, tribal sources said.
On Sunday, the rebels took over several of these areas after a suspected US drone and army jets raided the positions held by Al Qaeda and the Sunni tribesmen, tribal sources said.
One source said that "20 Al Qaeda militants" were killed in the strikes, although the toll could not be confirmed from independent sources.
The rebels took control of Sanaa on September 21 after orchestrating weeks of protests that paralysed the government.
They then pushed south earlier this month, meeting little or no resistance from security forces.
But as their advance has taken them out of the mainly Shiite northern highlands into predominantly Sunni areas, they have met increasingly fierce resistance from local tribes as well as Al Qaeda.
Tribal sources said Saturday that two vehicles carrying suspected Al Qaeda militants near Rada were struck by a missile fired from an unmanned drone, leaving 10 dead.
Fighting between Shiite rebels and Sunni tribesmen allied to Al Qaeda has already left dozens dead in central Yemen.
Yemen is a key US ally in the fight against Al Qaeda, allowing Washington to conduct a longstanding drone war against the group on its territory.
The Houthis have seized on chronic instability in Yemen since the 2012 ouster of long-serving autocratic president Ali Abdullah Saleh to take control of large parts of the country.
The latest fighting has raised fears of Yemen — located next to oil kingpin Saudi Arabia and important shipping routes in the Gulf of Aden — collapsing into a failed state.
Related Articles
Nov 04,2014
Overnight drone strikes killed at least 20 suspected Al Qaeda militants in Yemen, where Washington has conducted a sustained drone war against jihadist leaders, tribal sources and witnesses said on Tuesday.
Oct 29,2014
Shiite rebels seized a city in central Yemen Wednesday seen as a strategic link to the south, further widening their territory following deadly clashes with tribesmen, security and tribal sources said.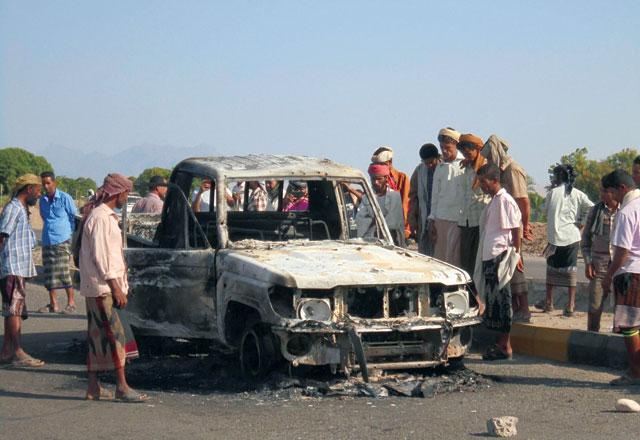 Oct 18,2014
Shiite rebels seeking to expand their territory across Yemen have clashed with Sunni tribesmen and Al Qaeda fighters in violence that has left dozens dead, officials said Saturday.
Newsletter
Get top stories and blog posts emailed to you each day.