You are here
Crush near Morocco's Essaouira kills at least 15 women
By AFP - Nov 19,2017 - Last updated at Nov 19,2017
RABAT — At least 15 women were killed and five injured on Sunday in a crush as food aid was distributed near the coastal tourist town of Essaouira in western Morocco, authorities and witnesses said.
The accident happened in the village of Sidi Boulaalam, around 60 kilometres from Essaouira.
A witness told AFP that hundreds of women had gathered at a village marketplace for a distribution of flour organised annually by a prominent benefactor from the region who lives in the commercial capital, Casablanca.
"This year there were lots of people, several hundred people," the witness, a doctor who asked to remain anonymous, told AFP.
"People shoved, they broke down the barriers," he said.
"The local authorities on the spot were overwhelmed. Even when there were people on the ground, people kept fighting for food."
The doctor said all those killed were women, adding that 10 more had been injured, and that two were in a critical condition.
The injured were evacuated to a hospital in Marrakesh, he said.
Images posted on "essaouira en ligne tv", a Facebook page run by activists, show a large crowd gathered in the village's market square and bodies lying on the ground.
"Hunger kills dozens of poor people in the province of Essaouira," a caption reads. "The tragedy... brings shame on representatives and officials."
Manar Khouda, a teacher who runs the Facebook page, said the annual distribution has triggered several stampedes in the past.
She said only four police officers were on hand to guard this year's delivery.
The Akhbar Al Yaoum newspaper quoted organiser Abdelkadir El Hadidi, an imam, as saying the operation was "in accordance with the law and under the supervision of the authorities".
Authorities said an investigation had been opened to "determine the circumstances of the incident" and establish who was responsible.
The interior ministry said King Mohammed VI had issued orders to "provide the necessary help and support to the families of the victims and the injured".
He had also decided to "personally cover the costs of victims' funerals and burials, and the care of the injured", it said.
Related Articles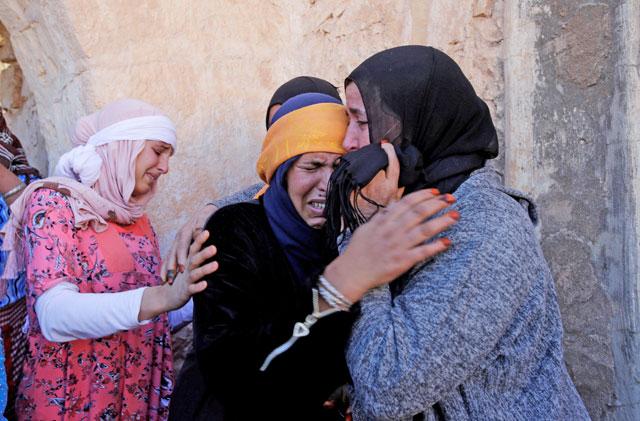 Nov 20,2017
ESSAOUIRA, Morocco — Mourning relatives on Monday identified the bruised bodies of victims of a stampede that killed 15 women during a food
Feb 22,2018
LIMA — At least 35 people were killed on Wednesday when a bus veered off a mountain road and plunged into a ravine in southern Peru, t
Sep 14,2015
SALE, Morocco — Moroccan authorities said on Monday they had dismantled a militant cell planning to create a Daesh affiliate, seizing weapon
Newsletter
Get top stories and blog posts emailed to you each day.