You are here
Daesh releases over 200 captive Iraqi Yazidis
By AP - Apr 08,2015 - Last updated at Apr 08,2015
BAGHDAD — Daesh terror group released more than 200 Yazidis on Wednesday after holding them for eight months, an Iraqi Kurdish security official said, the latest mass release of captives by the extremists.
Gen. Hiwa Abdullah, a peshmerga commander in the northern Iraqi city of Kirkuk, said most of the freed 216 prisoners were in poor health and bore signs of abuse and neglect. He added that about 40 children are among those released, while the rest were elderly.
No reason was given for the release of the prisoners who were originally abducted from the area around Sinjar in the country's north. The handover took place in Himera just southwest of Kirkuk, 290 kilometres north of Baghdad.
The freed captives were taken away by ambulances and buses to receive treatment and care. Among them was Jar-Allah Frensis, a 88-year-old Christian farmer, and his wife.
Frensis said the militants broke into his house in Sinjar and arrested him along with his wife and son. Then, the family was separated and the son was taken away. He said he still didn't know what happened to his son.
"The militants took all of our money and jewelry. We have been living under constant fear till our release," Frensis told The Associated Press.
Tens of thousands of Yazidis fled in August when Daesh captured the northern Iraqi town of Sinjar, near the Syrian border. But hundreds were taken captive by the group, with some Yazidi women forced into slavery, according to international rights groups and Iraqi officials.
In January, Daesh released some 200 Yazidi prisoners as well. At the time, Kurdish military officials said they believed the extremists released the prisoners as they were too much of a burden.
Daesh, targeted in US-led air strikes and by Iraqi ground forces, still holds about a third of Iraq and neighbouring Syria in its self-declared caliphate. The US launched the airstrikes and humanitarian aid drops in Iraq on Aug. 8, partly in response to the Yazidi crisis.
The Sunni militant group views Yazidis and Shiite Muslims as apostates deserving of death, and has demanded Christians either convert to Islam or pay a special tax. The group has massacred hundreds of captive soldiers and tribal fighters who have risen up against it, publicising the killings in sleek online photos and videos.
In other violence Wednesday, police and hospital officials said a bomb exploded near an outdoor market in Baghdad's southeastern suburb of Nahrwan, killing four people and wounding 10. No one immediately claimed responsibility for the attack.
The officials spoke on condition of anonymity because they were not authorised to speak to journalists.
Related Articles
Oct 17,2017
BAGHDAD/KIRKUK — The Baghdad government recaptured territory from Kurds across the breadth of northern Iraq on Tuesday, making startlingly r
Nov 01,2015
ERBIL, Iraq — Kurdish forces are massing in northwest Iraq for an offensive to retake the town of Sinjar from Daesh militants who overran it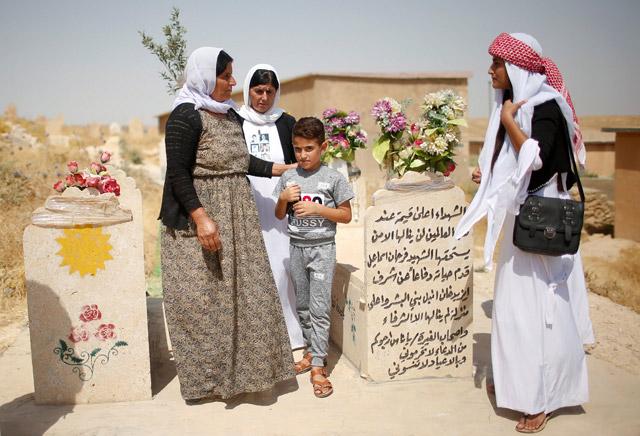 Aug 03,2017
SINJAR, Iraq — Iraq's Yazidis marked three years since the Daesh terror group launched what the United Nations said was a genocidal campaign
Newsletter
Get top stories and blog posts emailed to you each day.