You are here
Daesh says spokesman Adnani killed in Syria's Aleppo
Kurdish-backed Syria fighters agree truce with Turkey
By AFP - Aug 30,2016 - Last updated at Aug 30,2016
A Syrian boy rides on the back of a Syrian Arab Red Crescent truck delivering aid in the rebel-held area of Harasta on the northeastern outskirts of the capital Damascus on Tuesday (AFP photo)
BEIRUT — The Daesh terror group on Tuesday said its spokesman Abu Mohammad Al Adnani was killed while monitoring military operations in the Syrian province of Aleppo.
Quoting a "military source", the Daesh affiliated website Amaq said "Sheikh Abu Mohammad Al Adnani, the spokesman of the Islamic State [Daesh], was martyred while surveying operations to repel the military campaigns against Aleppo".
It said he died after a "long voyage crowned by sacrifice" and vowed "revenge" at the hands of a "new generation born unto the Islamic State".
Daesh has regularly urged followers to target disbelievers.
Adnani made such request in September 2014, calling on supporters to use stones, knives or even vehicles in their attacks.
Meanwhile, Kurdish-backed fighters on Tuesday announced they have agreed to a US-brokered ceasefire with Turkey in northern Syria for an unspecified period of time.
"We agreed on a ceasefire with the Turkish state via the United states and the international coalition" that is fighting Daesh, said Ali Hajo, spokesman of the Jarablus Military Council.
Speaking to AFP by telephone, Hajo said the truce took effect at midnight (2100 GMT Monday) was expected to last "for an unspecified period of time".
"We are continuing to negotiate [with the Turkish forces] through the Americans," he said without elaborating.
The Syrian Observatory for Human Rights said it was calm on the southern front of Jarablus, which Turkish forces captured from Daesh militants last week on the first day of their incursion into Syria.
Hajo's comments came after a US defence official told AFP in Washington that Turkish and Kurdish forces in northern Syria had reached a "loose agreement" to stop fighting each other.
"In the last several hours, we have received assurance that all parties involved are going to stop shooting at each other and focus on the ISIL [Daesh] threat," said Colonel John Thomas, Central Command spokesman.
"It's a loose agreement for at least the next couple of days and we are hoping that will solidify," he said.
Last week Turkey launched strikes at the Syrian Kurdish People's Protection Units (YPG) in northern Syria, triggering alarm bells in Washington.
The strikes and clashes that killed several Kurdish fighters at the weekend coincided with the launch of an operation in and around the border town of Jarablus.
The YPG fighters also operate in the area.
The Jarablus Military Council is backed by the Syrian Democratic Forces (SDF) alliance of Arab and Kurdish forces which this month drove IS jihadists out of Manbij, a town near the border with Turkey, with US air support.
On Monday, Turkey warned it would carry out more strikes on the US-backed YPG in Syria if it fails to retreat from the border area.
Ankara fears the emergence of an autonomous Kurdish region in Syria would bolster Kurdish rebels across the border in southeast Turkey.
up
10 users have voted, including you.
Related Articles
Sep 01,2016
JARABLUS — Flashing victory signs and firing in the air, the young rebels who took this Syrian town from Daesh a week ago may be jubilant, b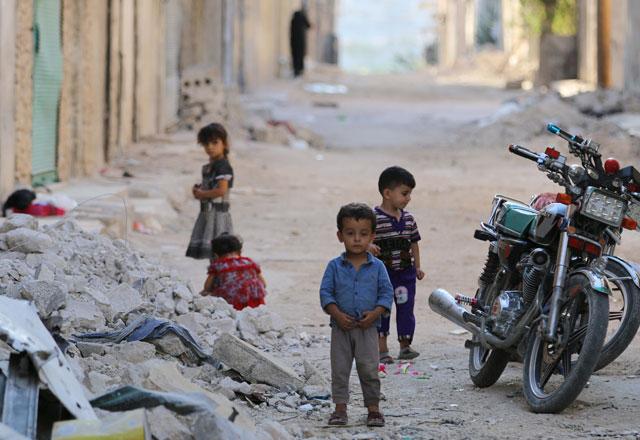 Sep 04,2016
ELBEYLI, Turkey/BEIRUT — Turkey and its rebel allies opened up a new line of attack in northern Syria on Saturday as Turkish tanks crossed t
Sep 08,2016
ISTANBUL — A group of 292 Syrians went back to the Syrian town of Jarablus from Turkey on Wednesday, marking the first formal return of civi
Newsletter
Get top stories and blog posts emailed to you each day.