You are here
Despair grows in Iraq camps over hundreds of missing men
By AFP - Jun 15,2016 - Last updated at Jun 15,2016
AMRIYAT AL FALLUJAH, Iraq — When Iraqi officials and top brass visited this displacement camp south of militant-held Fallujah, distressed residents swarmed around them asking the same question: "Where are our sons?"
Mothers pleaded with their palms upturned while elders scribbled on paper the names of some of the hundreds of male relatives whose fates are unknown.
"My husband, three sons and three nephews are missing," said Taliaa Diab, who fled the town of Saqlawiya near Fallujah with her family earlier this month.
She has heard nothing from them in a week.
"We are hearing that they are killing many of them. We want to know what happened," she said.
Her family is one of hundreds who have been filling tents at the camp in Amriyat Al Fallujah over the past three weeks.
Iraqi forces launched a vast offensive more than three weeks ago to retake Fallujah, which lies only 50 kilometres west of Baghdad and is one of the main bastions of the Daesh terror group.
The initial phase of the operation saw forces, including Shiite militias from the Hashed Al Shaabi (Popular Mobilisation) paramilitary umbrella group, retake areas around Fallujah and tighten the seal around the city.
'They took my husband'
As the number of displaced civilians who fled Daesh rule continues to rise, so does the volume of allegations against members of the security forces, mostly militias.
"The sectarian mobilisation took my husband," said Marwa Mohammed, using a derogatory nickname for the paramilitary Hashed forces that made the women around giggle.
"The militia that took all the men was Ketaeb Hizbollah. That was the one we saw, from their flags and their badges, but there were others too," she said.
Fallujah and the areas around it are Sunni Muslim while the Hashed forces fighting alongside the government are dominated by Shiite militias, some of which are supported by Tehran.
Their involvement in the operation to retake Fallujah had raised fears the battle would see collective revenge being meted out against Sunni civilians.
"I will pass on this information. We are here to listen and look for a solution", said one official from Prime Minister Haider Al Abadi's office visiting the camp in Amriyat Al Fallujah.
Interior ministry spokesman Saad Maan said that a total of 6,000 men from the Fallujah area have been held for screening since the start of the operation on May 22-23 to try to identify fleeing fighters.
He said around 1,000 had already been released and that another 4,000 would be soon.
Maan said the screening should not exceed seven days.

'We should have stayed'
Away from the dust-clouded scrum surrounding the government officials, the men who were lucky enough to be have been released sat in tents and exchanged accounts of torture and abuses by Hashed forces.
"I saw maybe up to 40 people die in Hashed detention with my own eyes," said a man in a blue tee-shirt who gave his name as Abu Ban. He displayed deep cuts on his wrists.
"That's from having my hands cuffed for four days, with nothing to eat or drink."
Abu Hussein, another man from the same area of Azraqiyah, said: "They would beat us with sticks. Look at my arm. I saw them burn a man like you would roast a chicken."
Many of the men in the camp had similar stories of torture by some militias. They would not give their full names, they said, because they feared reprisals from the Hashed Al Shaabi.
All of them told AFP that the militiamen said explicitly that they were motivated by revenge for the Speicher massacre, when up to 1,700 mostly Shiite cadets were rounded up and executed by Daesh near Tikrit in June 2014.
The prime minister's office has said it would investigate allegations of abuses committed by the security forces in the course of the Fallujah operation.
"We were fleeing Daesh to be rescued by the Hashed Al Shaabi and they treated us like we were Daesh," said Abu Abdallah, a 57-year-old teacher.
"Our life wasn't that affected by Daesh. We lived a rural life, had our farm to live on and we knew how to survive under siege," he said. "I'm telling you, we should have stayed behind."
Related Articles
Jun 29,2016
Amriyat Al Fallujah, Iraq — When her five-year-old son asked her to kill him because he was too hungry, Umm Issam knew she would never come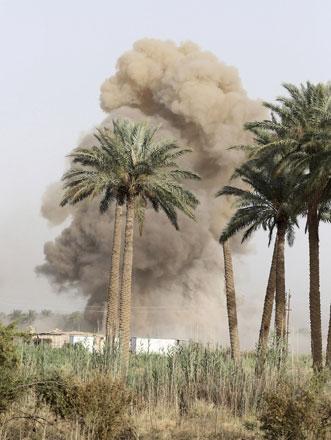 Jun 05,2016
NEAR FALLUJAH — Iraqi forces gained new ground from the Daesh terror group Saturday in a key area west of the militants bastion of Fallujah,
May 31,2016
BAGHDAD — Iraqi forces thrust into Fallujah Monday, ushering a new urban phase in the week-old operation to retake the extremists bastion th
Newsletter
Get top stories and blog posts emailed to you each day.