You are here
Dozens of Moroccan activists appeal jail terms
By AFP - Jul 10,2018 - Last updated at Jul 10,2018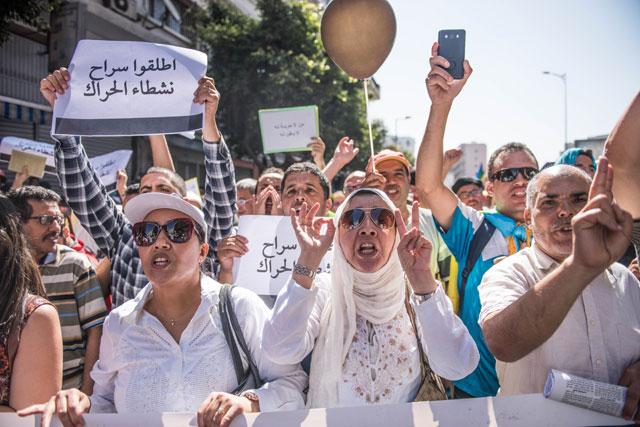 People take part in a protest demanding the release of activists arrested after they attended a protest demanding development in the north of the country, in Casablanca, Morocco (Anadolu Agency photo)
CASABLANCA, Morocco — A group of 53 Moroccan activists involved in protests which rocked the North African country will appeal their jail terms of up to 20 years, their lawyers said on Monday.
Protest leader Nasser Zefzafi and three others were jailed for 20 years last month for "plotting to undermine the security of the state", while 49 others were sentenced to one to five years plus fines.
Journalist Hamid el Mahdaoui received a three-year prison term related to his coverage of demonstrations in the northern Rif region, which began in October 2016 after the death of a fisherman.
At a press conference on Monday, the activists' lawyers slammed the "shocking" sentences and accused the court of "unfairness" during the nine-month trial, claiming their requests to present defence testimony were refused.
The legal team said there was no proof to support the "separatism" charge under which some of the activists were convicted.
Defence lawyer Abderrahim Jamai called for the "mobilisation of the political class" to find a "quick solution which puts to an end the suffering of the detainees and to the tensions" in the region.
One of the activists jailed for five years, Rabie El Ablak, has been on hunger strike for 42 days.
Authorities said the case was handled in compliance with international norms and in the presence of foreign observers and the media.
But the sentences sparked protests following the June 26 verdict and again on Sunday, when several thousand rallied in Casablanca where the trial was held.
The Moroccan Association of Human Rights (AMDH) last month described the judgement as a "mockery of justice", while Amnesty International called for the verdicts to be overturned.
The 2016 protests began when fisherman Mouhcine Fikri was crushed to death in a rubbish truck, while he was apparently trying to retrieve swordfish seized by authorities as it was caught out of the season.
Subsequent unrest in the Rif region, where the marginalised Berber ethnic group is the majority, focused on social issues as demonstrators demanded jobs and development.
Related Articles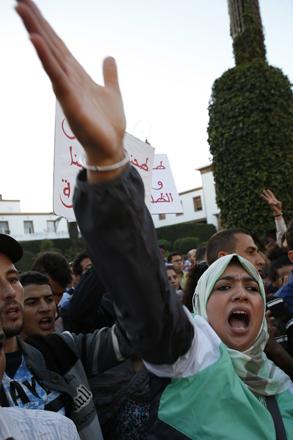 Oct 31,2016
RABAT — Moroccan authorities were promising on Monday to investigate the death of a fish seller whose crushing in a rubbish truck sparked wi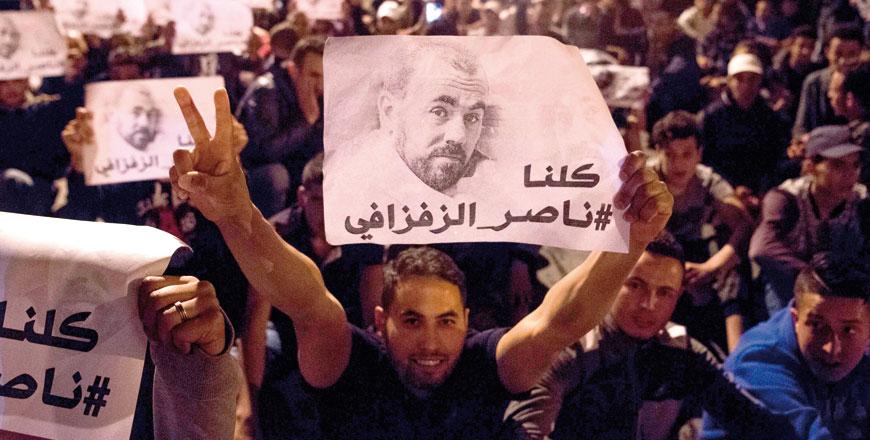 Jun 27,2018
RABAT — The jailing of demonstrators for up to 20 years over unrest in 2016 sparked anger in Morocco on Wednesday, with some warning it coul
Jun 16,2017
RABAT — A court in Morocco on Wednesday sentenced 25 demonstrators and suspected members of a grassroots protest movement to 18 months in ja
Newsletter
Get top stories and blog posts emailed to you each day.