You are here
Egypt begins handing over MS804 crash victims' remains
By AFP - Dec 31,2016 - Last updated at Dec 31,2016
CAIRO — Egyptian authorities on Saturday started handing the remains of those killed in the crash of EgyptAir Flight 804 to their families, the airline said.
The Airbus A320 had been flying from Paris to Cairo on May 19 when it crashed into the southeast Mediterranean killing all 66 on board, including 40 Egyptians and 15 French nationals.
EgyptAir said on Saturday it had begun "overseeing the handover of the remains of the MS804 plane crew members" to their families.
Officials will start handing over the Egyptian passengers' remains on Sunday and the bodies of French passengers and other nationalities will follow, it said, without specifying a timeline.
The airliner had been carrying two Iraqis, two Canadians and one passenger each from Algeria, Belgium, Britain, Chad, Portugal, Saudi Arabia and Sudan.
Egypt's aviation ministry said on December 15 that traces of explosives were found on victims' remains.
France's air safety agency said it was not possible to determine what caused the crash, but aviation experts have said there is little chance that a mechanical fault was responsible.
The plane only entered service in 2003, making it relatively new for an aircraft that tends to have an operational life of 30 to 40 years.
Investigators determined that a fire broke out in or near the cockpit before the plane crashed between Crete and the coast of northern Egypt.
The disaster came as Cairo was still investigating the October 2015 crash of a Russian passenger plane filled with tourists flying home over the Sinai Peninsula.
The Daesh terror group claimed responsibility for bombing the Airbus A321 that crashed soon after takeoff from a Sinai resort, killing all 224 passengers and crew.
There has been no such claim linked to May's EgyptAir crash.
Related Articles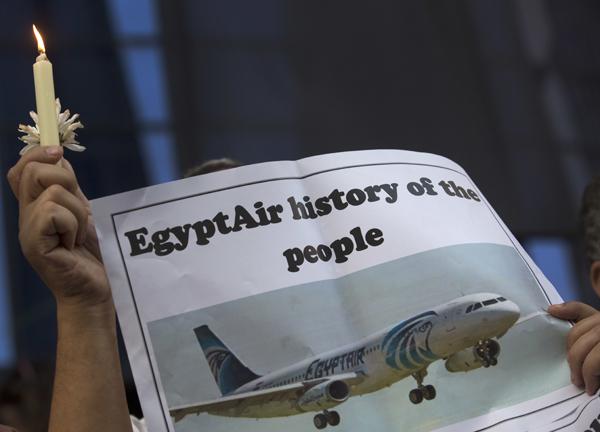 May 24,2016
CAIRO — Egyptian forensics officials collected DNA from relatives of EgyptAir MS804 victims Tuesday to help identify body parts retrieved fr
May 22,2016
CAIRO — Egypt enlisted a submarine Sunday to search the Mediterranean seabed for the black boxes of EgyptAir MS804 three days after it
Jun 16,2016
CAIRO — A search team on Thursday recovered the cockpit voice recorder from the EgyptAir plane that crashed into the Mediterranean last mont
Newsletter
Get top stories and blog posts emailed to you each day.