You are here
Egypt leader urges people to defend state ahead of protests
By AP - Apr 24,2016 - Last updated at Apr 24,2016
CAIRO — Egypt's president urged citizens to defend the state and its institutions from the "forces of evil" on Sunday, a day before planned demonstrations against his policies, including the transfer of two Red Sea islands to Saudi Arabia.
In a widely televised speech, Abdel Fattah Al Sisi insisted on the need for stability in the Arab world's most populous country, saying that attempts to degrade it "won't be successful" if Egypt stands united.
"We must protect these institutions because these mean the state," he said. "I am reiterating to the Egyptian people this is the responsibility of all of us, for us to protect this security and stability."
Earlier this month, thousands marched against Sisi's policies in the largest demonstrations since he assumed office in 2014. The protests featured slogans such as "leave", and "down with the regime", used in the 2011 uprising that toppled long-time leader Hosni Mubarak.
The protesters, including politicians and activists, called for more demonstrations on Monday, a national holiday that commemorates the withdrawal of the last Israeli troops from the Sinai Peninsula in 1982 under the Camp David peace agreement.
The armed forces will deploy at vital sites Monday to prevent saboteurs from taking advantage of these protests, Egypt's military spokesman Brig. Gen. Mohammed Samir said Sunday.
Sisi's comments raise the possibility of large-scale counterdemonstrations that could turn violent, in addition to a potentially harsh police crackdown — especially if the demonstrators attempt to reach the heavily policed Tahrir Square.
Protests are essentially banned in Egypt under laws passed after Sisi led the military overthrow of his elected but divisive Islamist predecessor, Mohamed Morsi, in 2013.
A petition, titled "Egypt is not for sale," which calls for a reversal of the decision on the islands and supports the protests, was signed by more than 300 Egyptian novelists, lawyers and activists, and several calls have been made on social media for Monday's demonstrations to converge on Tahrir Square, epicenter of the 2011 revolt against Mubarak.
Since Friday, security troops have been out in force, with armoured personnel carriers stationed at key traffic areas, while security agents have rounded up dozens of activists, journalists, and lawyers from their homes and cafés in downtown Cairo.
Two interior ministry spokesmen did not respond to repeated telephone calls seeking comment.
Also Sunday, Interior Minister Magdy Abdel Ghaffar met with officials to review preparations to confront any attempts to "break the law," the ministry said in a statement. It quoted Abdel Ghaffar as saying that the security apparatus would be ready to address any action that could disturb public security with "the utmost firmness and decisiveness," urging citizens to ignore calls to create chaos and drive a wedge between the people and police.
The protests earlier this month were pegged to anger over Sisi's decision to transfer sovereignty of the two islands to Saudi Arabia in a deal concluded in secret and announced during a visit by Saudi King Salman.
Many infuriated Egyptians accused the government of trading land for aid and investment from the oil-rich kingdom. The government insists the two islands, Tiran and Sanafir, always belonged to Saudi Arabia but were placed under Egyptian protection in 1950 because Riyadh feared they would be attacked by Israel.
Related Articles
Apr 25,2016
CAIRO — Egyptian security forces fired tear gas and arrested scores of people to disperse small protests against President Abdel Fattah Al S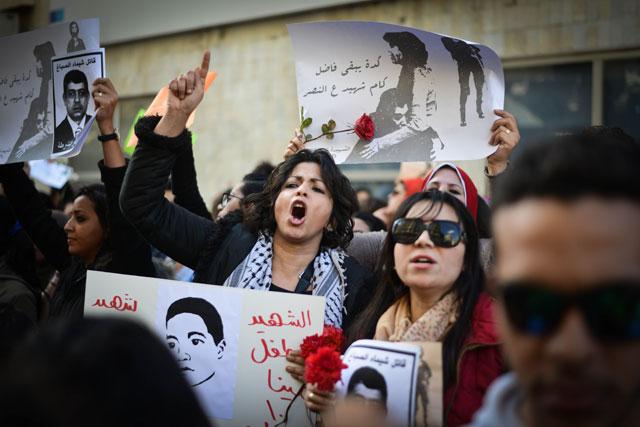 Jan 29,2015
A crackdown on protests in Egypt is not expected to provoke widespread unrest that threatens President Abdel Fattah Al Sisi's rule, as most Egyptians crave an end to years of political turmoil that have hammered their hopes of prosperity.
Jul 19,2017
CAIRO — Some of the people who helped propel Egypt's President Abdel Fattah Al Sisi to power are calling for his replacement in an election
Newsletter
Get top stories and blog posts emailed to you each day.