You are here
Erdogan sees Gulen link to envoy killing, Kremlin cautious
By AFP - Dec 21,2016 - Last updated at Dec 21,2016
ISTANBUL — President Recep Tayyip Erdogan on Wednesday said the killer of Russia's ambassador to Turkey was a member of the group of Fethullah Gulen blamed for the July 15 coup attempt, as Moscow warned against jumping to early conclusions.
Monday's murder of Andrei Karlov stunned Russia and prompted warnings of retribution from the Kremlin. But both sides responded by vowing to step up cooperation, particularly on the Syria conflict.
Off-duty Turkish policeman Mevlut Mert Altintas, 22, pumped nine bullets into Karlov at an art gallery in Ankara before he himself was killed by police in a shootout.
Pro-government press had already reported that police had discovered pro-Gulen literature belonging to Altintas, sympathisers of the preacher among his acquaintances and that he attended extra classes at a school belonging to the group.
"There is no need to make a secret out of the fact he was a member of FETO," Erdogan said, in his first clear attribution of blame for the murder.
Gulen, who has lived in self-imposed exile in the United States since 1999, has strongly condemned the assassination and always denied involvement in the coup.
Turkey has embarked on a massive crackdown on what it calls the Fethullah Terror Organisation (FETO) in the wake of the July 15 coup aimed at unseating Erdogan, arresting and sacking tens of thousands.
But Erdogan said the assassination of Karlov showed Gulen supporters were still present within the key security structures and the purges needed to continue.
"I have to say this very clearly — this dirty organisation is still within the military, still within the police," he said.
Without expanding further, he added there could be "foreign connections" to the murder plot.
'Don't rush to conclusions'
Turkey and Russia are jointly investigating the murder after an unprecedented agreement between Erdogan and Russian President Vladimir Putin.
A team of 18 Russian investigators arrived in Ankara on Tuesday and spent the day at the crime scene after also witnessing the autopsy.
But the Kremlin indicated it was not in the mood for rushed pronouncements on responsibility and made no mention of Gulen's purported involvement.
"In this case it is hardly worth hurrying to any conclusions until the investigation determines — as our president said — who was behind the murder of our ambassador," Kremlin Spokesman Dmitry Peskov told reporters.
Since the coup, Turkey has piled pressure on the United States to extradite Gulen, a one-time Erdogan ally.
"We need to let them — [the investigators] let the facts and the evidence take them where it is before we jump to conclusions," said State Department Spokesman John Kirby
Dramatic footage of Monday's assassination showed Karlov stumble and crash to the ground as Altintas brandished his automatic pistol at terrified onlookers who cowered behind cocktail tables.
Turkey and Russia stand on opposite sides of the Syria conflict, with Ankara backing rebels trying to topple Moscow ally President Bashar Assad.
But the rhetoric has warmed considerably since a reconciliation deal was signed earlier this year and Moscow and Ankara are now working closely together to evacuate citizens from the battered city of Aleppo.
Eleven people, including close family members, have been detained over the killing and are being investigated for possible links to Gulen.
In a striking detail, the Hurriyet daily said Altintas, who served with the Ankara anti-riot police, had provided security for Erdogan eight times since the July 15 coup bid.
Related Articles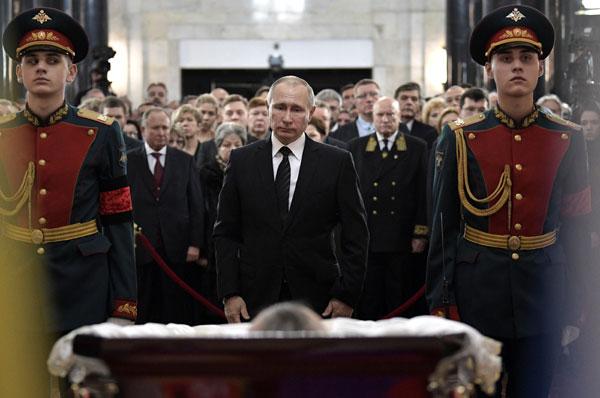 Dec 22,2016
MOSCOW — Russia on Thursday laid to rest its envoy Andrei Karlov after a packed memorial ceremony in Moscow for the diplomat who was assassi
Dec 20,2016
AMMAN — The government on Tuesday condemned the deadly shooting of Andrey Karlov, Moscow's ambassador to Turkey, the Jordan News Agency, Pet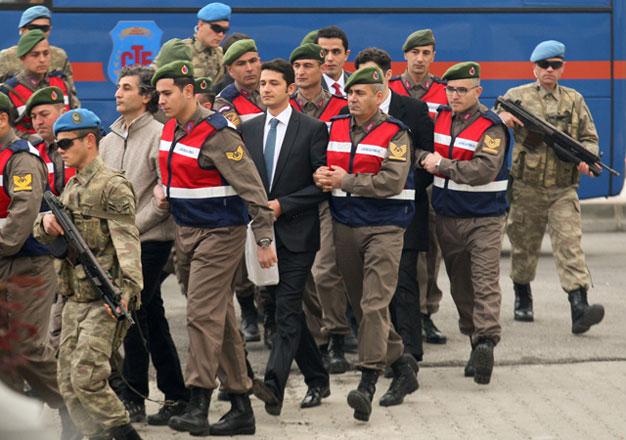 Feb 20,2017
MUGLA, Turkey — Almost 50 suspects went on trial on Monday accused of plotting to assassinate Turkish President Recep Tayyip Erdogan at a lu
Newsletter
Get top stories and blog posts emailed to you each day.