You are here
Explosion rocks Beirut hotel during security raid
By AP - Jun 25,2014 - Last updated at Jun 25,2014
BEIRUT — A suicide bomber blew himself up in his room at a Beirut hotel Wednesday as Lebanese security forces raided the premises, causing an explosion that sent flames and a dark cloud of black smoke billowing out of the third-floor windows, security officials said.
The blast towards the end of evening rush-hour took place inside the Duroy Hotel in Beirut's Raouche district, a posh neighbourhood of apartment towers and upscale hotels perched on cliffs overlooking the Mediterranean Sea. Lebanese security forces, who detained a second suspected bomber in the sweep, sealed off the area around the hotel and armed gunmen fanned out on the street to secure the location.
The bombing is the latest in a string of attacks and security scares in Lebanon over the past week that have sparked fears of renewed violence in a country that has been deeply affected by the civil war in neighbouring Syria.
"General security was conducting a raid and were able to arrest one suspect, while another blew himself up," Lebanon's military prosecutor, Saqr Saqr, told reporters at the scene. "Three general security officers were wounded. An operation is under way at the hotel. Every room is being searched to see if there are more explosives."
Lebanese Interior Minister Nohad Machnouk said the raid was a "preventative strike" by authorities, and that the "suicide bomber was going to detonate himself elsewhere and they managed to stop him." He said the suspect in custody was wounded, and is currently under guard at American University Hospital in Beirut.
A general security official said the raid was part of ongoing efforts to pursue suspected militants in Lebanon. He spoke on condition of anonymity because he was not authorised to brief journalists.
Security agents later encircled a building nearby that houses furnished apartments before raiding it as well.
Moahamed Obeid, who works as a waiter at the Duroy's restaurant, said two SUVs carrying security agents arrived at the hotel, which is located a block from the Mediterranean, just after a party began at 7:30 local time.
"People got suspicious and seconds later we heard a strong explosion," Obeid said, standing around 50 metres from the hotel. "Clients started running away, some to the kitchen and others through the back door."
He said one employee at the hotel was wounded.
Damage appeared to be confined to the third and fourth floors of the hotel. The explosion started a fire on the third floor, and thick black smoke billowed above the hotel as fire engines struggled to contain the blaze.
A string of security incidents over the past week has rattled Lebanon, and Beirut in particular, after what had been a calm and stable stretch of several months.
On Monday, a suicide bomber blew himself up near a checkpoint outside a cafe just after midnight in a primarily Shiite neighbourhood where the Hizbollah group has a strong presence. The bombing killed one person and wounded 20.
An Al Qaeda-linked group, the Abdullah Azzam Brigades, has warned that such attacks will continue as long as Hizbollah takes part in Syria's civil war alongside President Bashar Assad's military.
Another bombing in eastern Lebanon last week killed a police officer and wounded several others.
The bombings, coupled with the detention last Friday in Beirut of people accused of being part of alleged Sunni extremist militant sleeper cells, has given rise to concerns that Lebanon could see a new wave of violence linked to the Syrian conflict.
Syria's civil war has spilled into neighbouring Lebanon on numerous occasions and inflamed sectarian tensions. A series of car bombs have struck Shiite areas across Lebanon, killing dozens of people. The operation also came amid mounting regional tensions over the events unfolding in Iraq.
Related Articles
Jun 26,2014
A suicide bomber who blew himself up at a Beirut hotel and his accomplice, who survived the blast, are citizens of Saudi Arabia, Lebanese officials said Thursday.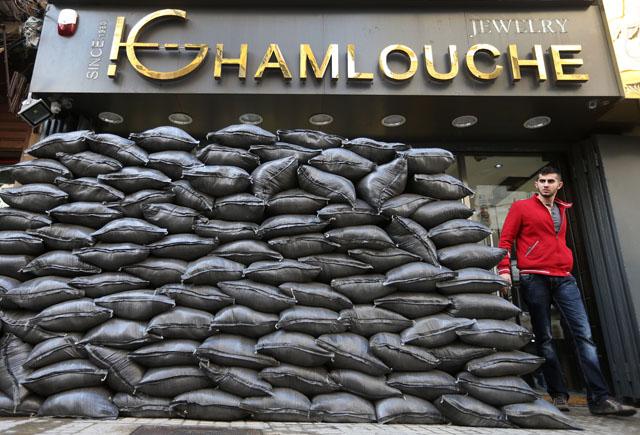 Jul 12,2014
The roadblocks and sandbags are back, cafes and hotels are nearly empty and many of the tourists are gone.
Jul 07,2014
Twenty-eight people have been charged with planning to carry out suicide bomb attacks and belonging to the militant group Islamic State, Lebanon's state news agency said on Monday.
Newsletter
Get top stories and blog posts emailed to you each day.