You are here
Father of Palestinian toddler killed in arson attack dies of injuries
By AFP - Aug 08,2015 - Last updated at Aug 08,2015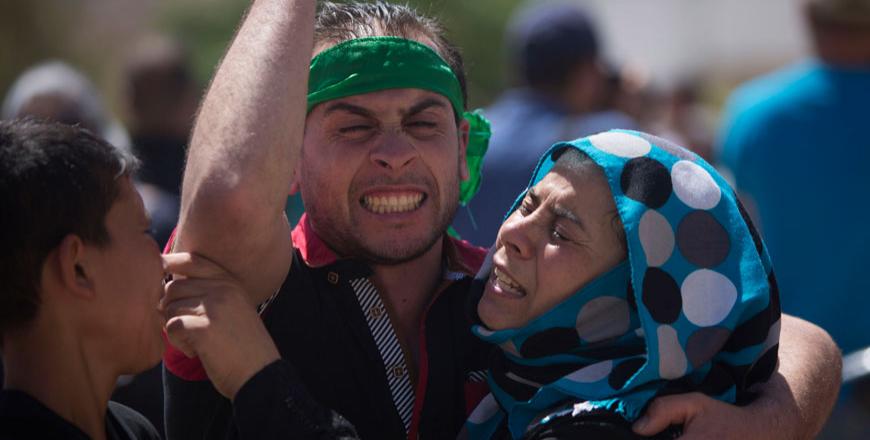 Palestinians mourn the death of Saad Dawabsheh, 32, during his funeral procession in the West Bank village of Duma, near Nablus, on Saturday (AP photo by Majdi Mohammed)
NABLUS, Palestinian Territories — The father of a Palestinian toddler killed last week when their home was firebombed by Jewish extremists died Saturday of his injuries from the attack, which triggered Palestinian protests and an international outcry.
The arson in the village of Duma in the occupied West Bank drew condemnation of Israel's failure to curb violence by hardline Jewish settlers and prompted the government to order a crackdown on extremism.
Saad Dawabsheh succumbed in hospital in the southern Israeli city of Beersheba where he was being treated for third degree burns, Palestinian official Ghassan Daghlas said.
"Saad Dawabsheh died and plans are under way for his funeral," Daghlas said.
The Dawabsheh family confirmed his death.
Dawabsheh's wife Riham and four-year-old son Ahmed are still fighting for their lives in hospital after the arson attack which killed 18-month-old Ali.
Israeli media reported that there had been signs of improvement in Ahmed's condition, although his life remains in danger.
They said that doctors at the Tel Hashomer hospital near Tel Aviv on Friday removed the respirator to which he had been attached for the previous week and that he opened his eyes and recognised those around him.
Neither Israeli hospital could immediately be reached for comment on the Jewish sabbath.
Post-mortem planned
A Palestinian official told AFP that before the funeral in the Dawabsheh's home village a post-mortem would be held to provide evidence for a complaint to the International Criminal Court (ICC) in The Hague.
The Palestinians on Monday submitted a request to the ICC to probe the firebombing and "settler terrorism".
At a meeting with Palestinian President Mahmoud Abbas on Wednesday, Arab foreign ministers agreed to call on the United Nations to protect the Palestinians from "terrorist crimes" by Jewish settlers.
The family's small brick and cement home in Duma was gutted by fire early on July 31, and a Jewish Star of David spray-painted on a wall along with the words "revenge" and "long live the Messiah".
Prime Minister Benjamin Netanyahu condemned the attack as "terrorism in every respect", and vowed to spare no effort in bringing the perpetrators to justice.
He ordered a crackdown on Jewish extremism that has seen three suspects detained.
Israel last week used a controversial form of detention without trial normally invoked for Palestinians against one alleged Jewish extremist, following the outcry over the attack.
The domestic intelligence service named him as Meir Ettinger, a grandson of Meir Kahane, a rabbi who founded the racist anti-Arab movement Kach and was assassinated in 1990 in New York.
He was arrested in Safed in northern Israel "because of his activities in a Jewish extremist organisation", a Shin Bet spokesman told AFP.
Israeli forces said Ettinger, who is aged around 20, was suspected of "nationalist crimes" but did not accuse him of direct involvement in the firebombing.
Related Articles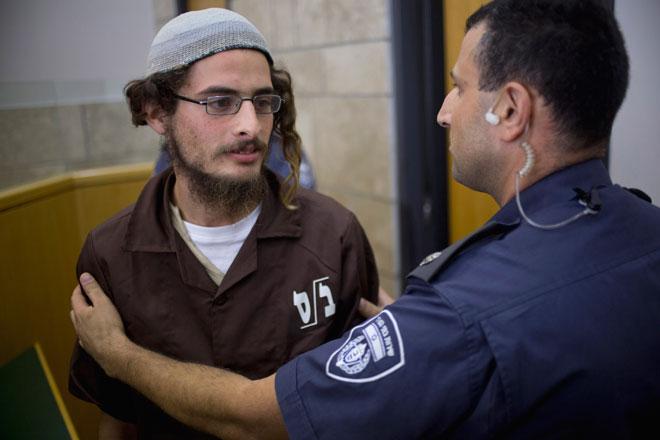 Aug 04,2015
NAZARETH, Israel — An Israeli court Tuesday ordered the head of a Jewish extremist group to remain in custody after his arrest following the
Aug 09,2015
OCCUPIED JERUSALEM — Israel arrested several suspects Sunday in raids linked to the deadly firebombing of a Palestinian home and placed two
Aug 03,2015
OCCUPIED JERUSALEM — The head of a Jewish extremist group, Meir Ettinger, was arrested on Monday following the death of a Palestinian baby i
Newsletter
Get top stories and blog posts emailed to you each day.