You are here
Flight from Cairo to Abu Dhabi diverted for security reasons
By AP - May 10,2015 - Last updated at May 10,2015
DUBAI — An Etihad Airways flight from Cairo to Abu Dhabi, the capital of the United Arab Emirates, was diverted to a military air base in Dubai on Sunday for "security reasons", the airline said.
The Abu Dhabi-based airline, the UAE's national carrier, said 128 passengers and seven crew members on Etihad Flight 650 disembarked after being diverted to Dubai's Al Minhad airbase. They were transferred by bus to Abu Dhabi after they and their luggage underwent additional security screenings.
Security officials searched the Airbus A321 and found nothing suspicious, Etihad said. The plane later returned to Abu Dhabi.
The airline gave no details on the nature of the threat.
Twitter accounts associated with sympathisers of Daesh terror group tweeted out messages overnight threating airplanes, with one mentioning the Etihad flight specifically.
It was the second scare in a week involving a UAE-based carrier.
On Monday, a jetliner operated by Air Arabia was diverted to Al Minhad after a passenger said the plane would explode. That flight was from Kuwait to Sharjah, a city outside Dubai, where the airline is based.
The state news agency WAM said authorities in that case "took the appropriate standard procedures to deal with the situation", without elaborating.
The Emirates is a seven-state federation that is an important Western ally and a member of the US-led coalition taking part in air strikes against the Daesh group, which has seized about a third of Iraq and Syria.
Aviation is a key industry for the oil-rich country. The nation is home to Dubai-based airline Emirates, the Mideast's biggest carrier, and Dubai International Airport, the world's busiest airport for international passenger traffic.
Abu Dhabi International Airport, the intended destination for Sunday's diverted flight, is undergoing a major expansion to accommodate Etihad's rapid growth.
Related Articles
Jan 27,2015
A bullet hit the fuselage of a flydubai airliner on its descent into Baghdad, prompting several carriers to suspend their flights to the Iraqi capital on Tuesday.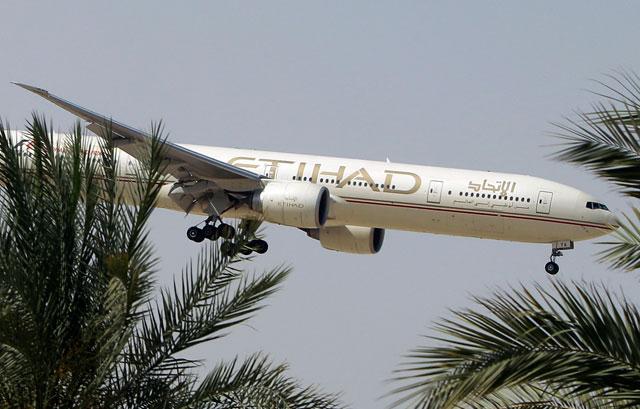 Apr 01,2015
Jetliners from the United Arab Emirates' two main airlines avoided a possible midair collision after they got too close to each other earlier this week.
Feb 20,2014
Emirati security authorities have allowed all passengers on an Etihad Airways flight that had suspicious lavatory fires to leave after several were temporarily detained for questioning by police, the airline said Thursday.
Newsletter
Get top stories and blog posts emailed to you each day.