You are here
'Forces loyal to Libyan unity gov't retake checkpoint south of Misrata'
By Reuters - May 17,2016 - Last updated at May 17,2016
TRIPOLI — Libyan military forces said on Tuesday they had recaptured one of the main checkpoints south of the city of Misrata from Daesh, reversing some of the gains the militant group made earlier this month.
Three members of the armed forces were killed and 10 wounded in a mine explosion as they took control of the checkpoint at Abu Grain, said Mohamed Al Gasri, a spokesman for an operation room set up by Libya's UN-backed unity government.
Daesh fighters had overrun the Abu Grain checkpoint, town and several nearby villages after carrying out coordinated suicide bomb attacks on May 5.
Abu Grain is about 140km west of Daesh's Libyan stronghold of Sirte, on the main road leading south from port city of Misrata.
The military have yet to take full control of the area, however.
"There are skirmishes from time to time against the militants," said Gasri. "We will keep making progress to clean Abu Grain town of those militants."
The unity government arrived in Tripoli in late March. Western states hope it will replace two rival administrations that have competed for power in Libya since 2014, and unite the armed brigades that supported them to take on Daesh.
The new government has moved to establish itself in western Libya with the backing of key brigades from Misrata, which gained power due to its central role in the uprising that toppled Muammar Qadhafi in 2011.
The new government's operations room says it is preparing an offensive to recapture Sirte, which has been controlled by Daesh since last year.
The unity government has so far struggled to win formal backing from factions in eastern Libya, however, where military forces also say they are preparing for an offensive against Sirte.
Daesh controls a strip of coast about 250km long around Sirte but it has struggled to hold ground elsewhere in the country.
Related Articles
May 29,2016
MISRATA, Libya — Forces loyal to Libya's UN-backed unity government say they aim to encircle Sirte, the Daesh terror group's stronghold in L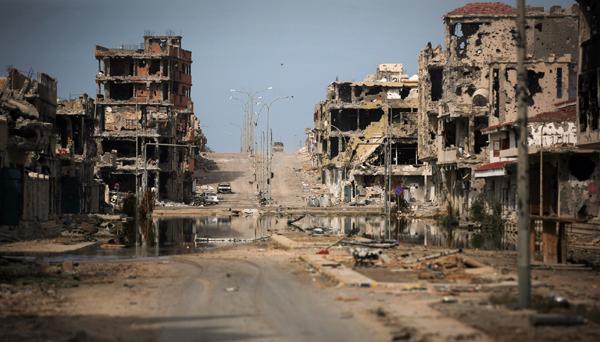 May 18,2016
MISRATA — Forces loyal to Libya's UN-backed unity government pushed the Daesh terror group fighters back towards their stronghold of Sirte o
Nov 25,2016
TRIPOLI — Libyan forces resumed their advance on Thursday against Daesh militants holding out in a few streets in their former stronghold of
Newsletter
Get top stories and blog posts emailed to you each day.