You are here
Four dead in regime bombardment on Syria safe zones — monitor
By AFP - Aug 10,2017 - Last updated at Aug 10,2017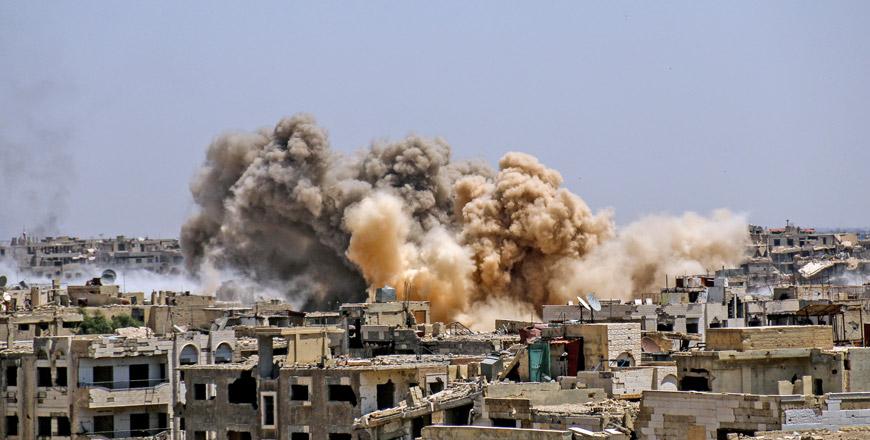 A huge explosion sends clouds into the air after government forces reportedly carried out air and ground strikes over the rebel-held Ein Tarma district in the Eastern Ghouta region of Damascus, Syria, on Monday (Anadolu Agency photo)
BEIRUT — Syrian government bombardment on two areas included in fragile "de-escalation zones" in the country killed four people on Thursday, a monitoring group said.
One person was killed in air strikes on a safe zone in central Syria, and another three died in shelling on a zone near the capital, according to the Syrian Observatory for Human Rights.
Seven others were wounded in the regime shelling that killed three civilians in a town in the Eastern Ghouta zone, a rebel bastion near Damascus, the observatory said.
"The shelling hit the town of Hammuriyeh early on Thursday, killing a woman, a man, and a child," said observatory head Rami Abdel Rahman.
The attack came a day after government shelling killed five civilians and wounded 10 more in the nearby town of Kfar Batna, the British-based Observatory said.
Air strikes have also pummelled rebel-held parts of the Jobar district of Damascus and the adjacent district of Ain Tarma.
Eastern Ghouta is one of four "de-escalation zones" announced in May by opposition backer Turkey and regime allies Iran and Russia after talks in Kazakhstan.
Three of the zones have been agreed so far: in Eastern Ghouta, the northern parts of central Homs province and in Syria's south.
The fourth zone, in northwestern Idlib province, has yet to be implemented.
Syrian government air strikes on Thursday killed a man in the ceasefire zone in Homs, the Observatory and a resident said.
The raids were the first since that truce was announced one week ago.
Abbas Abu Osama, a resident of the town of Al Houla, told AFP that six strikes hit his hometown by Thursday afternoon.
"We have our first casualty, killed in an air strike in Tal Dahab" near Al Houla, he said.
Abdel Rahman confirmed that a man was killed in a raid but could not specify whether he was a rebel fighter or civilian.
More than 330,000 people have been killed since Syria's conflict erupted in March 2011 with protests against Syrian President Bashar Assad.
The conflict has drawn in international powers, including Russia, which has carried out bombing raids in support of Assad's forces since September 2015.
Related Articles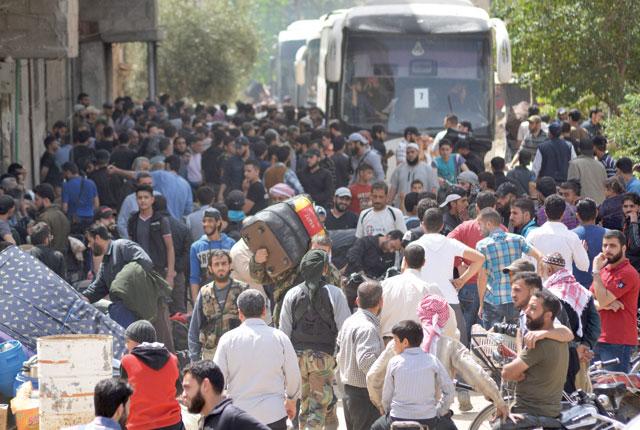 May 03,2018
BEIRUT, Lebanon — Syrian rebels began pulling out of an enclave they have surrendered in south Damascus on Thursday, but a few fighters in a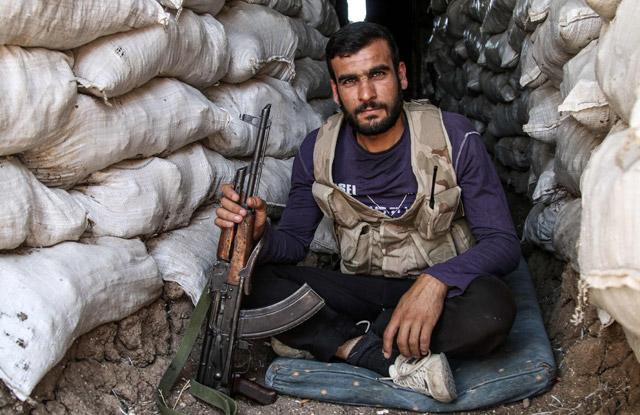 Aug 04,2017
BEIRUT — A ceasefire between government forces and rebels went into effect in part of central Syria on Thursday after Russia struck a deal w
Jul 24,2017
BEIRUT — Syria's regime carried out air raids on one of the last rebel strongholds near Damascus Sunday, a monitor said, a day after it decl
Newsletter
Get top stories and blog posts emailed to you each day.