You are here
Government austerity tops Kuwait election campaign
By AFP - Nov 13,2016 - Last updated at Nov 13,2016
Kuwaitis attend an electoral campaign meeting for Kuwaiti Islamist and former MP candidate Adel Al Damkhi in Kuwait City on Saturday ahead of the upcoming parliamentary elections (AFP photo)
KUWAIT CITY — Candidates in Kuwait's parliamentary elections have focused their campaigns on unpopular government austerity measures, as the oil-dependent Gulf country faces financial stress due to low crude prices.
Kuwait, which sits on around 7 per cent of the world's proven crude reserves, has resorted to a series of measures to cut spending and boost non-oil revenues in a bid to diversify its economy.
But measures including raising power and water charges and hiking petrol prices have triggered a political crisis, leading to the parliament being dissolved last month and snap polls being called for November 26.
"The government has tried to resolve the economic crisis by raising funds from citizens, like hiking petrol prices," independent candidate Hisham Al Baghli charged at an election rally this week.
"This policy will result in serious consequences for ordinary citizens," warned Baghli, a former lawmaker.
Before crude prices began to slide in mid-2014, Kuwait generated around 95 per cent of its income from oil.
But the country's oil revenues dropped from a massive $97 billion in the fiscal year 2013/2014 to just $40 billion last fiscal year, which ended on March 31, according to finance ministry figures.
And oil income is projected to slide further to around $35 billion this fiscal year.
In 2015/2016, the OPEC state posted its first budget deficit of $15 billion after 16 years of surpluses.
The government — which had increased its expenditures to record levels between 2006 and 2015, mainly on wages and subsidies — cut its spending by around 15 percent after oil prices dropped by 60 per cent.
It has lifted subsidies on diesel and kerosene, hiked petrol prices by 40 to 80 per cent and decided to raise power charges from next year.
The measures have triggered fiery reactions from parliamentary candidates seeking to drum up public support.

'Red line'
"Undermining the income of citizens through government measures is a red line... and will be firmly confronted by the next parliament," said Askar Al Enezi, a former lawmaker who hopes to be re-elected.
Kuwait has been providing a generous cradle-to-grave welfare system to its nationals, who make up 30 per cent of its population of 4.7 million.
"We won't allow the government to plug the budget deficit from the pockets of citizens," said Jamal Al Omar, another candidate.
The government has insisted that without austerity measures, it may not be able to pay wages, which account for over half of expenditures.
Hamad Al Matar, who is also running in the polls, said Kuwait's dependence on oil as its only source of income put the country in a precarious situation after the price slump.
"What has aggravated the economic crisis is rampant corruption in many state institutions," the former opposition member of parliament said.
He and other candidates said the government has failed to carry out economic reforms and diversify sources of income to reduce its dependence on oil.
During its 16 years of surpluses, Kuwait amassed reserves worth $600 billion invested mostly abroad.
But to plug growing budget shortfall, the country has started borrowing for the first time in two decades.
The government has issued domestic bonds worth $4.6 billion as part of measures to finance the budget deficit, the finance minister said on Tuesday.
It plans to start issuing foreign bonds totalling around $10 billion early next year, he said.
The Fitch Ratings agency believes fiscal measures in Kuwait will be implemented only partly, it said on Wednesday.
"Execution risks are also high for other proposed reforms... as they could prove to be complex and politically contentious," it said in a report.
A total of 454 candidates, including 15 women, have registered to stand for election to the 50-seat parliament.
The election sees the return of major opposition groups and individuals, ending a four-year boycott in protest against the government for amending the voting system.
Related Articles
Nov 16,2016
KUWAIT CITY — Kuwait must enact further subsidy reforms to trim its budget deficit resulting from low oil prices despite political sensitivi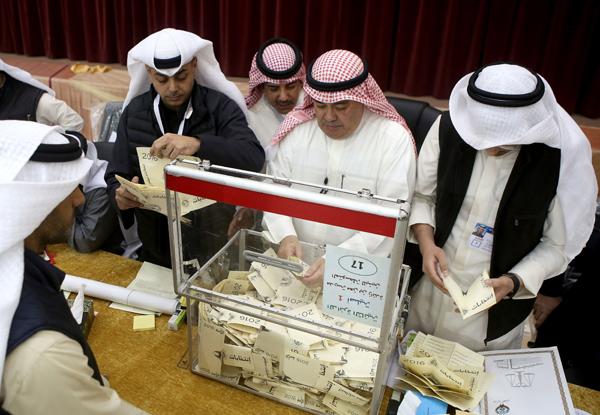 Nov 28,2016
KUWAIT CITY — The Kuwaiti Cabinet on Monday submitted its resignation to the emir of the oil-rich Gulf state following snap parliamentary po
Oct 05,2016
KUWAIT CITY — The Kuwaiti government agreed to compensate citizens for hiking petrol prices in a plan to "partially liberalise" the fuel sub
Newsletter
Get top stories and blog posts emailed to you each day.