You are here
Gunmen shoot dead 3 policemen, wound 9 in Cairo — ministry
By AFP - May 20,2014 - Last updated at May 20,2014
CAIRO — Gunmen travelling in a car opened fire on Tuesday on a group of Egyptian policemen outside Cairo's Al Azhar university, killing three and wounding nine others, the interior ministry said.
The attack comes just days ahead of a presidential election on May 26-27, which former army chief Abdel Fattah Al Sisi is expected to win.
The number of attacks targeting policemen has risen since Sisi ousted Islamist president Mohamed Morsi in July last year.
The latest came as some students of Cairo's Al Azhar university, a prestigious seat of Sunni Islamic teaching, were protesting in favour of Morsi, the ministry said in a statement.
The wounded included an officer, the ministry added.
The attack also came a day after two policemen, riding on a motorbike, were shot dead by gunmen in the central city of Minya.
In April, a court in Minya triggered an international outcry after sentencing to death around 700 Morsi supporters after a speedy mass trial, accusing them of murder and attempted murder of policemen in August last year in Minya.
In a separate attack, militants blew up a gas pipeline late Monday near Al Arish airport in northern Sinai, security officials said.
The targeted pipeline transports gas to an industrial area in central Sinai, they added.
Militants have regularly targeted pipelines in Sinai since the ouster of president Hosni Mubarak in 2011, repeatedly forcing a halt in gas supplies to Israel and Jordan.
The army has poured troops into the mountainous and underdeveloped region of Sinai Peninsula to combat a growing militancy.
Officials say about 500 people, mostly members of security forces, have been killed in militant attacks across the country since the ouster of Morsi.
Militant groups Ansar Bayt Al Maqdis (Partisans of Jerusalem) and a little-known Ajnad Misr (Soldiers of Egypt) have claimed several deadly attacks against security forces.
They say the attacks were in retaliation to a brutal police crackdown on supporters of Morsi.
Amnesty International says more than 1,400 people have been killed in the police crackdown since July when Morsi was ousted.
More than 15,000 have also been jailed, while hundreds have been sentenced to death after often speedy trial. Morsi himself is facing three trials.
Sisi, meanwhile, is expected to trounce his only rival, leftist leader Hamdeen Sabbahi, in the presidential election next week.
The retired field marshal is lauded by millions for overthrowing the divisive Morsi, Egypt's first freely elected leader.
Morsi was ousted after just one year in office after millions of Egyptians protested against his rule.
Related Articles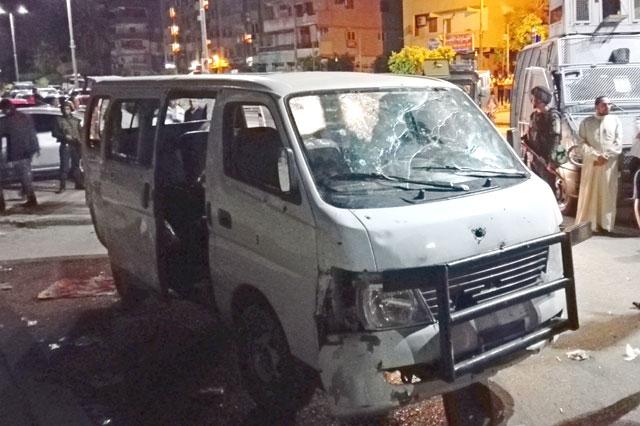 May 08,2016
CAIRO — Gunmen killed eight plainclothes police on the southern outskirts of Cairo overnight, the Egyptian interior ministry said, in an ass
Apr 12,2014
Egyptian troops on Friday killed a prominent militant in the restive Sinai Peninsula where Islamist fighters have increasingly targeted security forces since last year's ouster of president Mohamed Morsi.
Jan 28,2014
Ousted president Mohamed Morsi was defiant as he went on trial Tuesday for a prison break during the 2011 uprising, as a top police official was murdered in another sign of Egypt's instability.
Newsletter
Get top stories and blog posts emailed to you each day.