You are here
Gunmen storm Libyan oilfield, four workers believed killed
By Reuters - Feb 05,2015 - Last updated at Feb 05,2015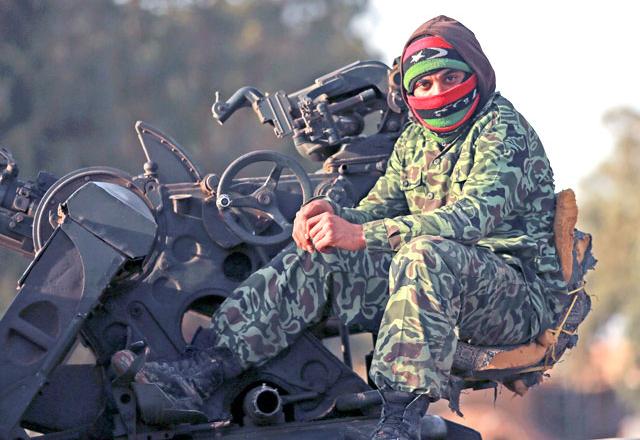 TRIPOLI — Gunmen possibly linked to Islamist militants assaulted and seized control of a Libyan oilfield, killing and kidnapping several workers, Libyan and foreign officials said on Wednesday.
A French diplomatic source in Paris said four local employees were believed to have been killed in the raid on the remote Al Mabrook Oilfield south of Sirte on Tuesday night.
The Philippines Foreign Ministry said three Filipinos were among four foreign nationals who were kidnapped.
France's Total has a stake in the site but it is contracted to a Libyan company. The Filipinos worked for an Italian company.
"Unknown gunmen stormed the Mabrook Oilfield last night," National Oil Corp. (NOC) spokesman Mohamed El Harari said, without providing details.
Ali Al Hassi, spokesman for an oil guard force, blamed Islamists for the attack.
"The field is outside of our control," he said. "Islamic State is controlling it."
Rival armed factions have been fighting for almost two months for control of Libya's biggest oil ports, Es Sider and Ras Lanuf, on the Mediterranean coast.
Four years after the overthrow of leader Muammar Qadhafi, the country is in turmoil with two rival governments controlling different areas, each with their own armies.
The recognised government of Abdullah Al Thinni and elected Parliament has been forced to work out of an eastern rump state since a faction called Libya Dawn seized the capital Tripoli in August, setting up its own administration and reinstating the old assembly.
Mabrook closed following clashes which shut Es Sider in December. It used to pump 40,000 barrels a day.
Total said it had already withdrawn staff from the site in 2013 and had no personnel onshore since July 2014. It was not clear whether NOC had employed expatriate staff at the field.
The French diplomatic source said no French citizens were among the dead.
"There are possibly four dead local people," he said.
It was not immediately possible to verify the assertion that Islamists were involved.
Militants claiming links to Islamic State (IS), which controls parts of Syria and Iraq, claimed an attack on the Corinthia luxury hotel in Tripoli last week that killed nine people, among them five foreigners.
Officials of the government in Tripoli denied the claim, blaming "Qadhafi loyalists" for that assault.
Militants in Libya have claimed loyalty to IS on social media but facts are hard to get in a country where officials often contradict themselves.
Western powers and Libya's neighbours have been worried about a spread of Islamist militants in the desert nation. Sirte is home to members of the Ansar Al Sharia Islamist group blamed by Washington for an attack on a US diplomatic compound in Benghazi in 2012 in which the US ambassador was killed.
up
18 users have voted, including you.
Related Articles
Aug 31,2015
TRIPOLI — A car bomb went off in Libya's capital Tripoli on Monday in front of the headquarters of Mellitah, an oil and gas joint venture be
Mar 09,2015
Four Filipinos, an Austrian and four other foreigners were abducted in an attack on a Libyan oilfield last week, official sources said Monday, after an assault blamed on Daesh militants.
Apr 08,2015
Libyan forces opposed to the country's internationally recognised government have warned it that any attempts to export oil independently would force them to take military action to seize oil ports and facilities.
Newsletter
Get top stories and blog posts emailed to you each day.