You are here
Hizbollah declares Syria victory, Russia says much of country won back
By Reuters - Sep 12,2017 - Last updated at Sep 12,2017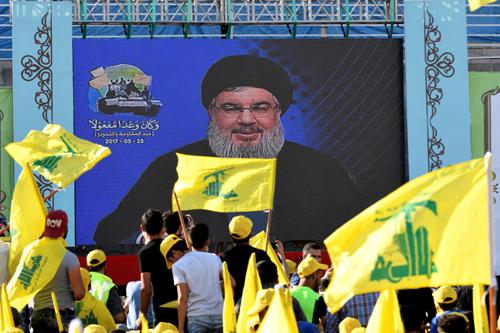 People watch Lebanon's Hizbollah leader Sayyed Hassan Nasrallah as he appears on a screen during a live broadcast to speak to his supporters at an event marking Resistance and Liberation Day in Bekaa Valley, Lebanon, May 25, 2017 (File Photo)
BEIRUT/MOSCOW — The Lebanese Shiite group Hizbollah has declared victory in the Syrian war while Russia said government forces had driven militants from much of the country where President Bashar Assad's rule seemed in danger two years ago.
The comments from two Syrian government allies mark the most confident assessments yet of Assad's position in the war, though significant parts of the country remain outside the government's control. Russia's assertion that the army had won back 85 per cent of Syria was dismissed by the Syrian Observatory for Human Rights. It said the government held 48 per cent of Syria.
The government's most recent advances have recovered swathes of territory in eastern Syria from Daesh, which is being targeted in the same region in a campaign waged by US-backed Kurdish and Arab militias.
Hizbollah leader Sayyed Hassan Nasrallah, whose group has sent thousands of fighters to Syria, dismissed the fighting left to be done in Syria as "scattered battles".
"We have won in the war [in Syria]," he said in comments reported by the Lebanese newspaper Al Akhbar.
Referring to Assad's opponents, Nasrallah said "the path of the other project has failed and wants to negotiate for some gains". The comments, made at a religious gathering, were confirmed to Reuters by a source familiar with the speech.
Hundreds of thousands of people have been killed in the conflict, which has fractured Syria into a patchwork of areas and generated a refugee crisis of historic proportions, forcing millions of people into neighbouring states and Europe.
Military backing from Iran and Russia has proven critical to Assad in the war with insurgents including rebels who have been backed by Gulf Arab states, Turkey and the United States, which has decided to end a programme of covert support to rebels.
Rebel groups were making steady advances against Assad as recently as 2015, when the deployment of the Russian air force to Syria turned the tide in his favour.
Over the past year, Assad has crushed numerous pockets of rebel-held territory in the cities of Aleppo, Homs and Damascus, brokering local deals by which thousands of his opponents have been moved to remaining rebel-held enclaves of the country.
Ceasefires brokered by Russia, Turkey, Iran and the United States in remaining rebel-held areas of western Syria have freed up manpower on the government side, helping its advance east into the oil-rich province of Deir Ezzor.
Related Articles
Jul 25,2015
BEIRUT — The Lebanese Hizbollah group believes it can still count on Iran's support following Tehran's nuclear deal with world powers, leade
Nov 09,2017
AMMAN — The top adviser to Iran's supreme leader said he expects the Syrian army to soon recapture rebel-held Idlib province, as well as eas
Jun 03,2017
DAMASCUS — Syria's President Bashar Assad has said the worst of his country's six-year war "is behind us" after a string of advances by his
Newsletter
Get top stories and blog posts emailed to you each day.