You are here
Hunger, death in besieged Damascus area
By AP - Jan 15,2014 - Last updated at Jan 15,2014
BEIRUT — Children, the elderly and others displaced by Syria's civil war are starving to death in a besieged camp where women brave sniper fire to forage for food just minutes from the relative prosperity of Damascus.
The dire conditions at the Yarmouk camp are a striking example of the catastrophe unfolding in rebel-held areas blockaded by the Syrian government. US and Russian diplomats said Monday the warring sides are considering opening humanitarian corridors to let in aid and build confidence ahead of an international peace conference on Syria.
Interviews with residents and UN officials, as well as photos and videos provided to The Associated Press, reveal an unfolding tragedy in the sprawling camp, where tens of thousands of Palestinian refugees and displaced Syrians are trapped under an intensifying yearlong blockade.
Forty-six people have died since October of starvation, illnesses exacerbated by hunger or because they couldn't obtain medical aid, residents said.
"There are no more people in Yarmouk, only skeletons with yellow skin," said 27-year-old resident Umm Hassan, the mother of two toddlers.
"Children are crying from hunger. The hospital has no medicine. People are just dying," she told the AP by telephone, adding that her 3-year-old daughter and 2-year-old son were rapidly losing weight from lack of food.
The dead include Isra Al Masri, an emaciated toddler who passed away on Saturday swaddled in a woolen sweater, her eyes sunken, her skin darkened, her swollen tongue wedged between her lips. The child was filmed minutes before her death, slowly blinking as she was held by an unidentified woman in a video sent to the AP by a 25-year-old resident, Sami Alhamzawi.
"Look at this child! Look at her!" the woman in the video shouts, thrusting the child before the camera. "What did she do to deserve this?"
Other deaths suggest the extent of desperation among residents: Teenager Mazen Al Asali hung himself in late December after returning home without food to feed his starving mother. An elderly man was beaten to death by thieves who ransacked his home, looking for food and money.
Deaths have also been reported by opposition groups, activists and the United Nations.
Similar casualty figures were reported by the British-based Syrian Observatory for Human Rights, which documents Syrian casualties through a network of activists on the ground. The UN confirmed 15 deaths, but spokesman Chris Gunness said it was impossible to know the real toll because of restricted access.
"There is profound civilian suffering in Yarmouk, with widespread malnutrition and the absence of medical care," Gunness said. "Children are suffering from diseases linked to severe malnutrition."
The camp and other blockaded areas pose a stark challenge for Syria's government and the opposition, who agreed to consider opening humanitarian access in the run-up to a peace conference next week in Switzerland that would bring the sides together for the first time.
Speaking in the midst of a two-day series of meetings in Paris, Russian Foreign Minister Sergey Lavrov and US Secretary of State John Kerry said they were also pressing for a ceasefire and prisoner exchange between the warring sides.
But hopes appear slim.
The UN humanitarian chief said last month that an estimated 250,000 people in besieged communities in Syria were beyond the reach of aid. The government has kept outside aid sharply limited. Key humanitarian routes are increasingly cut off by the fighting, and kidnappings of aid workers are on the rise. Both Assad's forces and rebels have used blockades to punish civilians.
Repeated efforts to bring food into Yarmouk have failed. Most recently, on Monday, six trucks loaded with UN-donated food to feed 10,000 people had to turn back after gunmen fired on the convoy, resident Alhamzawi said.
Some 160,000 Palestinians once lived in Yarmouk, a strategic prize for rebels and Assad forces for its close proximity to Damascus. They remained mostly neutral when the uprising began against Assad's rule in March 2011.
But clashes erupted between pro- and anti-Assad Palestinian gunmen in December 2012, and most residents fled. The poorest, some 18,000 people, remained behind, according to UN estimates, along with tens of thousands of Syrians displaced from rebel-held areas that were seized back by the regime.
Pro-Assad Palestinian factions set up checkpoints around Yarmouk and progressively tightened a blockade of the area. By September, they banned residents from leaving, or food from entering.
It also meant residents couldn't reach UN aid that was distributed outside the camp. The UN stopped operating inside Yarmouk in December, because of the fighting.
As months have passed, Yarmouk's poorest have run out of food, according to residents and the UN.
Families now dissolve spices in water and feed it to their children as soup. Some found animal feed, but residents suffered food poisoning after eating it.
A woman desperate to feed her children sneaked into a field surrounded by Syrian snipers to forage for mallow, a green herb. She was shot in the leg and hand, she said in a video uploaded by activists.
Lying on a bed, the woman's bloodied hand shook as she wept, recounting how her children pleaded for food. She rushed into the field but heard gunfire and fell to the ground, bleeding and wounded. "For some mallow," she wept. "To save us from death."
The videos appear to be genuine and consistent with AP reporting on Yarmouk.
Within the camp, misery lives amid fear and defiance. Civilians shrink into their homes at dusk, as armed gunmen roam the streets.
Earlier this week, thieves beat up an elderly resident, who later died in a hospital, Alhamzawi told the AP by telephone. They stole his money — and his food. "It's chaos," he said.
Merchants bribe gunmen to sneak in food, but sell it at exorbitant prices. A kilo of rice costs $50 — about half a month's wage, residents said.
Despite the hardship, parents are still sending their famished children to school, where they are taught by hungry teachers, Umm Hassan said.
"Officials said we should stop because the children are dizzy and falling down, but we refused," she said.
In recent months, local truces have partly resolved blockades in other rebel-held areas, with gunmen agreeing to disarm in exchange for allowing in food for residents.
The Yarmouk blockade appears to be the harshest yet, and the most intractable. Months of negotiations for rebels to disarm have failed, residents said.
An official of a pro-Assad Palestinian faction imposing the blockade said it wouldn't be lifted until an estimated 3,000 rebels disarmed.
"The regime forces won't remove the siege on the camp as long as the militants are staying in it, and the militants won't leave," said the official, Husam Arafat.
In the meantime, Palestinians in the West Bank have been running a campaign to raise awareness of the siege.
Protesters gathered outside the office of Palestinian President Mahmoud Abbas in the West Bank city of Ramallah, demanding he find a solution.
"History will curse us if you allow Yarmouk's people to die of hunger," one sign read.
Related Articles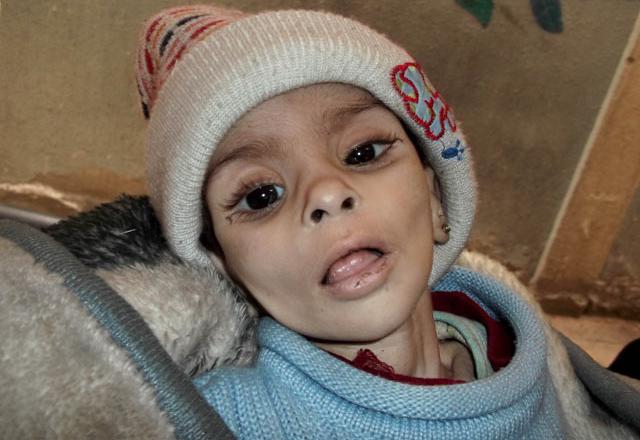 Jan 15,2014
Children, the elderly and others displaced by Syria's civil war are starving to death in a besieged camp where women brave sniper fire to forage for food just minutes from the relative prosperity of Damascus.
Mar 11,2014
Some survive by eating animal feed, others are reduced to living off vegetable peel. The human degradation in Syria, notably in areas besieged by the army, has reached levels unimaginable three years ago.
Mar 03,2014
Food deliveries to thousands of people living in a blockaded area in southern Damascus ground to a halt after a truce collapsed and clashes broke out between Syrian rebels and forces loyal to the government, a UN official and activists said on Monday.